Vietnam-US ties grow steadily after 25 years of normalized relations
During their phone talks on December 22, Prime Minister Nguyen Xuan Phuc and US President Donald Trump agreed that the bilateral cooperation has advanced robustly across all fields since the two nations set up diplomatic relations 25 years ago, especially in recent years.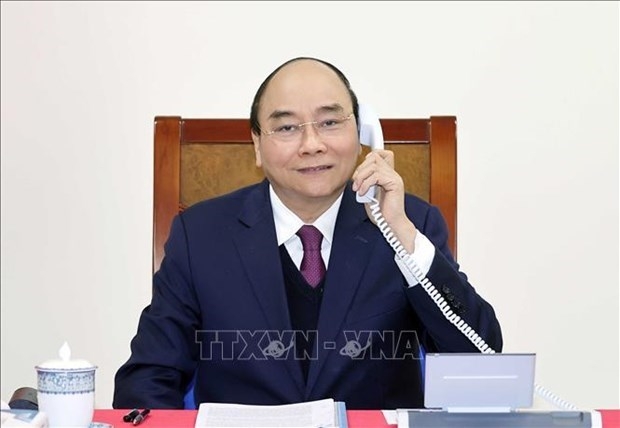 Prime Minister Nguyen Xuan Phuc holds talks with US President Donald Trump. Photo: VNA
According to VNA, the two leaders expressed their confidence that the bilateral ties will continue to develop far and wide in a stable manner in order to bring benefits to both nations, in which economic and trade cooperation remains a focus and impetus behind the bilateral ties.
During the phone talks, PM Phuc expressed his appreciation for President Trump's leadership role and his fine sentiments towards Vietnam over the past years and thanked him for his attention given to the development of Vietnam-US relations.
A strong, independent and prosperous Vietnam with an increasingly important role in the region is the Vietnamese people's shared aspiration and this is in line with the US' interests, the Vietnamese cabinet leader emphasized.
President Trump asked PM Nguyen Xuan Phuc to convey his cordial greetings to the Vietnamese people while affirming that he treasures the country and people of Vietnam and wishes to visit the nation again in the near future.
The top US leader affirmed his nation's recognition of great importance to the comprehensive partnership with Vietnam, and congratulated the Southeast Asian nation on its successful performance of its role of ASEAN Chair 2020, thus making a positive contribution to peace, security, stability, development and cooperation in the region.
President Trump also congratulated the Government and people of Vietnam on their successful containment of the COVID-19 pandemic, hailed the bilateral cooperation in the COVID-19 fight and wished the two countries to continue working hand in hand in this regard.
In response, PM Phuc briefed Trump on Vietnam's pandemic control efforts and congratulated the US on its success of the Operation Warp Speed, in which the country has successfully developed two vaccines in a short time.
On this occasion, both sides compared notes on issues regarding the United States Trade Representative (USTR)'s an ongoing investigation of Vietnam's timber material and monetary policy under Section 301 of the Trade Act of 1974.
As a developing country with limited economic capacity, Vietnam has pursued monetary policy in favor of inflation control and macro-economic stabilization, Phuc said.
The monetary policy has not been designed to gain advantages in international trade, the Vietnamese Government chief reiterated.
He then told the US President that Vietnamese ministries and agencies will continue to work closely with US partners in a bid to comprehensively deal with both sides' issues of shared concerns as a means of maintaining stable trade relations towards a harmonious, sustainable and mutually beneficial trade balance.
Earlier on November 22 and December 16, PM Nguyen Xuan Phuc and President Donald Trump exchanged their greetings on the occasion of the 25th anniversary of the two nations' diplomatic ties.
The US has become Vietnam's largest export market and Vietnam is the US's 12th-largest trade partner.
Figures from the General Department of Vietnam Customs show that two-way trade grew from 450 million USD in 1995 to nearly 75.7 billion USD last year.
In the first nine months of this year, the figure reached 65.1 billion USD, despite the impact of COVID-19, up 17.7 percent year-on-year, of which Vietnam's exports to the US were worth 54.7 billion USD.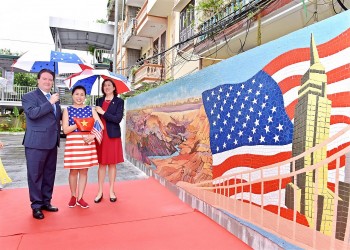 Multimedia
A ceramic mosaic mural named "Vietnam - US friendship" depicting the natural and cultural heritages of the two countries, was just revealed in Hanoi