Vietnam - US trade turnover increased by nearly 170 times since 1994
Vietnam- US trade turnover has increased by nearly 170 times from a figure of USD 450 million in 1994, to approximately USD 76 billion in 2019, heard a business summit on October 9 in Hanoi.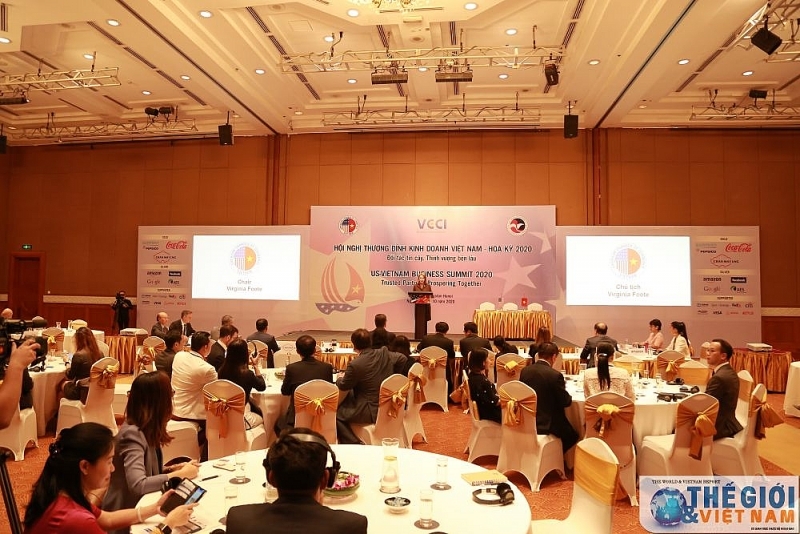 The US - Vietnam Business Summit held in Hanoi. Photo: TGVN
The US-Vietnam Business Summit 2020 titled "Trusted Partners Prospering Together" was co-hosted by the American Chamber of Commerce in Vietnam (AmCham), the US Chamber of Commerce (USCC) and the Vietnam Chamber of Commerce and Industry (VCCI) on the occasion of the 25th anniversary of bilateral diplomatic ties.
Speaking at the event, VCCI President Vu Tien Loc spoke highly of the two Governments' efforts to establish bilateral cooperation in various areas, pushing two-way trade to nearly USD 76 billion in 2019 from USD 450 million in 1994.
Recent shifts in global supply chains has served to boost the nation's standing from 12th to ninth among the largest exporting countries to the US market. Indeed, the economies of both countries are increasingly supplementary, the VCCI leader emphasized.
The past few years has seen the nation export key products to the US market, including seafood, cashew nuts, garments and textiles, along with leather and footwear, while the US is viewed as a plentiful supply source to meet Vietnamese import demand. Notable import items include machinery, high-tech equipment, aviation equipment, telecommunications, energy, liquefied gas, and raw agricultural materials.
With a 90 million population, young workforce, open and transparent economic policy, Vietnam is seen as an attractive destination for foreign investors. Over 130 countries and territories are investing in the country.
As of June, the US was the 11th largest investor in Vietnam with 988 projects capitalised at more than USD 9.3 billion, covering 42 out of 63 localities in the nation.
The US now ranks second among countries and territories receiving Vietnam's investment in 2019, with a total value of USD 93.4 million, or 18.4 percent of Vietnam's outbound investment. In the first quarter of 2020, the US took the lead in receiving investment from Vietnam with USD 20.1 million, equal to 40.8 percent.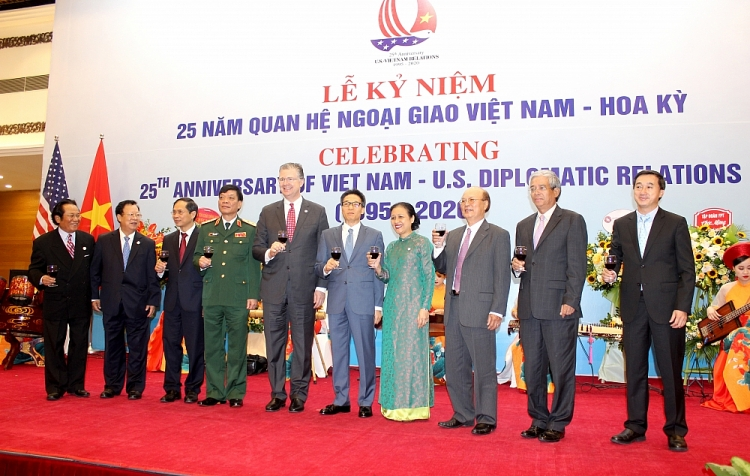 The delegates raised their glasses to congratulatethe 25th anniversary of Vietnam-US diplomatic ties during a ceremony on October 7 held by the Vietnam Union of Friendship Organizations (VUFO). Photo: VNT
Most notably, US investment in the country can be calculated at a much larger figure, possibly up to USD 15 billion of investment capital. This is due to major firms such as Intel, Coca Cola, Procter & Gamble, Chevron, and ConocoPhillips entering the Vietnamese market through its branches and subsidiaries registered in a third country, such as British Virgin Islands, Singapore, and Hong Kong (China).
In addition, a number of large technology corporations like Apple, Google, and Dell, are all invested in the nation through the Original Design Manufacturing (ODM) and Original Equipment Manufacturing (OEM) businesses of their supply chain.
Loc affirmed that investment and business projects launched by US firms in the country have played an increasingly important role in Vietnamese development, therefore helping the nation to become a more active participant in the global supply chain.
According to Deputy Minister of Planning and Investment Tran Duy Dong, US businesses have been present in the nation since the two countries normalized diplomatic ties, with typical projects being successfully ran by the likes of Cargill, Coca-Cola, Caterpillar, and Intel.
"These are important bricks to link the investment relationship between Vietnam and the United States, thereby paving the way for promoting economic co-operation between the two countries towards boosting production and building a brand on a sustainable basis in the global value chain," Dong noted.
On the occasion, Amcham and VCCI announced the establishment of the Vietnam – US Joint Business Council to collect the two business communities' initiatives and build a transparent business environment in the two nations, towards signing a bilateral free trade agreement.
US Ambassador to Vietnam Daniel J. Kritenbrink described Vietnam as one of the fastest-growing export markets and a comprehensive strategic partner of the US.
He also wished that bilateral ties will further flourish in the fields of trade, aviation and energy.
On the same day, the US Embassy in Hanoi and the US Consulate General in the Ho Chi Minh city also held ceremonies to celebrate the 244th anniversary of the US's independence and the 25th founding anniversary of the two countries' diplomatic relations./.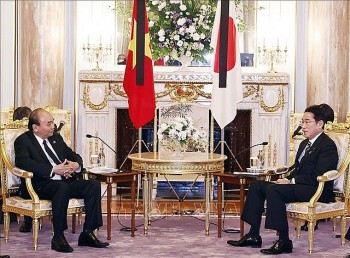 Friendship
Vietnam always treasures the extensive strategic partnership with Japan and views Japan as an important and long-term strategic partner, President Nguyen Xuan Phuc told Japanese Prime Minister Kishida Fumio in Tokyo on September 26.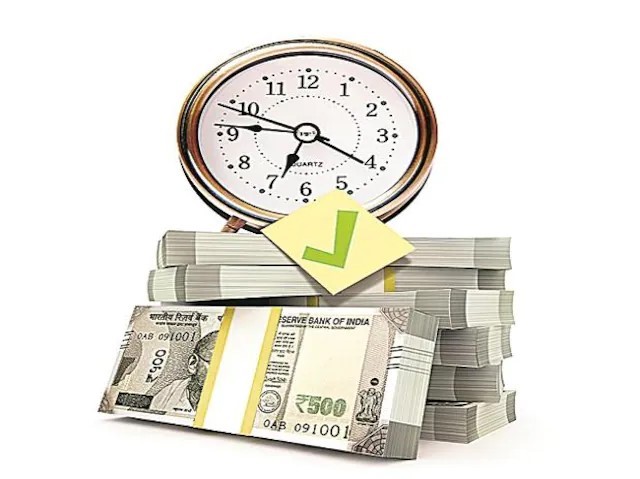 Economy
India is on track to attract USD 100 billion foreign direct investment (FDI) in the current fiscal on account of economic reforms and ease of doing business, the government said on Saturday
September 26, 2022 | 23:27
Economy
Vietnam Business & Weather Briefing (Sep 26): Vietnamese pomelo has a large potential for export, reference exchange rate up VND 10 at week's beginning.
September 26, 2022 | 15:57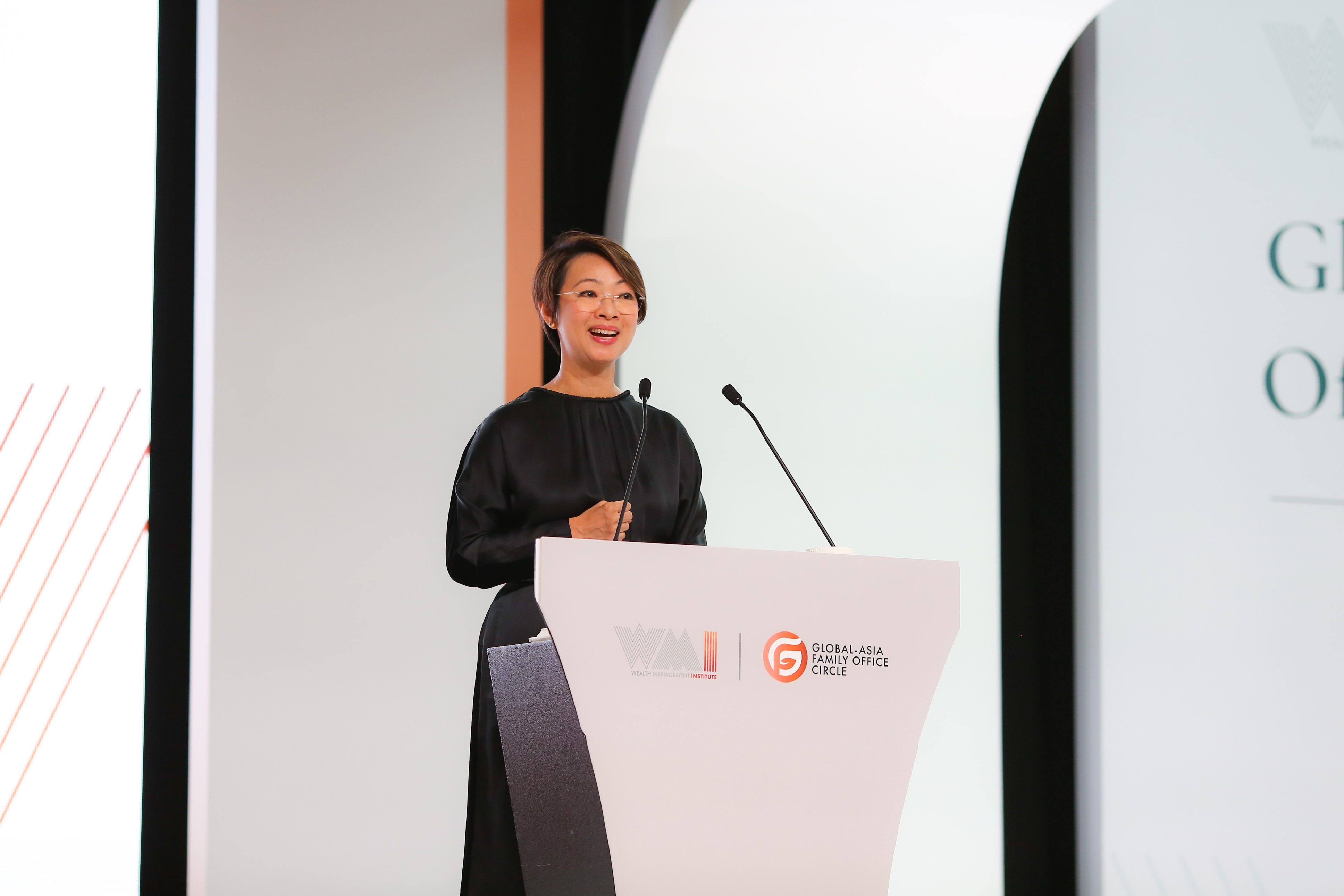 Economy
At WMI's inaugural Global-Asia Family Office Summit (GFO Summit) held at Sands Expo and Convention Centre, WMI today announced its plans to augment its training and community-building initiatives to pave the way for 5,000 enrollments of family office ecosystem participants into its programs by 2025.
September 26, 2022 | 12:45