Vietnam, Venezuela Enhance Cultureal Exchanges
The cooking and dance classes help popularise Vietnamese culture in Venezuela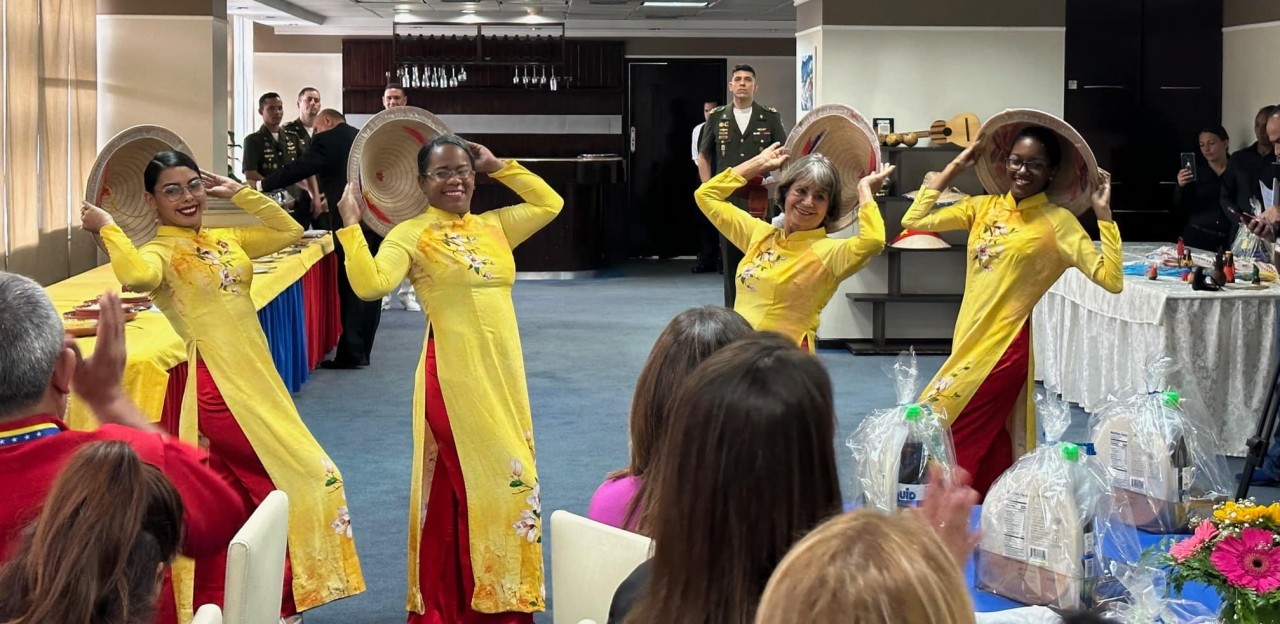 A "non" dance performance at the ceremony held at UNEFA on May 26. Photo: VNA
The Vietnamese Embassy in Venezuela and the National Experimental Polytechnic University of the Armed Forces (UNEFA) of the Latin American country held a ceremony on May 26 to wrap up a cooking class and a "non la" (Vietnamese conical hat) dance class at the school, VNA reported.
In his remarks, Vietnamese Ambassador Vu Trung My thanked the Venezuelan Ministry of Defence and UNEFA for opening the cooking and "non la" dance classes.
Presenting the certificate and emphasising the significance of the course at the closing ceremony, the ambassador emphasised that this is a meaningful activity in the series of celebrating the 133rd birthday of President Ho Chi Minh.
He congratulated the learners on completing the courses and expressed his hope that they will help introduce the typical dishes and the iconic "non la" dance of Vietnam to Venezuelan people.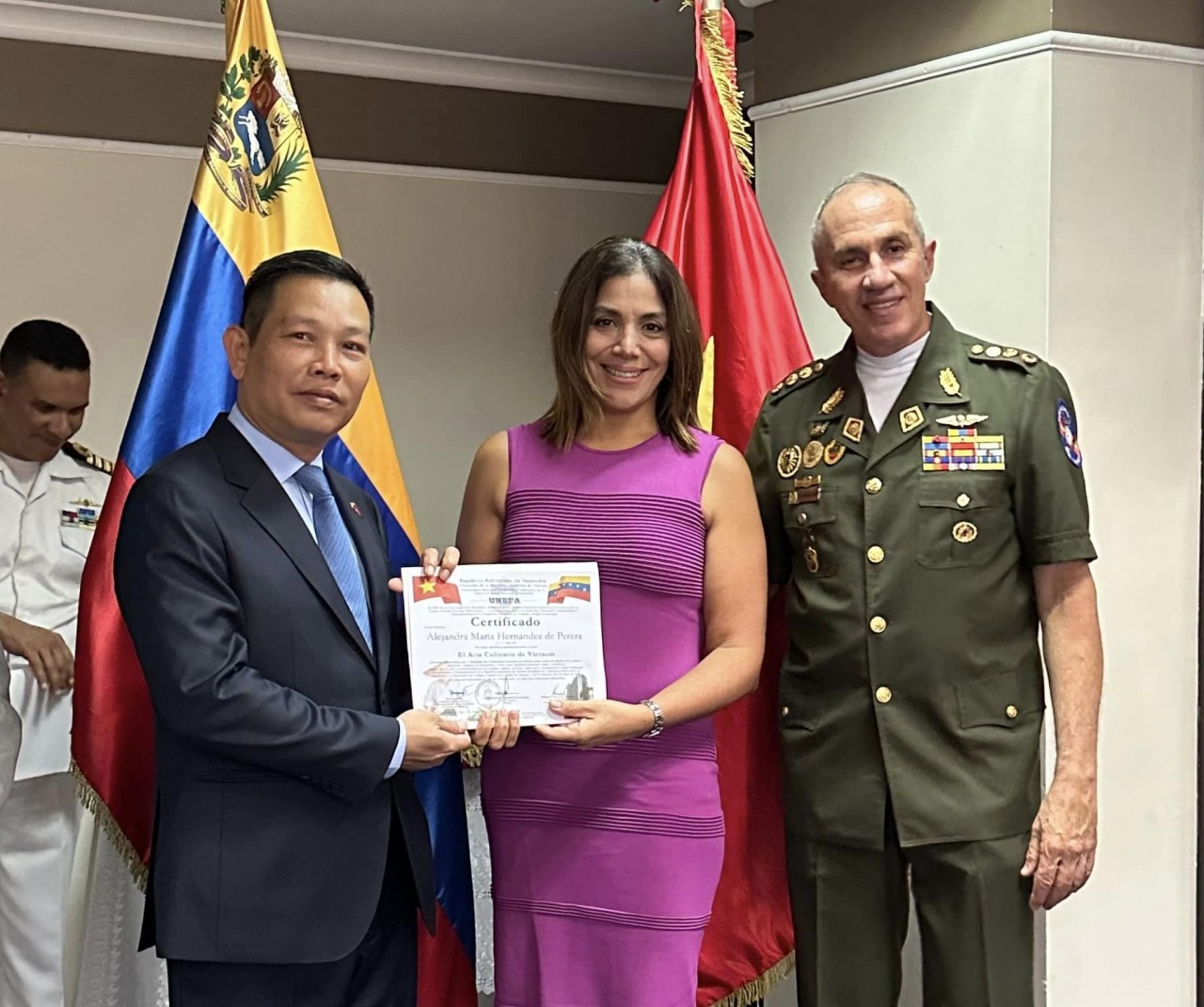 The Vietnamese ambassador presents the certificate to leaners.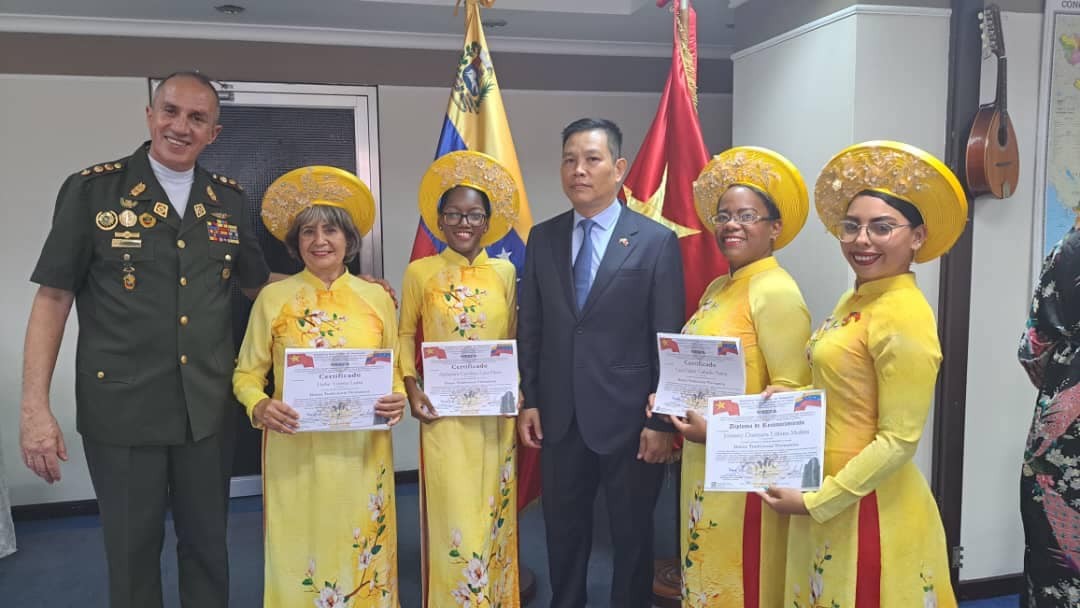 The Vietnamese ambassador hopes that the students will continue to help spread and promote the special dishes as well as the conical hat dance bearing the Vietnamese spirit and typical of the beauty of Vietnamese women to friends and Venezuelan people.
For his part, UNEFA Rector Pascualino Angiolillo appreciated the Vietnamese Embassy's assistance for the organisation of the classes, which he described as meaningful activities honouring the cultural identities and values of Vietnam.
He said the classes helped learners as well as lecturers at UNEFA gain a better understanding of the Vietnamese culture, thus helping enhance the friendship and multifaceted cooperation between the two countries.
Last month, a cultural and sports exchange programme between Vietnam and Venezuela was opened in Caracas, held by the Vietnamese Embassy, the Venezuela - Vietnam Friendship House, and the Caracas administration on the occasion of the Independence Declaration Day of Venezuela and the Day of Solidarity with the People of Venezuela.
The programme, held at Hugo Chavez Park in Caracas, featured a number of cultural performances and sports events and lasted through May 13.