Vietnam Works to Simplify Entry-Exit Procedures
Deputy Spokesperson of the Ministry of Foreign Affairs informed the press on entry-exit procedures for foreign tourists, experts and investors.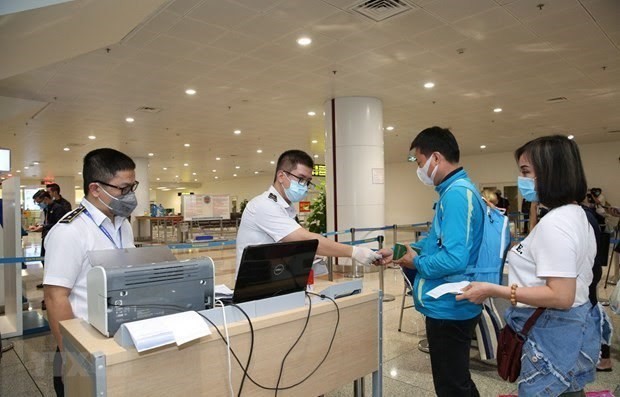 Customs officers check passengers' documents at Noi Bai airport. Photo: VNA
The Vietnamese Foreign Ministry has suggested measures to the Government to open the door to foreign tourists, experts and investors, including resuming visa waivers for citizens from 13 countries and visas for foreigner tourists, VNA cited deputy spokesman Doan Khac Viet.
During the ministry's regular press conference on September 8, Viet said the ministry is actively working with countries to simplify entry-exit procedures, as well as collecting feedback from the public and businesses at home and abroad.
In accordance with the Law on Entry, Exit, Transit and Residence of Foreigners in Vietnam, foreigners wishing to enter Vietnam to work for domestic firms or projects must apply for visas at the Ministry of Public Security's Immigration Department.
Types of visa and visa durations are decided by the department. Once approved, visas can be obtained at Vietnamese representative agencies abroad.
Viet said in the near future, the Foreign Ministry will continue working with the Ministry of Public Security, relevant ministries and agencies to consider and suggest suitable immigration policies.
Director of the Ho Chi Minh City Department of Tourism Nguyen Thi Anh Hoa said the ministry should propose the Government instruct the Ministry of Foreign Affairs to expand the list of countries and territories qualified for visa exemption and e-visa, and restore visa granting at border gates.
She also suggested simplifying visa procedures for visitors who get infected with Covid-19 during their stay in Vietnam and undergo treatment in the Southeast Asian nation.
Nguyen Thien Phuc, Director of Product Research & Development at Vidotour Indochina Travel, said apart from the visa policy, a national communication strategy and a contingent of trained personnel are needed for the domestic tourism sector.
The Vietnam National Administration of Tourism has coordinated with associations, businesses, and airlines to outline promotion plans to quickly ramp up international tourism, focusing on Southeast Asian, Northeast Asian, and European markets.
Specifically, Vietnam will join JATA Tourism Expo, a leading regional travel fair that will take place in Japan from September 22-25, and the World Travel Market in the UK from November 7-9.
There will be also festivals and programs promoting Vietnamese tourism in major markets like the Republic of Korea, Japan, Taiwan (China), Europe, North America and Australia, along with an array of events at home.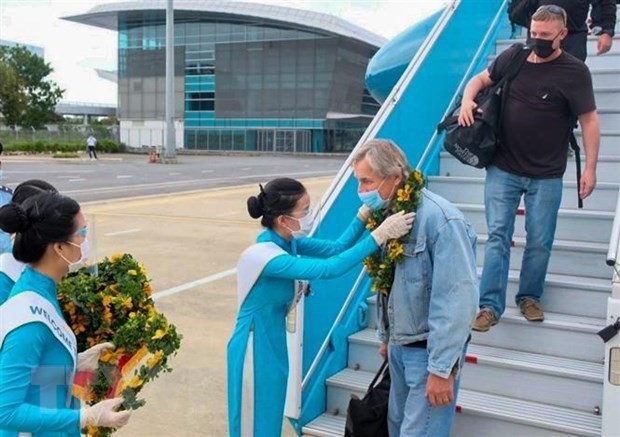 Illustrative image. Source: VNA
Localities welcomed roughly 80 million domestic holidaymakers during the initial eight months of the year, marking an increase of 33.6% compared to the same period from 2019, the pre-pandemic period in which the tourism sector was in its heyday, according to VOV.
However, the number of foreign arrivals has so far yet to meet expectations, though the country reopened its borders in the middle of March. Statistics show 1.44 million foreign arrivals have been reported over the past eight months, representing a decline of 87.3% compared to the same period in 2019 and meeting less than one-third of this year's plan.
According to the calculations made by local travel companies, Vietnam attracted 18 million international tourists in 2019, and its revenue was large compared to the revenue generated by 85 million domestic tourists in the same year. Therefore, tour operators fear that they will continue to encounter difficulties over the coming months unless the international tourism market has yet to fully recover.
Dang Minh Truong, chairman of multi-sectoral Sun Group, said that Vietnam has yet to take advantage of the visa policy which the World Tourism Organization has previously identified as key to attracting foreign visitors.
The facts clearly show that neighboring countries with more open visa policies enjoy an outstanding advantage in the race to welcome international visitors compared to Vietnam. Typically, 2019 saw Vietnam welcome a record high of 18 million international visitors, while Thailand celebrated achieving the milestone of receiving 40 million international visitors. The policy of extending the stay of tourists also helps Thailand to attract more international travelers who wish to stay longer and spend more.
Tourism expert Nguyen Duc Chi frankly points out the competitive race of luring tourists has begun. Japan has officially opened its doors to tourists, while the RoK and Thailand are also willing to ease visas to quickly increase arrivals. Due to this, Vietnam will ultimately lose out to its rivals unless it takes action, he concludes.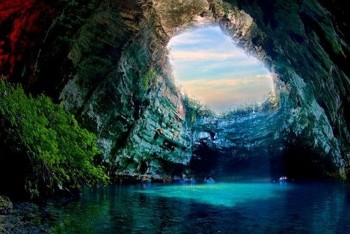 Multimedia
Son Doong Cave in Vietnam, the world's largest cave, now has been listed among top 10 Greatest Natural Caves in the World by Wonderlist.