Vietnamese Airports Passengers Increased by Over 58% in February
According to the Civil Aviation Authority of Vietnam, the number of passengers passing through Vietnamese airports has reached 6.1 million so far this month, up 57.8% year on year.
Foreigners account for 105,000 of the total, a 350% rise year over year. Domestic visits have surpassed 6 million, an increase of 56.1 percent. Meanwhile, cargo has increased by 27.6% year on year to 113,000 tonnes.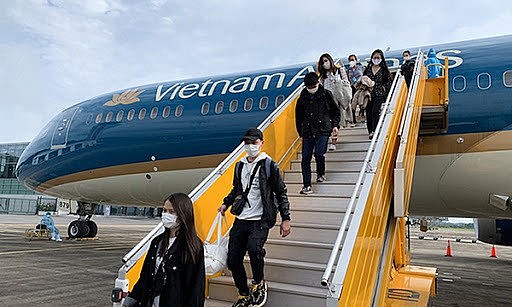 Vietnamese Airports Passengers Increased by Over 58% in February. Photo: Vietnamnet
The Vietnam Air Traffic Management Corporation (VATM) has handled over 60,500 flights this month, up 157 percent from February last year, including 13,200 transit flights, up 67.4%.
Domestic carriers also transported more than 3 million passengers in February, up 56.8% year over year. Foreigners account for 39,400 of the total, while domestics account for over 3 million.
Vietnam has resumed international routes to and from 20 countries and territories, up from 28 countries and territories prior to the Covid-19 pandemic in the winter of 2019.
International flights are currently operating at a frequency of 53 per day each way, down from 598 per day during the winter of 2019, according to VNA.
Cambodia, Hong Kong (China), Japan, the Republic of Korea, Malaysia, the Philippines, Qatar, Singapore, Taiwan (China), Thailand, Turkey, the UAE, Laos, China, France, Germany, the United Kingdom, Australia, Russia, and the United States have all reopened international aviation services.
Meanwhile, six airlines, namely Vietnam Airlines, Vietjet Air, Pacific Airlines, Bamboo Airways, Vietravel Airlines, and Vasco, operate 56 domestic air routes with 2,570 weekly flights each way, down two routes and 217 flights from the 2019 winter schedule.
Although road and rail transportation have largely returned to normal, passenger traffic has not been restored due to fears of a pandemic.
The resumption of commercial flights between Malaysia and Vietnam, according to Cao Chinh Mien, head of Vietnam Airlines' Malaysia branch, will not only help bring back Vietnamese citizens who are working and stranded in Malaysia but will also help attract more tourists and promote trade between the two countries.
On its official website, Vietnam Airlines has updated its regular foreign flight schedule. Flights between Ho Chi Minh City and Kuala Lumpur will be available on Feb. 17, 22, and 27, as well as every Wednesday beginning March 1.
According to a spokesperson for Vietnam Airlines, the carrier would increase the number of foreign flights to at least 95 per week starting in April and at least 164 per week starting in July. To accommodate passenger demand, all foreign flights are likely to be restarted to pre-pandemic levels, he told VNA.
Vietnam Reconnecting 19 International Routes

A month after the Vietnamese government reopened the country's borders, regular flights have resumed to 19 overseas destinations. Vietnam Airlines has restarted 24 international services ...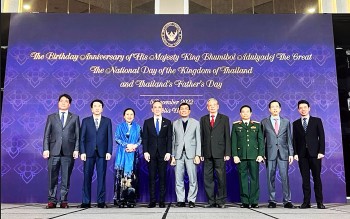 Friendship
The Royal Thai Embassy organises the reception on the occasion of celebration of the Birthday Anniversary of His Majesty King Bhumibol Adulyadej the Great, the National Day of the Kingdom of Thailand and Thailand's Father's Day on 2nd December 2022 in Hanoi.