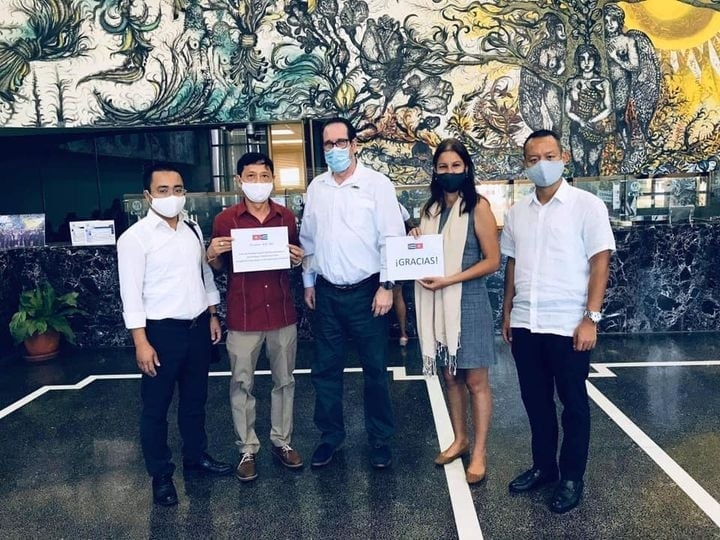 Oficials of the Embassy of Vietnam tranferres the donation to Cuba's side. Source: Cuban Embassy in Hanoi
Accordingly, the central Vietnam-Cuba Friendship Association and the club of Vietnamese alumni once studied in Cuba in April also started a campaign and raised over VND 1,57 billion (USD 67.000) to help Cuba in the fight against the ravaging COVID-19 pandemic.
During the handover, Francisco Rodríguez Acosta, vice president of Banco Financiero Internacional S.A. (BFI) and Leima Martínez Freire, Director of Asia Pacific at the Cuban Institute of Friendship with the People (ICAP), thanked the Vietnamese brothers for this contribution, which will be used to combat COVID-19 in Cuba.
In recent months, Vietnam's governments, businesses, and people have donated supplies such quick test kits, medical masks, personal protective equipment and rice as well as cash donation to assist the fight against COVID-19 in the Caribbean nation.
In April, the Ho Chi Minh City Union of Friendship Organisations (HUFO) and the city's Vietnam – Cuba Friendship Association also granted funding to support Cuban citizens in the southern city in lessening the impact of COVID-19.
Cuba, in return, also sent medicine and health experts to share their experience in the control of the new strain of the coronavirus and in vaccine research with Vietnam.
The coronavirus tally passed the 8 million mark on September 10 in Latin America, the region with the most infections in the world.
Over the past week the daily average of cases in the region fell to 67,173 through Wednesday from 80,512 in the previous seven days, according to the Reuters tally, which is based on figures released by governments.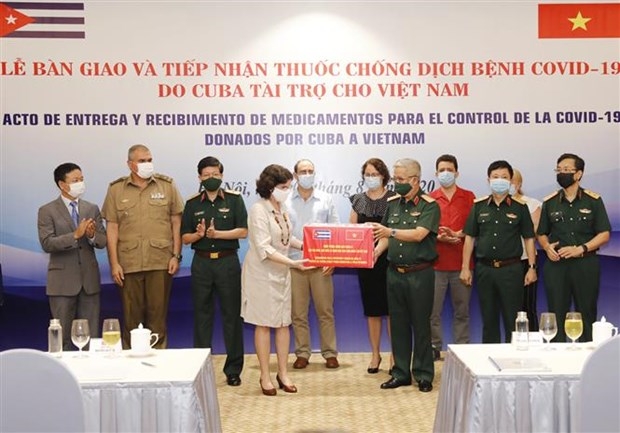 Medicine from Cuba to help Vietnam fight the COVID-19 pandemic. Photo: VNA
Cuba on Wednesday reported a high number of COVID-19 cases in hospitals, totaling 626 active patients, including 614 with a stable clinical evolution, 11 in a serious state and one critical, Prensa Latina News Agency reported.
A total of 82 patients have tested positive with the SARS-CoV-2 coronavirus, which causes COVID-19, thus increasing the total number of cases to 4,459.
No deaths were reported due to COVID-19 on Wednesday, so the death toll remains at 104.
According to specialists, experts have carried out 454,724 PCR tests from March to now in the country.
The head of Cuban diplomacy added on the social network that this effort must be responsibly supported to prevent the spread of SARS-CoV-2 coronavirus.
On Tuesday, specialists studied 7,948 samples to detect SARS-CoV-2, the third consecutive day exceeding the 7,000 daily tests.
Cuba began the fight against the novel coronavirus with four molecular biology laboratories with the capacity to perform PCR tests in real time that allow detecting the virus genome in a sample of a nasopharyngeal exudate./.
Hannah Nguyen