Vietnamese alumnus recalls student life in Soviet Union
Veteran journalist Nguyễn Đăng Phát was among the first four Vietnamese students to graduate in journalism in the Soviet Union. He tells Việt Nam News's Hồng Minh his memories of students life.
In 1971, 18-year-old Nguyễn Đăng Phát left his hometown in the central province of Hà Tĩnh for his very first trip overseas to study in a country thousands of kilometres away, the Soviet Union.
The feelings of the young man were mixed to say the least.
"At that time, I was excited and proud. But I was also nervous," he recalled.
Coming from a family with four children in a poor village in Hà Tĩnh, Phát was selected to study abroad thanks to his excellent achievements at school and great scores in his university entrance exam.
He was the pride of the family, and even the whole village. All the neighbours came to his house to congratulate Phát on the opportunity to study in the Soviet Union – a country of brotherhood of Việt Nam that they had heard of but hardly knew.
Now they were going to have a son of the village study in the country that had given moral, logistic and military support to the Việt Nam at war.
From a personal perspective, the curiosity of going to a foreign country weighed equally with the anxiety he faced of taking a trip into the unknown.
He left his family to go to Hà Nội, with hundreds of questions floating in his mind. What will life be like? What will the people be like?
"I stayed in Hà Nội for a month to complete paperworks, basic language learning and health checks prior to departure, but I still knew nothing about what would happen in my studies," he said.
To get to his new school, Phát had to take a 10-day train ride with fellow passengers, changing first as they crossed China, and then again at the border with the Soviet Union.
It was on this journey, he got his first taste of things to come.
First impressions
First impressions count, and Phát's were not as good as he had hoped. After 18 years of home cooking, it was the food served to him on the train journey that left him feeling a little sick in the stomach.
"It was the first time I had encountered a rice-less diet. The meal started with salad, then soup, then the main dish served with processed potatoes," Phát recalled, adding that he really struggled with both the taste and the smell of the meals he was being served.
Another culture shock hit him hard as his train made the journey to the Soviet Union.
Those serving him seemed somewhat cold he recalled, and certainly not as talkative as those back home.
But his anxiety soon lifted as the train pulled into Irkutsk City close to Lake Baikal in Siberia.
At the gathering in Irkutsk, Phát and others were pided into groups and it was then he would finally learn where, and what, he was going to be studying.
Phát was sent to study at the Faculty of Journalism of the Lomonosov Moscow State University (MGU) in Moscow together with three others, who became the first four Vietnamese students to ever graduate in journalism from Soviet Union and MGU.
Where the love started
As the train arrived at station in Moscow, Phát finally felt true love from Russians coming to welcome the Vietnamese students.
"Việt Nam at that time was at war with severe bombings and fighting," he said. "I felt that Russian people shared the sorrow and consequences of the war with Vietnamese students."
"They welcomed us with lots of emotions and compassion."
Phát started to learn that Russians are friendly people with strong affections, especially towards Vietnamese people.
He remembered how for a few split seconds he felt as though he was an orphan, from a war-torn country, arriving in a strange new world to start his life over again, relieved at the warm welcome he received from his 'new family'.
During a year of foundation courses and five years at the journalism faculty, Phát and all his friends received lots of care and help from Russians around, especially language teachers.
"Russian teachers were those who were the closest to us as they taught us everything from basic language, literature and geography. They actively approached us and offered help," he said, adding that he and his friends were invited to visit the teachers' houses to have meals and learn firsthand all about Russian culture.
"They really cared for us with love," he said.
Phát said he always remembered the opening day of journalism class. The professor who was head of the faculty even introduced the four Vietnamese students during his lecture.
"Professor Yasen Zasurski said to all journalism students that four students from heroic Việt Nam would start learning today and introduced us. We stood up to say hello to everyone and received lots of applause from our classmates, which comprise Soviet Union students and those from other countries as well," Phát recalled.
He said that Russians were so keen to learn about Việt Nam and Vietnamese people.
"During his lectures, if there was news from Việt Nam, like our victory in the South or an American bomber aircraft downed in the North, Professor Zasurski would pause to brief all the students about what was going on in Việt Nam," Phát said.
He recalled that in his dormitory's communal room – called "Lenin corner" – there were many talks about Việt Nam on Saturdays to all students.
"I regret that in my first and second years, my Russian was not good enough to talk more about the country to Russian and international friends," he said.
After graduating in 1977, Phát came back Việt Nam and started working as a reporter at Vietnam News Agency (VNA) where he could use all he had learnt in the Soviet Union to the utmost.
He became VNA correspondent in Moscow for two terms, 1989-93 and 2005-08. Now he is the General Secretary of the Việt Nam-Russian Friendship Association and Editor-in-Chief of Bạch Dương (Birch-tree) magazine, where he is still using journalism skills and knowledge about Soviet Union and Russia to write and educate people.
To Russia with love
According to Phát, the first batch of Vietnamese students to the Soviet Union dated back in 1954 when President Hồ Chí Minh selected 100 prominent people to study in different sectors. Since then, hundreds of thousands of Vietnamese students have been sent to study in the Soviet Union which is now Russia.
"Vietnamese students and Russian people always treasure the emotions towards each other, now and then, whatever the situation is," Phát said.
"I think the treasured love is the reason why whoever studied in the Soviet Union and Russia still maintains their memories and emotions towards Russia and Russian people."
Phát said that the Vietnamese alumni still met up to talk about memories, about schools, about teachers, and even sing Russian songs and speak Russian.
He said in 2010 when Vietnam Television organised a programme about Việt Nam and Russia's students and teachers, many Russian teachers were invited to come to Việt Nam to attend the event.
"Professor Zasurski was also invited and we could recall lots of memories," he said.
Despite his initial misgivings on that train journey almost 50 years ago when he was served his first ever none-Vietnamese meal, this 67-year-old veteran journalist has now developed a taste for Russian food.
So much so, he even asks his wife to cook dishes from the former Soviet Union from time to time.
Photographs of those early days of student life spent in a faraway land may fade over time, but the memories etched into his mind will last a lifetime.
"My memories of student life and the love to Russians would never fade in me," he said./.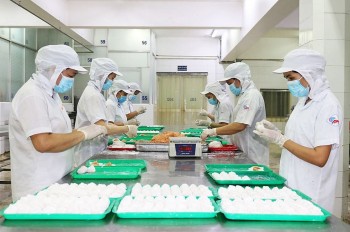 Focus
The fourth wave to hit Vietnam in late April has until now seen over 2 million Covid-19 cases recorded, whilst more than 1.72 million have since recovered from the virus.