Vietnamese Ambassador to Russia honored with Friendship Order for fostering Vietnam-Russia ties
Vietnamese Ambassador to Russia Ngo Duc Manh has been awarded the Russian Order of Friendship insignia for his significant contributions to fostering the comprehensive strategic partnership between Vietnam and Russia.
The honor was given under a decree signed by Russian President Vladimir Putin, Nhan Dan Newspaper reported.
Speaking at a ceremony on April 6, Russia's Deputy Foreign Minister Igor Morgulov stated that, during his ten years in the position, it is the first time that he has seen a Vietnamese Ambassador receive the honor.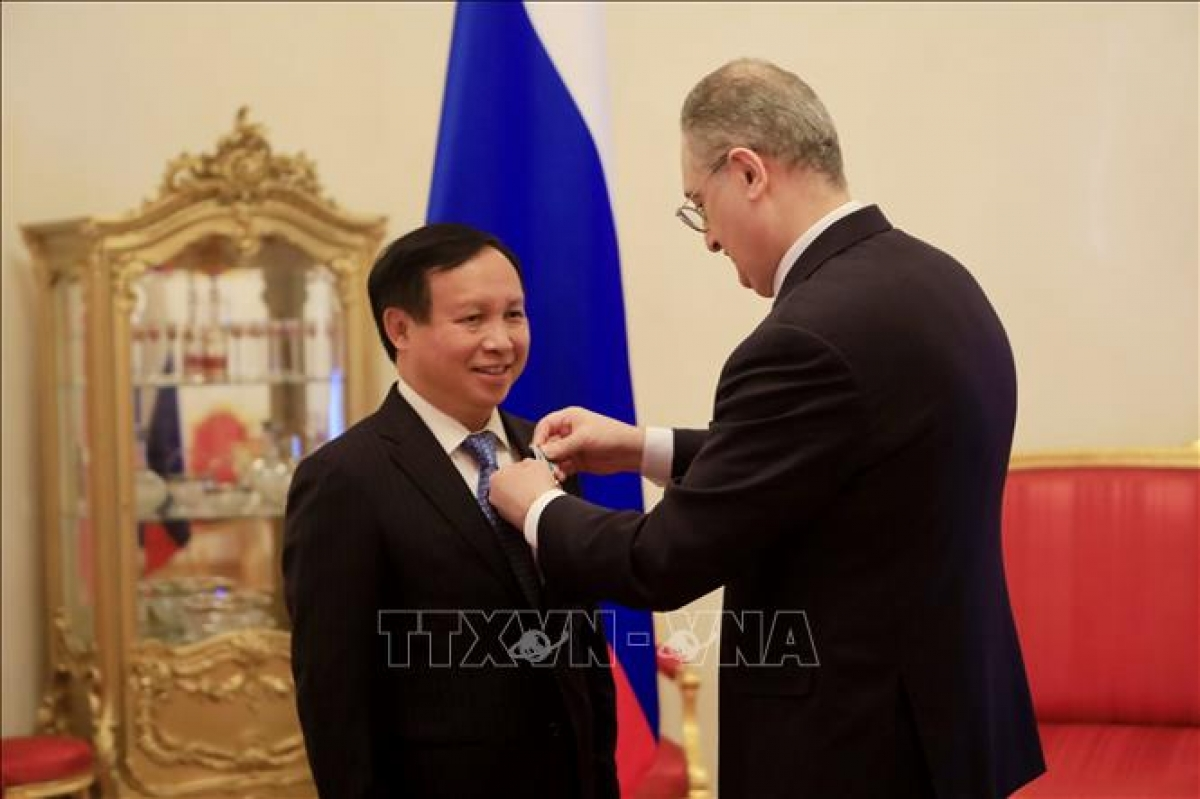 Deputy Minister of Foreign Affairs of Russia Igor Morgulov confers the Order of Friendship on Ambassador Ngo Duc Manh. Photo: VNA
The Russian official spoke highly of the achievements during Ambassador Manh's term, emphasizing the maintaining of multi-faceted cooperation despite the Covid-19 pandemic.
For his part, the Vietnamese Ambassador gave thanks for the support of the leaders of Russian state agencies, organizations, partners and friends that helped him to fulfil his duty successfully.
On the same day, Ambassador Manh paid a visit and bid farewell to Gennady Zyuganov, General Secretary of Russian Communist Party (KPRF), and other KPRF leaders.
Zyuganov congratulated the Vietnamese diplomat on the successful completion of his term, affirming that the KPRF will always support the Communist Party of Vietnam in all circumstances.
On the occasion, the Russian Communist leader presented Ambassador Manh with the Lenin Order for his contributions to strengthening the solidarity and friendship between the KPRF and international friends.
Ambassador Manh presented the KPRF leader a book featuring 70 years of Vietnam-Russia diplomacy compiled by the diplomat.
Besides Vietnamese Ambassador to Russia Ngo Duc Manh, Vietnamese military officials have also been awarded the State Award of the Russian Federation – Order of Friendship, for their contributions to the Vietnam-Russia relations.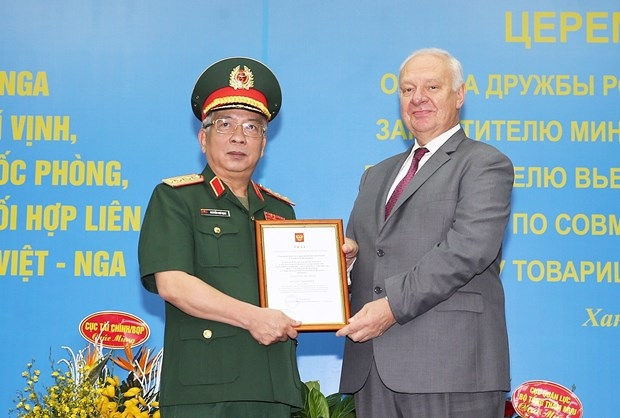 Russian Ambassador to Vietnam Vnukov Konstantin Vasilievich (R) presents the decision of the Order of Friendship of Russia to Deputy Defence Minister Sen. Lt. Gen. Nguyen Chi Vinh in 2019. Photo: VNA
They are Minister of National Defence Ngo Xuan Lich; Chief of the General Staff of the Vietnam People's Army and Deputy Minister of National Defence Phan Van Giang; Chief of the General Department of Politics at the Vietnam People's Army Luong Cuong; and Deputy Minister of National Defence Be Xuan Truong.
The Order of Friendship of the Peoples of Russia is a sign of recognition for building fruitful relations between countries and strengthening Russia's position in the international community. It is awarded to both Russian and foreign citizens, including for success in various sectors of the economy.
During its existence from 1994 to the present day, more than 400 personalities from 58 countries in the world became cavaliers of this Order.