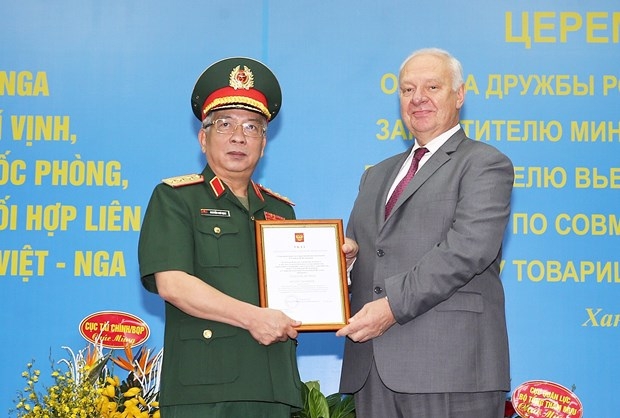 Russian Ambassador to Vietnam Vnukov Konstantin Vasilievich (R) presents the decision of the Order of Friendship of Russia to Deputy Defence Minister Sen. Lt. Gen. Nguyen Chi Vinh in 2019. Photo: VNA
The officials have received the honour for their significant contributions to the enhancement of the two nations' comprehensive strategic partnership, said the decree.
Among the recipients were Vietnamese Ambassador to Russia Ngo Duc Manh; Minister of National Defence Ngo Xuan Lich; Chief of the General Staff of the Vietnam People's Army and Deputy Minister of National Defence Phan Van Giang; Chief of the General Department of Politics at the Vietnam People's Army Luong Cuong; and Deputy Minister of National Defence Be Xuan Truong.
The decree has also granted a number of noble titles to Russian and foreign citizens for their contributions to the country's COVID-19 fight and national security, among other aspects.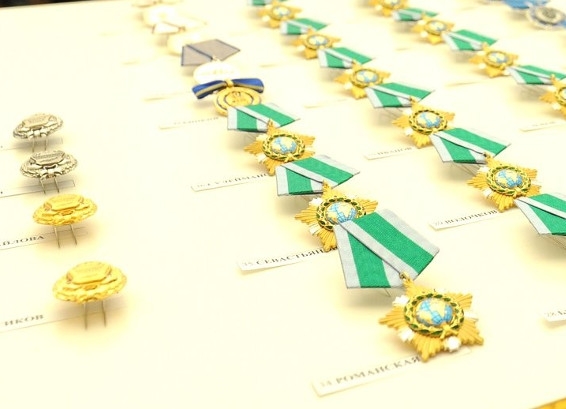 The Order of Friendship is a Russian state decoration to reward those who contribute significantly to better relations and closer cooperation between peoples and nations. Source: The Presidential Administration of Russia
The Order of Friendship of the Peoples of Russia, is a sign of recognition for building fruitful relations between countries and strengthening Russia's position in the international community. It is awarded to both Russian and foreign citizens, including for success in various sectors of the economy.
During its existence from 1994 to the present day, more than 400 personalities from 58 countries in the world became cavaliers of this Order./.
Hannah Nguyen