Vietnamese Braised Fish Among the World's Most Delicious Dishes
Tasteatlas has recently ranked Vietnamese braised fish 75th out of the 100 best fish dishes in the world.
Taste Atlas is a website for international visitors to refer to the delicious, unique, and attractive dishes of the places they intend to visit. According to this page, Vietnamese braised fish is tasty and has now become a popular list on well-known Vietnamese restaurants.
Out of the 100 most delicious dishes made from fish across the world, Vietnam's braised fish was rated with a score of 3.8/5 and ranked 75th. Taste Atlas assessed: "This Vietnamese fish dish is "very tasty". Currently, it has become a part of the list of traditional dishes of Vietnamese cuisine known to many people. Braised fish is so popular that it is used by all families in Vietnam for daily meals. Therefore, when traveling to Vietnam, this is also one of the perfect dishes for tourists to enjoy."
Photo: Pinterest
Braised fish is one of the Vietnamese signature dishes. Restaurants and families, often choose fatty fish pieces to braise in a traditional clay pot. The dish is usually made from catfish such as howling fish, pineapple fish, or snakehead fish. After cleaning, the fish will be marinated with spices such as fish sauce, sugar, salt, seasoning powder, pepper, and chili for about an hour.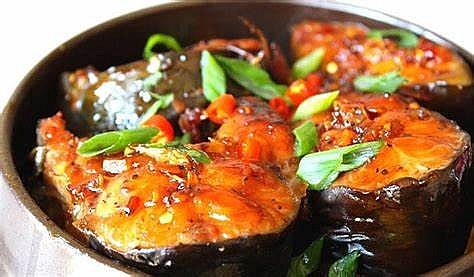 Photo: Wokandkin.com
Once the fish and seasonings have been combined, they are placed in a bowl. Then, the cook will add coconut water, and caramel to cover and simmer until the broth thickens. Finally, add some other seasonings like scallions, onions, or sliced garlic. Braised fish is usually served with rice and comes with a bowl of sour fish soup - a soup made from fish and some typical Vietnamese vegetables.