Vietnamese Brands Continue To Excel
Brand Finance has released its annual report on the world 500 leading finance brands and Vietnam leads the ASEAN region in terms of the number of banks reaching the Top 500 with 12 banks.
The 12 Vietnamese banks entered the Top 500 most valuable banking brands, ranked by Brand Finance, include: Vietcombank, Agribank, BIDV, Techcombank, VietinBank, VPBank, MB, ACB, Sacombank, HDBank, SHB and VIB. The highest ranking is Vietcombank at 137th, moving 25 places from last year. Following Vietcombank are Agribank (159th) and BIDV (161st). This year, VIB enter the Top 500 at 492nd place.
The announcement of the Top 500 most valuable banking brands by Brand Finance also shows that, with 12 banks, Vietnam leads the ASEAN region in terms of the number of banks reaching the Top 500. Next is Indonesia and the Philippines with 9 banks., Malaysia (8 banks), Thailand (6 banks), and Singapore (3 banks).
Notably, Vietnamese banks also lead ASEAN in terms of the total number of banks moving up in ranking, specifically: 12 Vietnamese banks rose to 296 ranks, followed by Indonesia with 79 ranks, Singapore with 20 ranks, while Thailand 25 places down, Malaysia down 56 places, Philippines down 80 places.
Brand Finance is the world's leading independent brand valuation and strategy consultancy. Headquartered in the City of London, we are present in over 20 countries. The annual Brand Finance Banking 500 ranking by Brand Finance shows the world's top 500 most valuable and strongest banking brands. Brand value is understood as the net economic benefit that a brand owner would achieve by licensing the brand in the open market. Brand strength is the efficacy of a brand's performance on intangible measures relative to its competitors.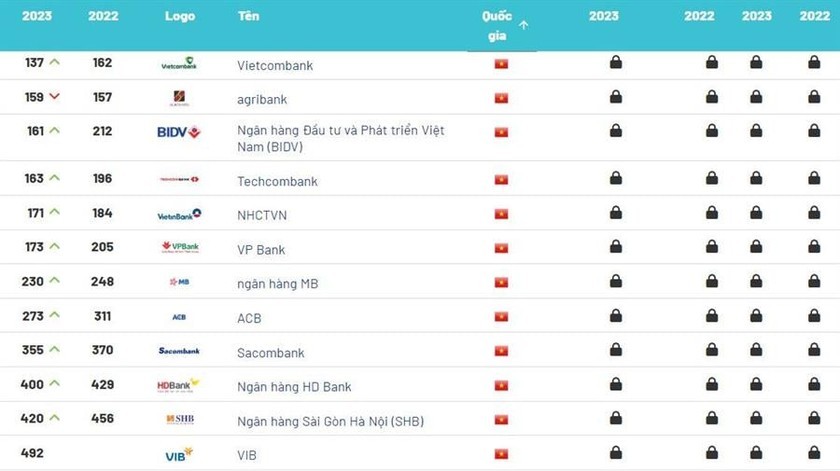 This year, Vietcombank has increased 25 places from 2022 and led the list of 12 Vietnamese banks in the Top 500 most valuable banking brands in the world (Photo: Screenshot from Brand Finance).
Vietcombank's representative said that Vietcombank's strategic orientation to 2025 with a vision to 2030 is to maintain its position as the No. 1 bank in Vietnam, becoming one of the 100 largest banks in Asia and 300 banking groups. It aims to enter the world's largest financial company list, to become one of the 1,000 largest listed companies in the world.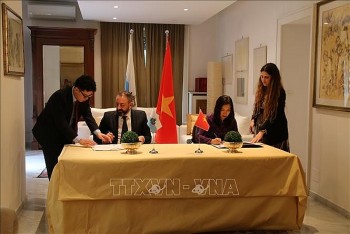 Friendship
The two countries will continue promoting cooperation to enhance growing ties between the two countries based on the good friendship since they established diplomatic relations in 2007.