Vietnamese Cultural Heritages Introduced to UNESCO Community
Vietnamese culture, cuisine, and heritage have been highlighted at an event held in Paris on May 3, drawing the participation of more than 120 representatives from UNESCO and diplomatic missions to UNESCO.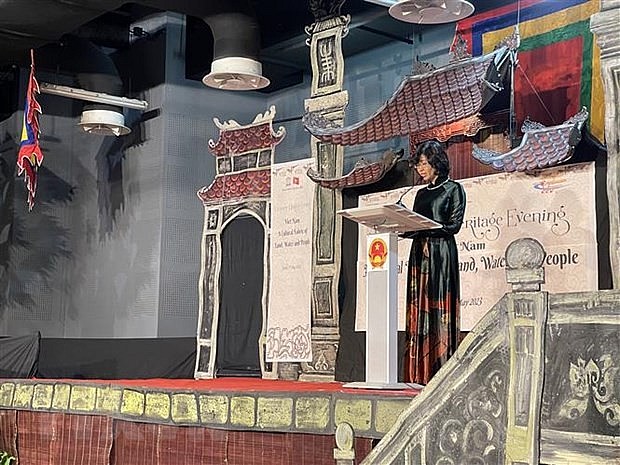 Ambassador Le Thi Hong Van, Permanent Representative of Vietnam to UNESCO, addresses the event. (Photo: VNA)
Vietnamese cultural heritages and the image of a country of Vietnam with development, renovation, and dynamism imbued with national identity were introduced to international friends during an event in Paris on May 3.
Addressing the event, Ambassador Le Thi Hong Van, head of the Vietnamese delegation to UNESCO, emphasized that traditional Vietnamese cultural heritages have been strongly preserved over the years and have been increasingly known to the world through a number of tangible and intangible cultural heritage certificates granted by UNESCO.
Claudine de Kerdaniel, a member of the permanent delegation of Saint Vincent & the Grenadines to UNESCO, said she was extremely impressed by the unique performances put on by Vietnamese artists, especially the water puppetry shows.
She highly commended the talent of the local artists, the range of traditional beautiful costumes, the stage setting, as well as their thorough preparations for the shows, cited VOV.
At the event, the participating delegates enjoyed some of Vietnam's unique and diverse food dishes.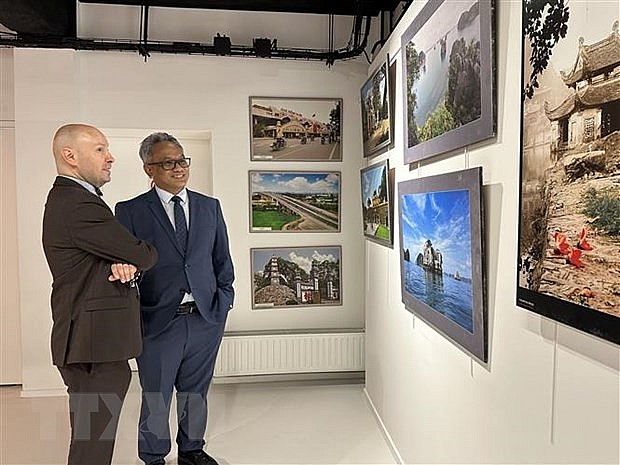 Visitors view a photos of Vietnam's scenic spots recognized by UNESCO as tangible and intangible cultural heritage. (Photo: Nguyen Thu Ha/VNA)
Ambassador Simona-Mirela Miculescu, permanent representative of Romania to UNESCO, recalled her memories when accompanying the Romanian President to visit Vietnam 20 years ago. She showed her impression at the Vietnamese people's hospitality.
Within the event's framework, an exhibition was held to introduce UNESCO-recognized cultural heritages. Participants also enjoyed special dishes of Vietnam.
Currently, Vietnam is serving as a member of the UNESCO Inter-Governmental Committee for Safeguarding of the Intangible Cultural Heritage, and vice chair of the UNESCO Intergovernmental Committee of the 2005 Convention for the Protection and Promotion of the Diversity of Cultural Expressions.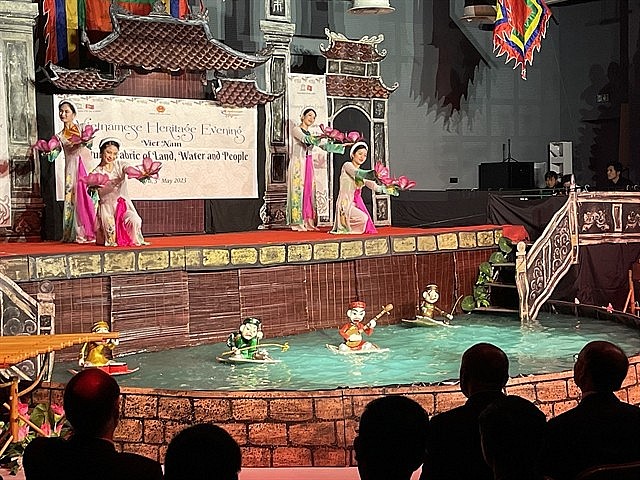 A Vietnamese art performance at the event. Photo: VNA
The country is racing for a seat at the UNESCO World Heritage Committee for the 2023-2027 period, to which members will be elected in November 2023, VNA reported.
According to Ambassador Van, with Vietnam's active and effective contributions to multilateral forums at UNESCO, the country has gained confidence from member countries in its contribution and governance capacity in preserving and promoting the values of cultural heritage. UNESCO member states also spoke highly of Vietnam's policies and commitments to turn heritage into assets, potential into resources, and culture into endogenous strength for sustainable and inclusive socio-economic development, contributing to the joint efforts of UNESCO and the world in preserving heritage.