Discovering Me Tri's Young Green Rice Making Craft - An National Intangible Cultural Heritages
Hanoi's Me Tri ward is famous for its tradition of producing "cốm" (young sticky rice flakes).
Me Tri Village in Hanoi is known as one of the two oldest places in the country where people make com (beaten green rice or young sticky rice flakes), a seasonal dish made from immature rice kernels that is much sought after in the fall. It is naturally green and subtly sweet because it is harvested at a specific time when the grain is neither too young nor too old.
Packed in lotus leaves, the soft and fragrant green rice can be enjoyed plain, with bananas, made into a cake with mung bean filling, as a sweet soup or even with ice cream.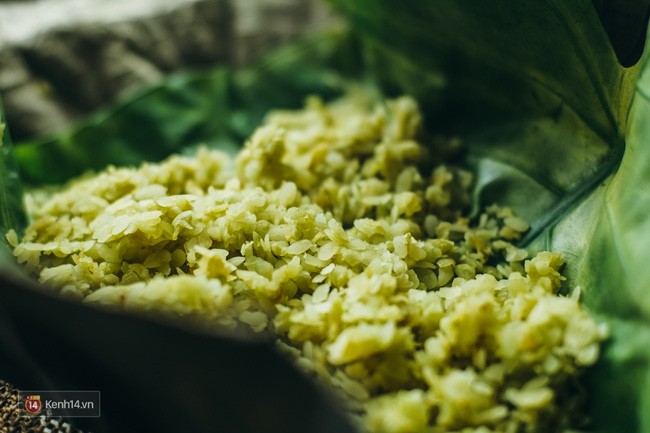 Com, a long-time Hanoi favorite, has an important place among Vietnamese foods as a symbol of Vietnam's age-old rice growing culture. Source: Kenh14.vn
Long Tradition
Producing green rice flakes (it's called cốm in Vietnam) is classified as one of the oldest traditional professions of formerly and present Hanoi. It has been preserved for generations and plays an important part in the diverse and flavorful cuisine of Hanoi. The capital city of Hanoi has two renowned "com" making villages: Vong in Cau Giay district and nearby Me Tri in Nam Tu Liem district (including Me Tri Thuong, Me Tri Ha village).
The profession of making green rice flakes in Me Tri up to now has a history of more than a century. The craft has been added to the Ministry of Culture, Sports and Tourism's list of national intangible cultural heritages in 2019.
Me Tri's Com is said to be one of Hanoi's best specialties. Almost every household in Me Tri Thuong and Me Tri Ha village is involved in the trade. Com is made from different types of rice, but the most delicious one is yellow flower sticky rice, which is the traditional and popular glutinous rice of the lowland and midland provinces of northern Vietnam.
Green sticky rice is both popular and luxurious. Visitors to Hanoi often buy packages of green sticky rice flakes as gifts.
They is a symbol of Thang Long-Hanoi gastronomy often mentioned in Vietnamese literature and poetry and an enduring source of pride for the village of Me Tri.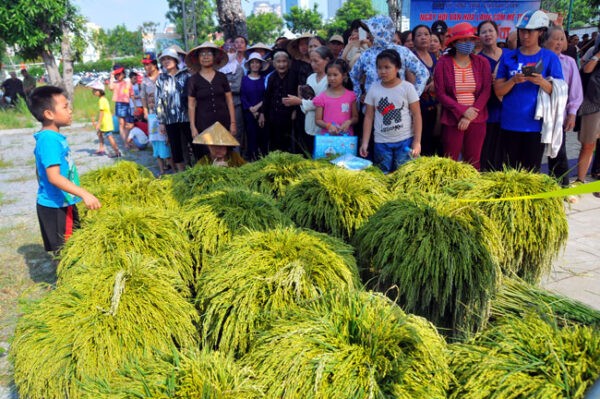 Young sticky rice is the main ingredient of this delicacy
Hard Job
A basic production process of green rice flakes includes these four following stages: harvesting and sifting rice; roasting green rice grains; milling and pounding green rice flakes and packaging.
Green rice flakes is usually made from young sticky rice. When pressing on the grain of rice with fingernal, the milk layer of rice come out. That is the time for young sticky rice. Old sticky rice are used to make other products.
The process begins by harvesting or purchasing young rice varieties. There are many kinds of sticky rice that can be made into green rice flakes such as brown sticky rice, velvet glutinous rice, but the best one is still yellow flower sticky/glutinous rice (Nếp cái hoa vàng in Vietnamese). Since this is a type of sticky rice with characteristics of fragrance, softness, and sweetness, it produces more delicious finished products than others.

Com is a trademark food of Vietnam's capital city. Photos by VnExpress/Ngoc Thanh
The rice is plucked off manually so that the grains are not broken. Next, the choice grains are carefully selected, sifted and washed, then roasted in pans over a small fire. The rice is stirred constantly to maintain a steady heat, and then cooled in large, flat baskets. The roasted grains are then placed in a stone mortar and pounded. The amount of pounding depends on the rice variety. A typical batch of Com is pounded about seven times, yielding 1.7kg of flakes from 10kg of grains.
Roasting is the most important and longest stage of the green rice flakes production process and also the most difficult stage for the workers. The green rice flakes become soft and delicious or not is dependent on this stage.
The glutinous rice grains after being winnowed are then divided into batches and put in a cast iron pan placed on a stove covering with coal slag, but the coal is not the one to be burned, only the firewood. A cast iron roasting pan has enough thickness so that when green rice grains are roasted, they are evenly cooked, not burnt, and able to keep the soft, smooth and fragrant feeling.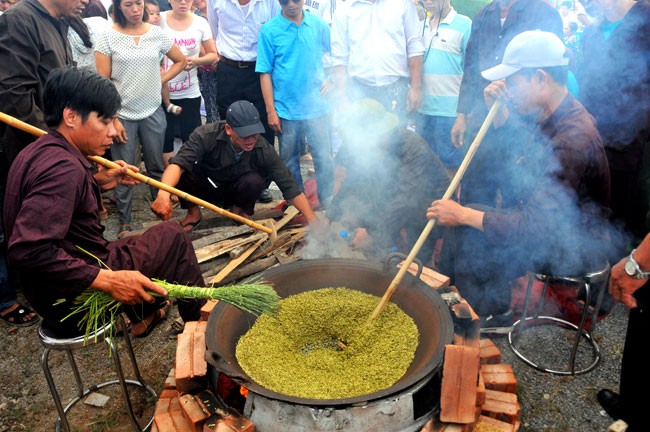 Rice is roasted over a low-heat fire and stirred constantly by workers. Source: sovhtt.hanoi.gov.vn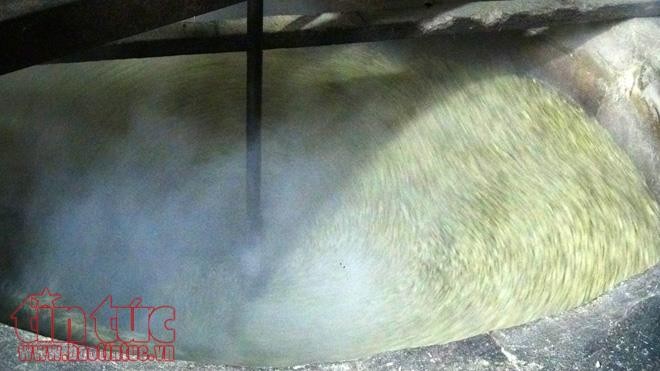 Roasting green rice grains by machine. Source: baotintuc.vn
Normally, roasting process will took from 1.5 to 2 hours under the full attention of the workers. They always have to pay attention to control the fire and make sure the green rice grains are roasted well to avoid being unwell cooked and put water in the firing pan at the right times.
Following this, the rice is brought out for cooling down and then winnowed before being poured again into the mortar and the process repeated. Although a machine takes over this process, it still requires human attention to avoid the green rice flakes from being stuck in the machine. This stage also has to be extremely meticulous so that the young rice flakes are smooth, sticky and keep their flavor.
Depending on the type of rice (young or old), the workers can decide to do heavy or light pounding as well as doing more or less number of pounding times. The green rice flakes are pounded evenly, then remove all the husks and continue the pounding and sifting process again until the husks is completely take off and the green rice flakes are soft.
There is an art to this part of the process. If the pounding is done irregularly and in haste, or it is not repeated seven times, the green colour of the grains will disappear and be replaced by an unexpected brown colour.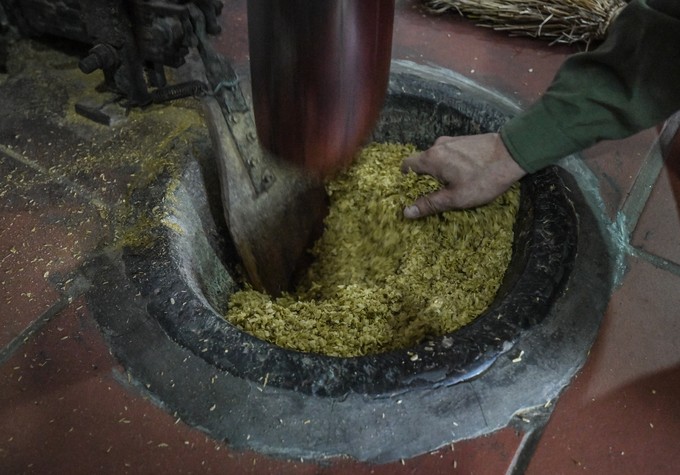 Pounding green rice flakes. Photo by VnExpress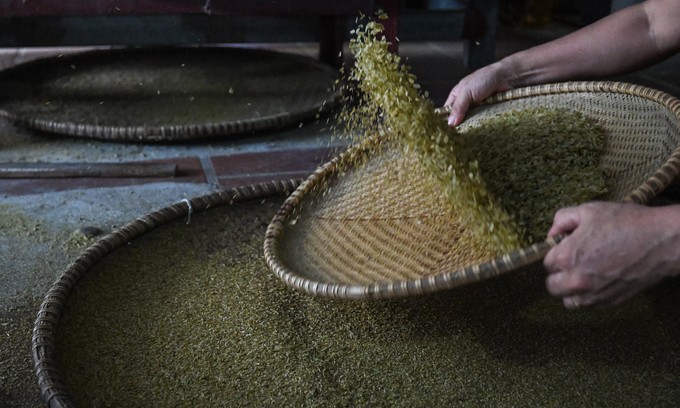 Sifting until the husks is completely take off. Photo by VnExpress
Finished green rice flakes after cleanly sieving are packed in two layers of leaves. The inner layer is tiger grass leaves or phrynium leaves - types of leaf that retains water, so it keeps the moisture so that the green rice flakes to be soft and do not fade into turquoise color. The outer layer is lotus leaves, which have a fragrance that helps to create a special flavor for the green rice flakes.
Over the years, Me Tri's com making village has witnessed several changes. Com is now available year-round, unlike previous years when locals only made "com" in autumn.
Besides, machines have been used during the making of com, helping reduce labour and production costs while ensuring its special, elegant and fresh taste. However, to produce delicious com still requires meticulousness, ingenuity and accuracy of the makers.
The green rice flakes need to be carefully preserved, avoiding dry weather to keep the plasticity and fragance. Currently, finished products are stored and sold all year round thanks to the use of freezers.
Depending on the maturity of the glutinous rice grains, different kind of products are made. For example, young green rice at the beginning of the season with thin and soft seeds often used to make granulated green rice flakes suitable for vegetarians or eaten with aromatic banana. Dry roasted green rice flakes are not as delicious as fresh green rice flakes, but in return they can be preserved for a long time and are easy to deliver.
Meanwhile, the mid-season green rice are usually used to make green rice with minced pork (chả cốm), green rice sausages (xúc xích cốm), fried green rice (Cốm xào), etc. The late-season green rice are big and thick seeds that are a bit hard to eat, suitable for cooking sweet soup, ice cream, or green sticky rice.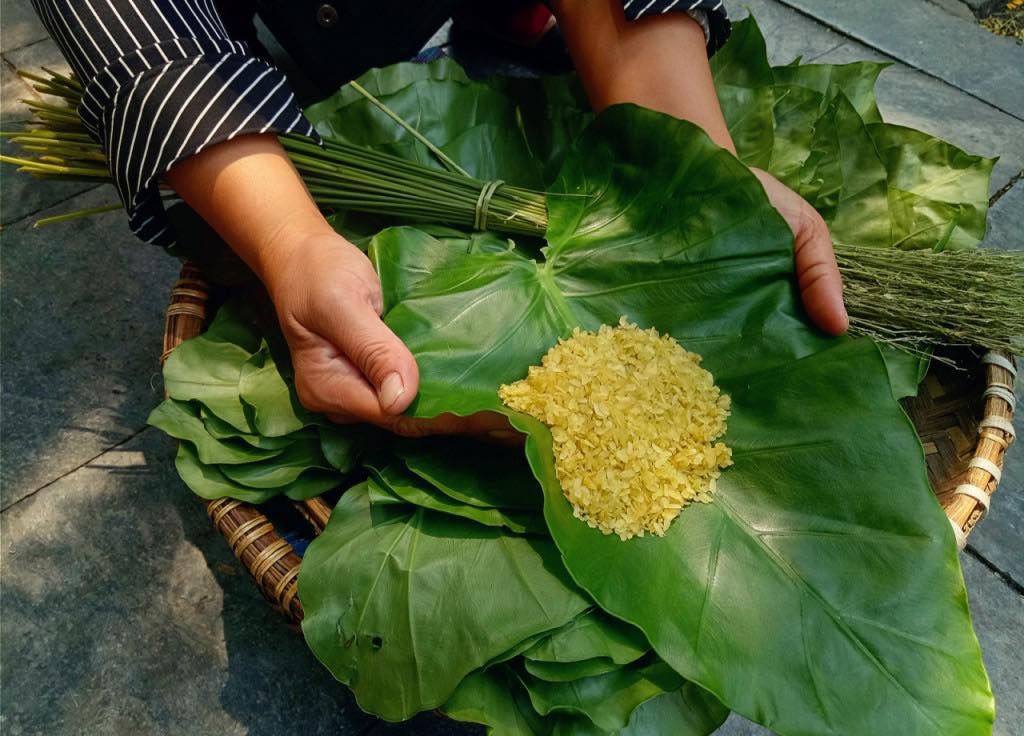 No artificial colors are added to Com, which are wrapped in lotus leaves to retain their softness and fragrance.
In 2016, Me Tri traditional craft village was honored to become one of the 5 craft villages which were approved by the Hanoi People's Committee to recognize the title of "Hanoi Traditional Craft Village" and was visited by then US President Barack Obama during his official visit to Vietnam.
Two years later, in 2018, Me Tri Thuong green rice flakes appeared at the food culture festival taking place at Thong Nhat park. Especially at the beginning of 2019, during the DPRK–USA Hanoi Summit Vietnam, green rice flakes and other Me Tri's green rice products were also honored to be selected by the Central Government and Hanoi as one of the nine quintessential specialties of Hanoi to introduce and serve delegates as well as domestic and international media at the Press Center. On March 29, 2019, Me Tri profession of making green rice flakes were honored to receive the National Intangible Cultural Heritage Certificate.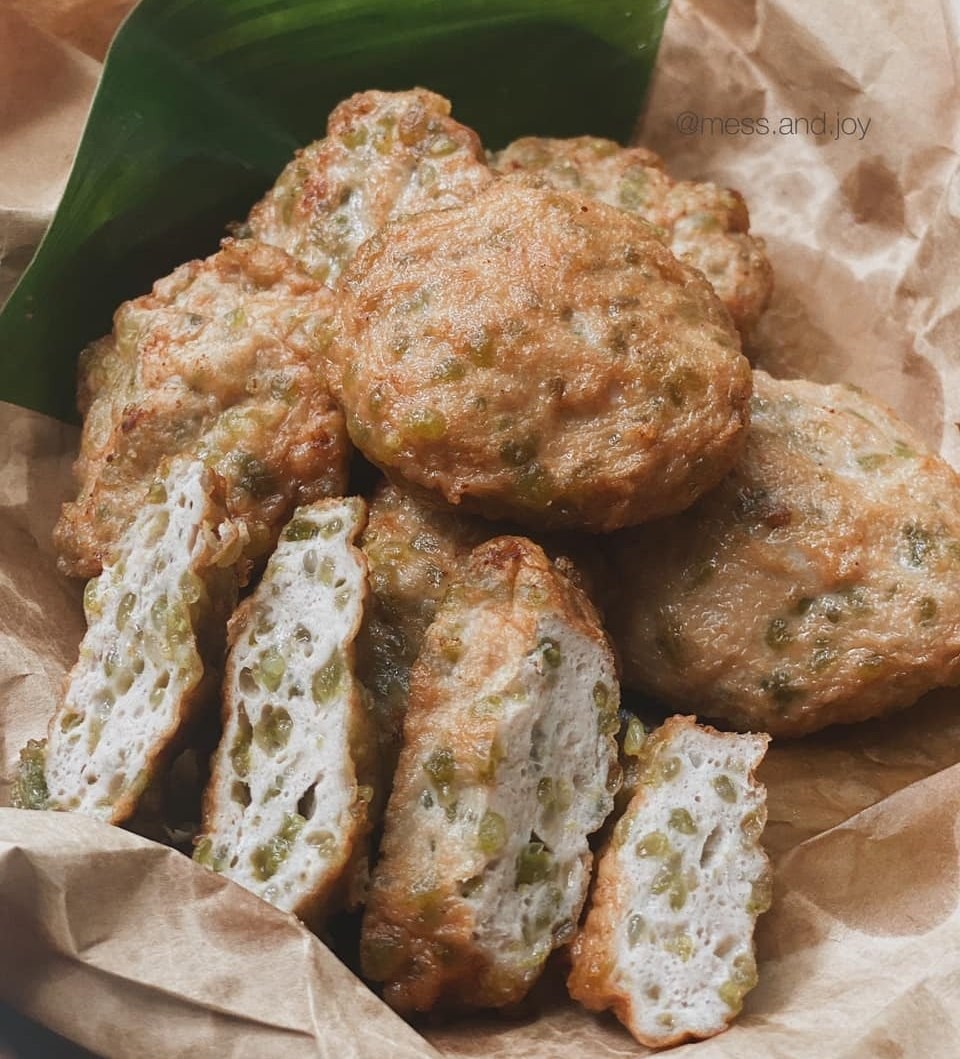 Cha Com, Vietnamese pork sausage with green rice. Source: @mess.and.joy
Seasonal Autumn Food
Com can be eaten directly or enjoyed with bananas like a snack. It can also be mixed with other food ingredients to create a variety of tasty dishes, including fresh rice, sticky rice, cake, sweet soup, or fried grounded pork with Com.
Unlike other kinds of cha like cha ruoi (nereididae sandworm omelette), cha ca (charcoal grilled fish) and cha muc (fried patties with squid eggs) which are mainly composed of seafood ingredients and little fish, cha com is mainly made of com and has the subtle scent of new rice. Other ingredients for the dish include lean pork and pork paste.
While cha com is a great choice for the main course, com xao is a fantastic idea for dessert or for tea break. While not as popular as other dishes made from the grain, com xao enchants with the first bite.
For a more sophisticated version, the dish can be supplemented with thinned copra, which will enhance the buttery taste and crunchy feeling.
Like fresh young sticky rice flakes, the dish can also be enjoyed like a snack. The eater cuts the dish into pieces and downs it with a hot cup of lotus tea.
Another trademark food of Vietnam's capital city is bánh cốm (green rice cake). This is an indispensable gift for the proposal ceremony of Vietnamese (or anywhere) cumbersome wedding process. Green rice is ground till it become a patty, then it is stuffed with coconut and green beans and finally wrapped.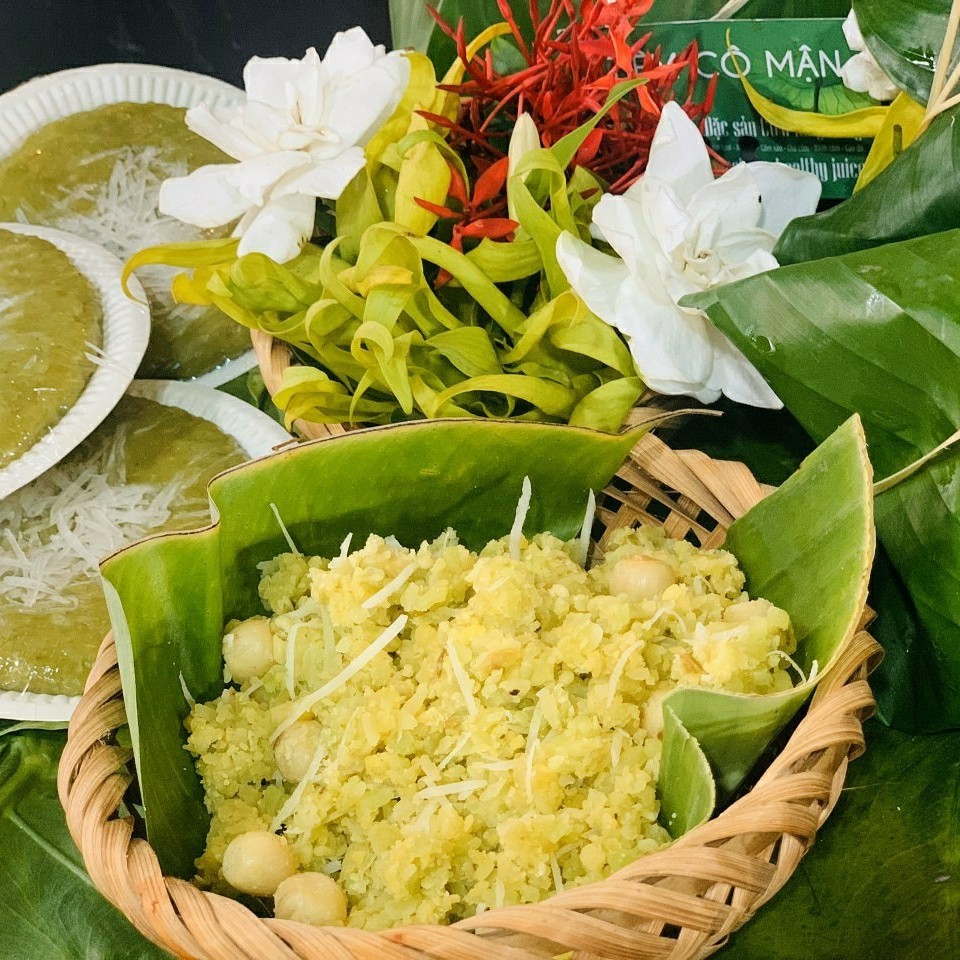 Com sticky rice with lotus seeds and coconut.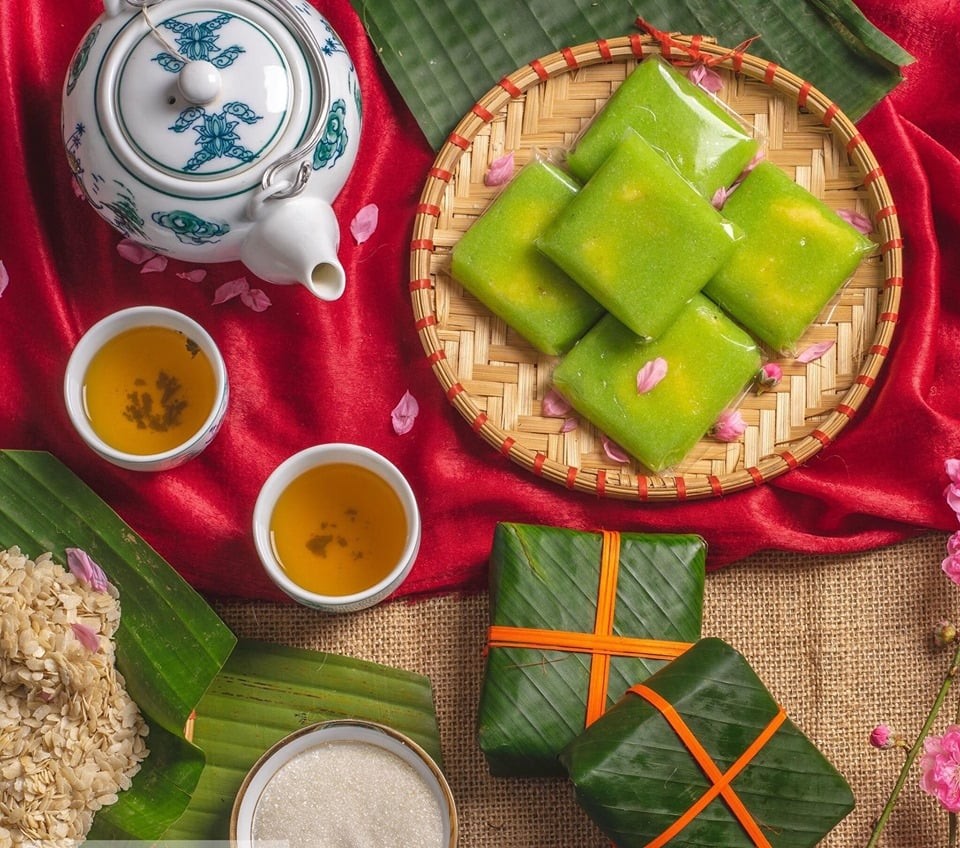 Bánh cốm, green sticky rice cake.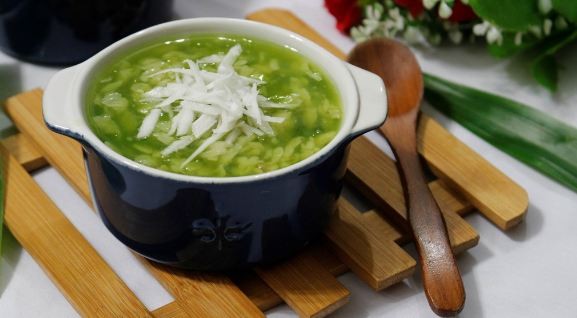 Chè cốm sweetened green sticky rice paste.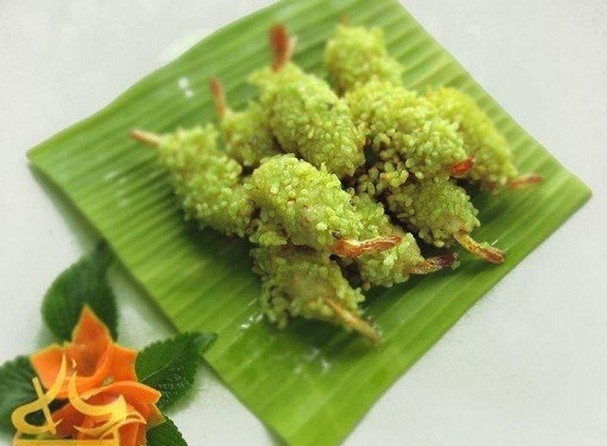 Crispy Shrimp Coated with Green Rice Recipe (Tom Chien Com)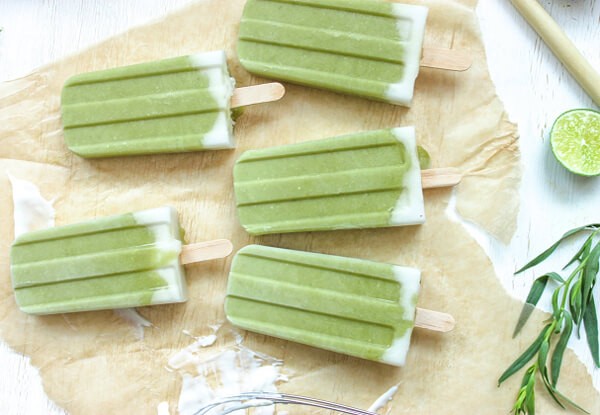 Green Rice Flakes Ice-cream (Kem Com).