Vietnamese Culture - Unique and Endless Inspiration for International Artists
More than a topic for local artists, Vietnamese culture has become an endless source of inspiration for artists from countries around the world. Through works that blend love with traditional Vietnamese culture and foreigners' perspectives, international friends have a better understanding of a modern and dynamic Vietnam, which still respects, preserves, and promotes good traditional values.
Introduce Vietnamese culture to expats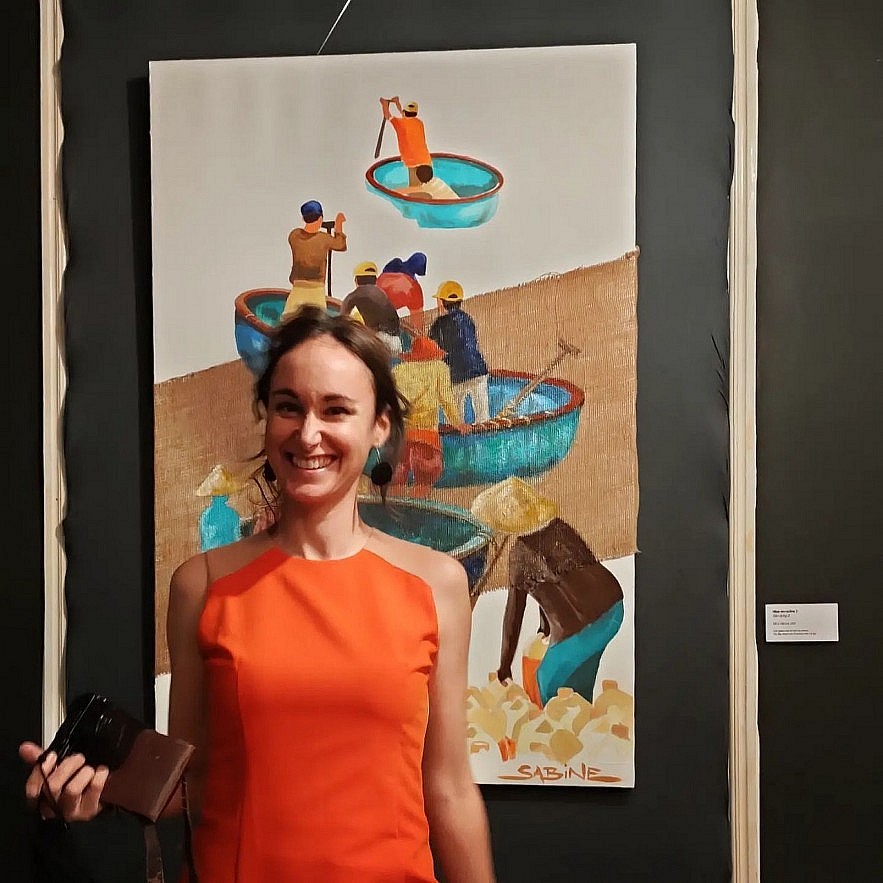 Belgian painter and researcher Sabine Douxchamps hopes to introduce the culture of Vietnamese ethnic minorities to expat friends. (Photo: BruncherBox)
In February 2022, during her first independent exhibition in Hanoi, Belgian artist and researcher Sabine Douxchamps introduced unique paintings inspired by the cultures of Vietnamese ethnic groups. Sabine Douxchamps came to Vietnam in 2016 under an agricultural research project. Her career as a researcher has brought her to many different regions of Vietnam, giving her the chance to talk to local people, and learn about the lives of ethnic minorities in remote areas that remain little-known to foreign tourists to Vietnam.
In an exhibition room with most of the visitors being foreigners, Sabine Douxchamps passionately talked about her impressions of the unique and diverse cultures of Vietnam's ethnic groups: "I love a lot of things in Vietnam, from the nature to cuisine, but especially the diversity. Foreigners often do not know much about ethnic minorities in Vietnam. I always want to explore more regions and make more paintings about ethnic minorities to introduce them to my expat friends."
With her love and deep understanding of the ethnic minorities in Vietnam, Sabine paints the unique traits of each ethnic group and region. Audiences can find in her paintings the scene of H'mong girls wearing traditional colorful skirts on the way to school or Thai women with their signature hair updos walking on the village streets.
Coming from a developed country, Sabine is fascinated by how Vietnamese people strive to maintain and promote traditional culture in the context of the country's thriving development and integration. She said: "I have always been fascinated in how ethnic minorities maintain their traditional customs and practices while applying modern equipment. Vietnam is a culturally diverse country. I hope that diversity will be protected and promoted."
Bring Vietnamese ao dai to the international fashion community
When referring to foreign artists who find inspiration in Vietnamese culture, Diego Chula - a Spanish fashion designer with unique collections honoring Vietnamese ao dai, is an inarguable icon.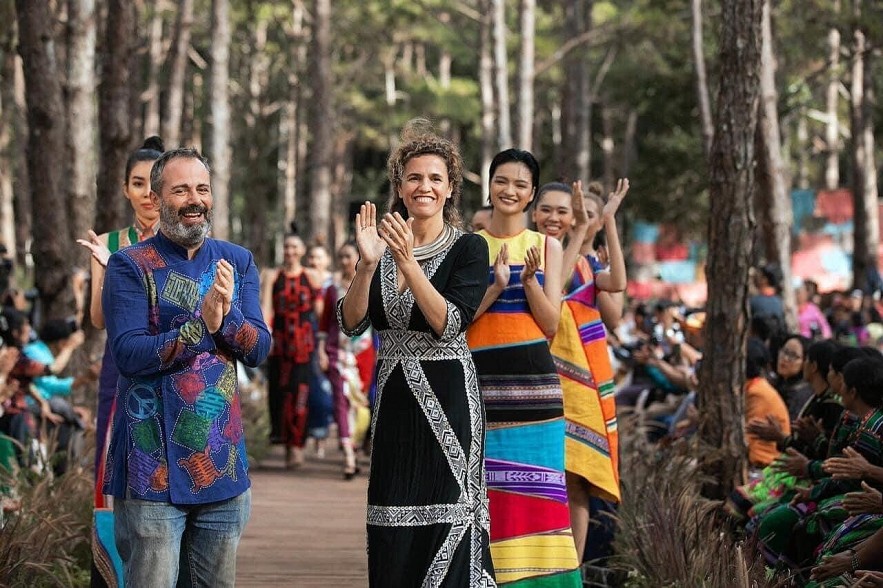 Fashion designer Diego Chula and his wife - Laura in the show "We love Brocade" collection at the end of November 2020 in Dak Nong. (Photo: Thanh Nien)
In 2004, Diego Chula and his wife went to Vietnam as tourists. A few weeks later, he was fascinated by Vietnam. Diego quickly quit his job as an architect, and brought his wife, who was pregnant with their first child, moved to Vietnam to explore a new culture and pursue a new career. During 17 years in Vietnam, Diego attempted to introduce Vietnamese ao dai to international friends. With his creation of art, the fashion designer presented to the international fashion community the beauty of Vietnamese clothes. His designs are regularly introduced in fashion weeks, exhibitions in many countries around the world such as the US, France, Japan, and Thailand, and featured in prestigious international magazines such as Elle Man, New York Times, and La Vanguardia.
"Ao dai is a cultural heritage of the Vietnamese people, also a love of mine. With my efforts over the years, I hope to bring Vietnamese ao dai to international platforms," said Diego. "Chula's philosophy is to keep the tradition of the Vietnamese Ao Dai while at the same time showing that the ao dai can become an international garment. This could be Vietnam's best cultural ambassador."
On Vietnam National Day in Dubai on December 30, 2021, Chula's collection named Mosaics of Vietnam, his last collection before passing away, which introduced unique brocade material left strong impresssion on international friends, introducing a dynamic, modern Vietnam with rich cultural identities.
Presenting fashion collection Mosaics of Vietnam at Vietnam National Day in Dubai on December 30, 2021. (Photo: Thanh Nien)
In their journey of art, many international artists fell in love with Vietnam - a country of unique and humanistic cultural values. Ao dai, brocade fabrics, pottery, and traditional music have become the inspiration and subject of many artworks of foreign painters, fashion designers, architects, musicians, and singers, forming a bridge to spread Vietnamese culture to the art lovers in the artists' homelands and around the world.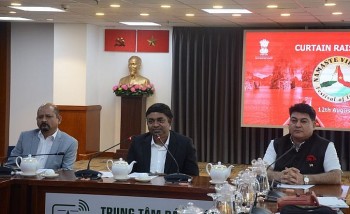 Handbook
The First Namaste Vietnam Fest will be held to mark 75 years of Indian Independence and the 50th anniversary of the establishment of Vietnam-India diplomatic ties (1972 – 2022).