Vietnamese Expats in Australia Follow Ho Chi Minh's Teachings
Over the years, Vietnamese expatriates in Australia have been trying to learn and understand Uncle Ho's ideals. This community is very united and always looks towards Vietnam. They often share together and help each other overcome any difficulties.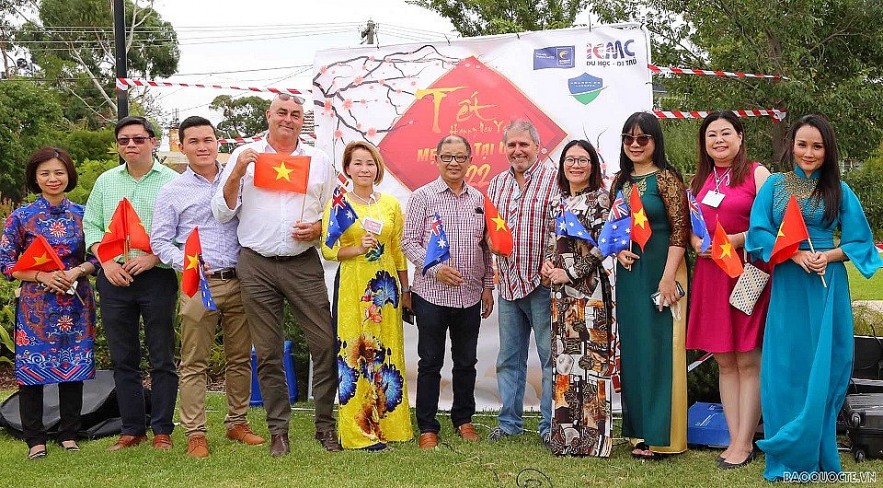 The "Vietnamese Mother in Australia" festival was held on February 13 to welcome the family reunion at Sunvale Community Park, Sunshine District, Victoria. Photo: Baoquovn
According to Ho Chi Minh's ideal, great solidarity is a matter of strategic, consistent, and cross-cutting significance to gathering revolutionary forces and is a decisive factor for success. The nation's tradition of patriotism, compassion and the spirit of community cohesion are the important foundations for the formation of Ho Chi Minh's ideology of great solidarity.
Humanity's spirit of solidarity, support, and sacrifice for each other was well understood by Ho Chi Minh. He once affirmed: "Vietnam is one, the Vietnamese people are one. Rivers may dry up, mountains may erode, but that truth will never change." "We all share the same ancestry, family line, all are brothers and sisters… No one can divide our country Vietnam. ".
Over the years, Vietnamese expatriates in Australia have not stopped studying and applying Uncle Ho's ideals in their lives. They are united and support each other to overcome any challenges.
Especially, when the Covid-19 pandemic peaked, the love of compatriots and mutual affection of overseas Vietnamese in Australia was promoted more strongly than ever. In the midst of the sea of people far away from home, Vietnamese people have still found each other to share and nurture their friendship and love for each other.
Nguyen Bao Chau, founder of the "Vietnamese Mother in Australia" group shared: During the outbreak in 2020, "Every day we receive dozens of messages not only from Vietnamese mothers living in Australia but also from international students, Vietnamese who came here to travel but are stuck. Each person has a different story, but they are really struggling and need help from the community. Every day we have to choose to post urgent information to the group first so that we can help those in need as fast as possible."
In the face of many people who are in need of urgent help, members of the "Vietnamese Mothers in Australia" group have established two volunteer groups with nearly 20 members to collect and transport food, medicine, milk diaper, and masks for families in need.
According to statistics, in the two years 2020-2021 alone, the group "Vietnamese Mothers in Australia", has supported necessities including rice, noodles, food, medicine, diapers, and milk for over 600 cases all over Australia. Not only providing necessities, but this group also connected Vietnamese with benefactors. 400 Vietnamese families who asked for masks were provided by this group with the help of the community. Notably, not only Vietnamese businesses in Australia, but many Vietnamese mothers who know how to sew have sewn masks themselves to give to those in need.
The spirit of solidarity according to President Ho Chi Minh's ideals has not only been shown by Vietnamese expatriates in Australia through the recent covid-19 pandemic but also in other practical activities.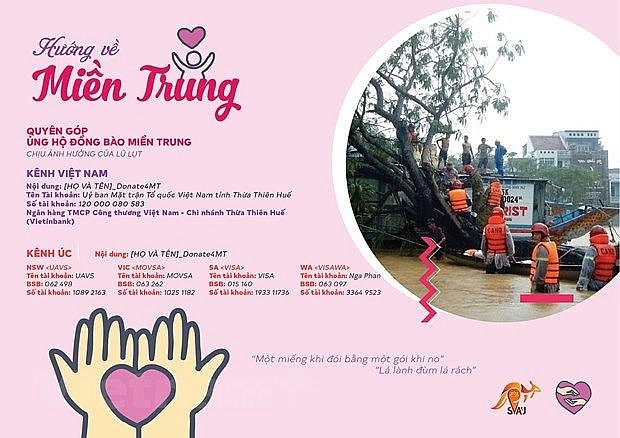 The program called Towards the Central region was launched by the Vietnamese Student Association in Australia. Photo: TTXVN
The Vietnamese community in Australia also organized many fundraising activities to support the people in Central Vietnam - where catastrophic storms and floods took place. The total amount of money donated by the Vietnamese community to support the people of Central Vietnam in 2020 has reached nearly AUD 100.000 (equal to USD 63,613.51).
Nguyen Duc Quyet, founder of the Group "VSM-Melbourne International Student Community - Helping each other" shared: "After 10 days since its launch, from October 14 to October 24, 2020, the total amount that the group raised from the Vietnamese community in Australia to support Central Vietnam is nearly AUD 56.000 (equivalent to nearly USD 35,623.57).
Hoa, currently living in Essendon, Victoria, and Huynh Duc Hau, who lives in the Epping area, volunteered to sell and liquidate 2 cars of 2 families and spend all the proceeds from the sale to support the compatriots in Central Vietnam. Ta Henry and Sally Pham, in addition to donating cash, also sold 450 bags of toilet paper to support the Central region with a total amount of more than AUD 11,000 (USD 6,997.49). It is impossible to name all the Vietnamese hearts from far away who have helped people in Central Vietnam. We can only know that even when they are far away, they still remember their homeland and love their people.
Nguyen Bao Chau, founder of the "Vietnamese mother in Australia" group confided: "The group has also organized a fundraising campaign to support the people in the Central region, currently the donation amount has reached over AUD 26,000 (USD 16,539.51) and the number has not stopped increasing.
Ho Khanh Ngoc Bich, a son of Hue, currently living and working in Perth, Australia also looks toward his homeland.
"My tears kept flowing every time I learned about the flood situation in Central Vietnam, so I decided to cooperate with Vietnamese compatriots here to organize donations to support people in flood areas. For a dozen days, we have organized delegations to the flood centers of Ha Tinh, Quang Binh, Quang Tri, and Thua Thien Hue provinces to give life jackets and food products, clothes, books, and notebooks. In addition to the donation of more than USD 20,909.29, we have collected 600 pairs of thick shoes for middle and high school students to distribute to students in 3 provinces, namely Quang Tri, Hue, and Quang Binh."
The entire amount of money donated by the Vietnamese community in Australia has been donated by domestic volunteer groups to buy food, life jackets, necessities, medicine, and school supplies to promptly support the people in Central Vietnam to deal with floods.
It can be seen that studying and following Ho Chi Minh's moral thoughts on national unity has been imbued in the thoughts and actions of overseas Vietnamese who are living in the land of kangaroos.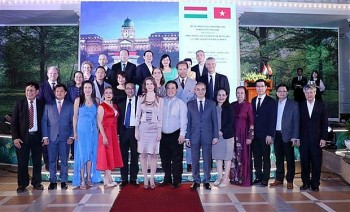 Viet's Home
Saigontourist Group in coordination with the Hungarian Consulate General held a series of events within the framework of the Hungarian Food and Culture Festival 2022 in Ho Chi Minh City