Vietnamese Football Team Outpaces Thailand in FIFA Rankings
The Vietnamese team, although still ranked 92nd, has increased by 3 points to surpass Thailand.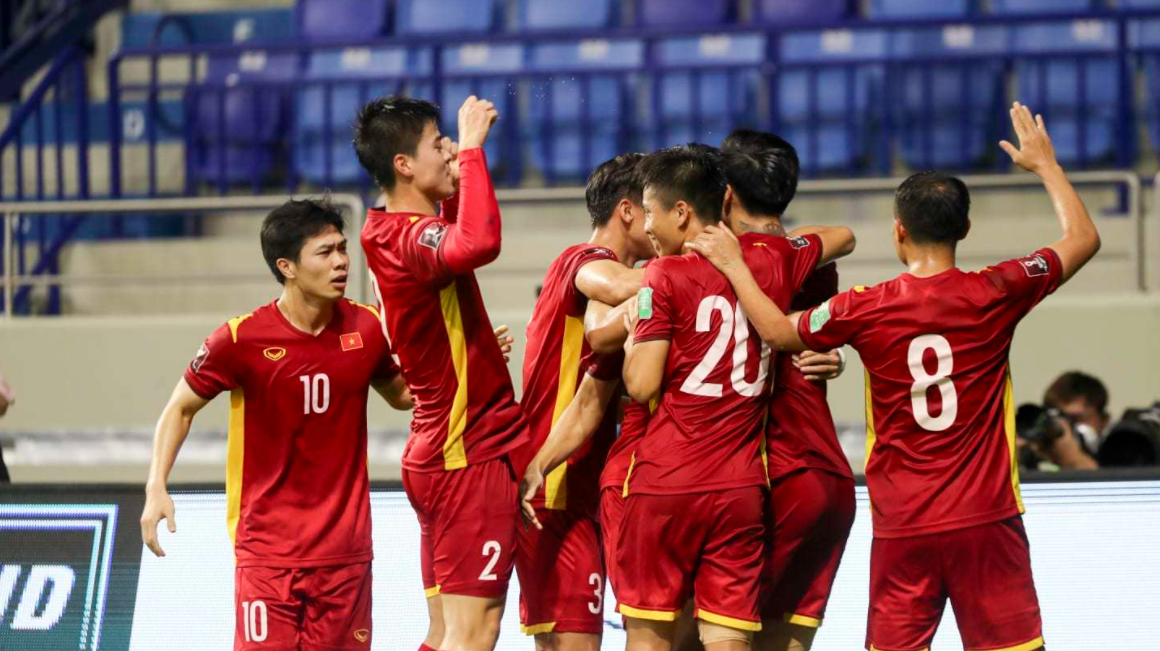 Vietnamese football team remains in their 92nd position. (Photo: Vietnamnet)
FIFA updated national football teams' rankings and points on August 12, after the 2022 World Cup second qualifying round and Tokyo Olympics 2020. In the new chart, Vietnam outscored Thailand, its formidable opponent in the region.
Gaining success in the 2022 World Cup second qualifying round, the Vietnamese football team reached 1261 points on the FIFA rankings board. Previously, the team held 1258 points. With the result of 2 wins and 1 draw in Group G in the 2022 World Cup second qualifying round, the team earned a ticket to the third round. The team was ranked 13th in Asia and first in Southeast Asia.
While Vietnam gained points, some other teams in the region lose their points and positions. Thailand dropped 14 places, from 106th to 120th. They only had 1,149 points, compared to 1,178 in the previous chart. Thus, at present, Thailand lost to Vietnam by 28 places.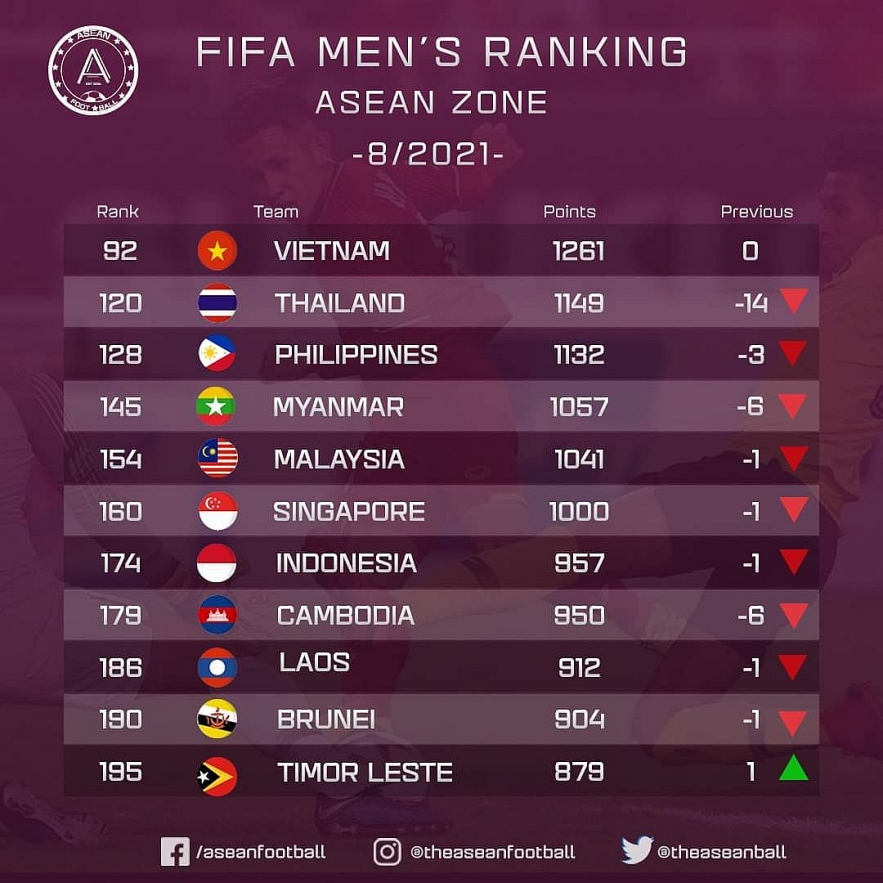 Vietnam ranks first in the Southeast Asia region. (Photo: ASEAN Footbal)
After completing their matches in Tokyo Olympics, some Asian teams, such as Japan, South Korea, Australia, and Saudi Arabia all gain points and get higher positions in the FIFA rankings. United Arab Emirates (32 points), Qatar (57 points), and China (30 points) are the best points gainers in Asia in July and August.
Southeast Asia also saw a change in its chart when most of the teams were relegated, except for Vietnam and East Timor. Thailand and Myanmar had the biggest deduction. Thailand fell to 120th place because of a loss of 29 points, followed by Myanmar at 145th and 24 points in August 2021. Vietnam's position remains unchanged. Meanwhile, Timor Leste is the only team from Southeast Asia to be promoted.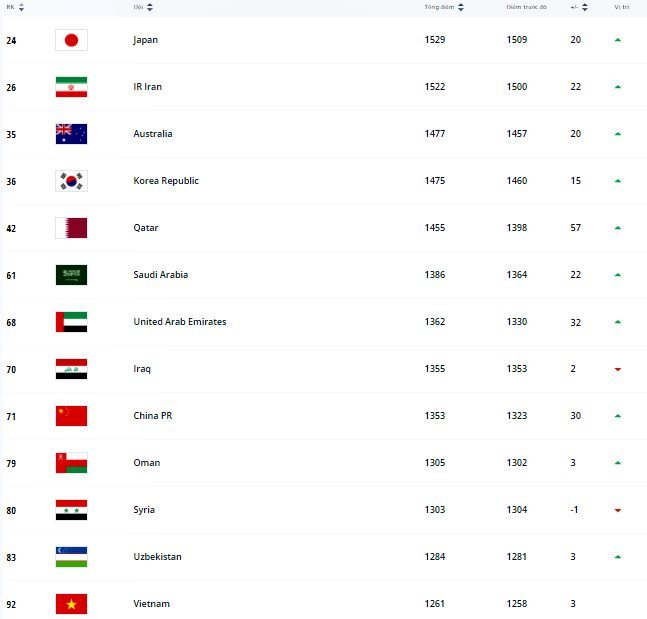 Top 13 best Asian teams. (Photo: FIFA)
In September 2021, the Vietnamese team will enter the third qualifying round of the 2022 World Cup in Asia. If they can outrank other opponents, namely China, Saudi Arabia, or Australia, coach Park Hang-seo and his team will significantly improve their position in the world rankings.
Regarding world's rankings, Belgium, despite being eliminated in the quarterfinals of Euro 2020, still held the top position. Brazil climbed to second place while the World Cup current champion, France, dropped to third. Winning Euro 2020 and Copa America 2021, Italy and Argentina took 5th and 6th places respectively. Spain and Portugal rank 7 and 8.
This is the first time in history Vietnam has made it to the final World Cup qualificationround. The Golden Dragons are in group B with Saudi Arabia, Japan, Australia, China, and Oman. In September, Vietnam is to play two matches against Saudi Arabia and Australia at the third round of the 2022 FIFA World Cup Asian qualifiers. Members of the team are joining a training program held under the bubble travel model in preparation for the tournament.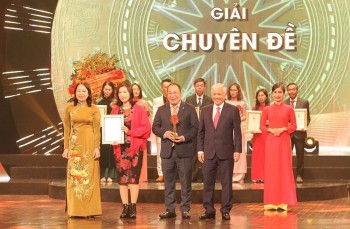 Overseas Vietnamese
VietnamTimes (Viet Nam Union of Friendship Organizations) is a reliable address for overseas Vietnamese to quickly and objectively update political, economic, cultural, and social news. The agency has created a helpful forum and connection between expatriates and the motherland.