Vietnamese Foreign Minister Bui Thanh Son Meets with Indo-Vietnam Solidarity Committee
Indo-Vietnam Solidarity Committee's (IVSC) delegation met Vietnamese Minister of Foreign Affairs Bui Thanh Son during his visit to India to commemorate the 50th anniversary of Vietnam - India's diplomatic relations. The meeting took place at Vietnam's new embassy office building in New Delhi on June 17.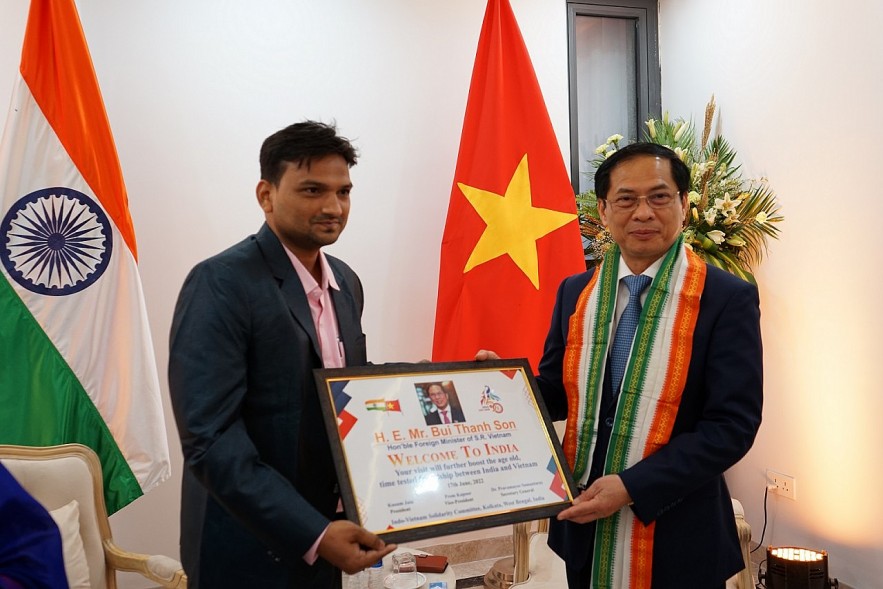 A felicitation frame was presented to Vietnamese Minister of Foreign Affairs Bui Thanh Son. (Photo: IVSC)
Kusum Jain, President of the Indo-Vietnam Solidarity Committee expressed her gratitude to welcome the Vietnamese minister. She spoke about the activities and certain suggestions for future programs of the committee. The suggestions included the opening of a trade cum consulate office run by Vietnamese personnel in Kolkata, scholarships for Vietnamese language learning, Hindu towers of Central Vietnam and Buddhist cities from India to be advertised with added information by respective governments to enhance tourism, tip-up between Da Nang Museum and Indian Museum to exchange artifacts, logistic facilities to translate Geetesh Sharma's book "People's Icon Ho Chi Minh" in Odia and Bengali, backing to write a book on Indo-Pacific Strategic Framework by IVSC members, participation of Vietnam in the International book fair, trade fair and film festivals in Kolkata, and a proposal to organize a grand event as a concluding sign of 50th year of our diplomatic relations.
Foreign Minister Bui Thanh Son appreciates the committee's activity and Geetesh Sharma's contribution to promoting the time-tested friendship between India and Vietnam. He hopes to enhance the friendship through creating political trust, organizing cultural and literary activities, and expanding trade and commerce.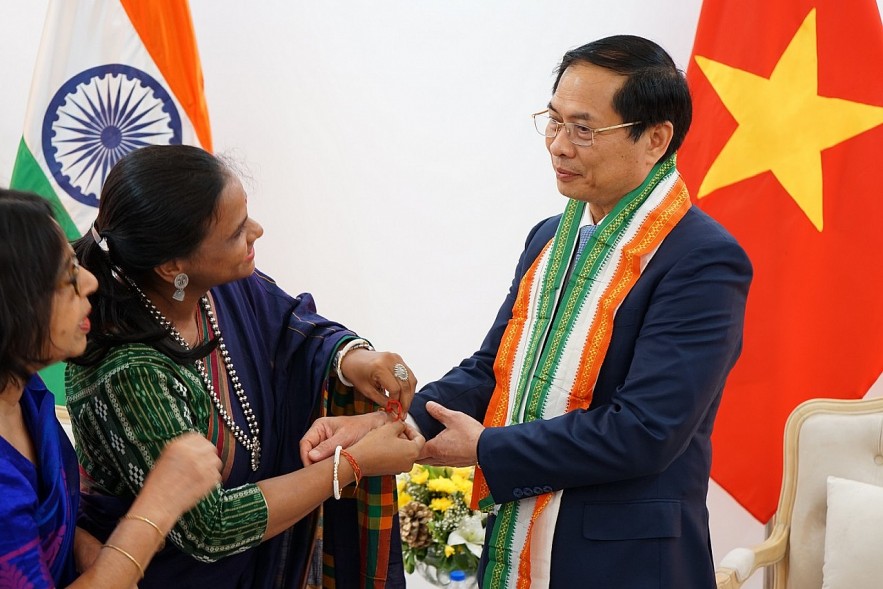 Both side exchanged gifts. (Photo: IVSC)
He stressed that people-to-people relations must be strengthened through religious and cultural links. The Vietnamese minister said frequent activities must continue to strengthen the bilateral relationship. He suggested the India-Vietnam Solidarity Committee enhance recent developments in the fields of trade, investment, training, and education between India and Vietnam. Vietnam would observe a cultural week to commemorate our 50th year of diplomatic relations and would give prominence to Kolkata, he said.
The committee presented seven books on Vietnam written by Geetesh Sharma and IVSC members to Bui Thanh Son. Both sides exchanged gifts as a token of respect and friendship.
On this occasion, Bui Thanh Son hosted a reception attended by Subramanyam Jaishankar, Indian Minister of Foreign Affairs. The event was coordinated by Dr. Pravamayee Samantaray from IVSC.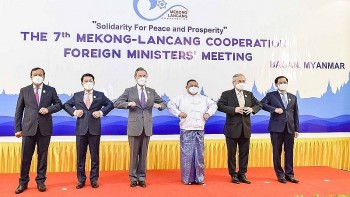 National
Foreign Minister Bui Thanh Son led a Vietnamese delegation to the seventh Mekong-Lancang Cooperation (MLC) Foreign Ministers' Meeting that was held in Bagan, Myanmar on July 4.