Vietnamese government finds ADB one of the leading sponsors
On Monday's afternoon June 22, in receiving ADB Country Director for Vietnam Eric Sidgwic  at the governmental headquarter, PM Nguyen Xuan Phuc emphasizes that Vietnam is determined to grow at the highest level. Vietnam Government finds ADB one of the leading sponsors in terms of financial support, technical assistance and consulting. 
Prime Minister Nguyen Xuan Phuc meets Mr. Eric Sidgwic, ADB Country Director in Vietnam (Photo: VGP)
At the meeting, Prime Minister Nguyen Xuan Phuc assessed that Mr. Eric Sidgwic's tenure in Vietnam over the past 5 years was extremely successful, greatly contributing to strengthen the positive relations between ADB and Vietnam. The evaluation and policy advice of ADB in general and Mr. Eric Sidgwic in particular are very valuable and helpful for Vietnam's economic development. The Prime Minister expressed his appreciation to the sentiments that Mr. Eric Sidgwic and ADB leaders have for Vietnam.
Mr. Eric Sidgwic said that during the last term, he witnessed the close cooperation between ADB and Vietnam, witnessed the successful development of Vietnam under the leadership of Prime Minister Nguyen Xuan Phuc. He assessed that the Government, the Prime Minister, and Vietnamese ministries and agencies always respect the cooperation and development of relationships with ADB. He was very impressed and moved by the affection and enthusiasm of Vietnam, affirming that Vietnam has effectively used ADB's allocated resources.
Congratulating Vietnam on its success in curbing the COVID-19 pandemic, he said that this was a remarkable achievement of Vietnam. According to ADB's forecast, Vietnam could achieve GDP growth of 4-4.1% this year. However, there are many forecasts that Vietnam will reach higher than this level. Anyway, reaching the level that ADB offers is great in the current context. ADB is always ready to support in terms of budget when the Vietnamese government needs.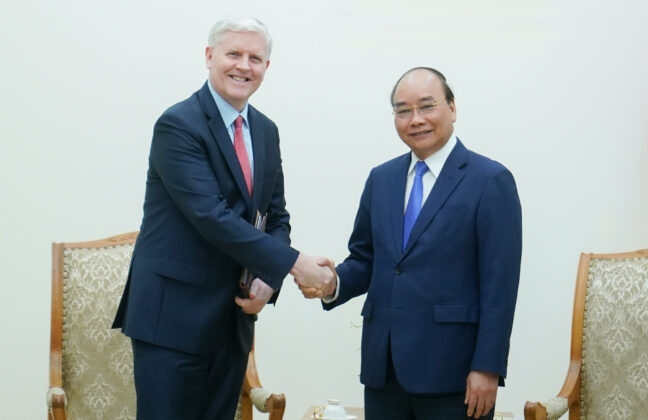 Prime Minister Nguyen Xuan Phuc and Mr. Eric Sidgwic (Photo: Light and Life)
Early next year, ADB will develop a new national partnership strategy to suit Vietnam's new situation. ADB will consider strategies and funding sources to support Vietnam in details. ADB will support the Vietnam Government through financial arrangements for important infrastructure projects; mobilize non-refundable aid and normal loans; use ADB capital to attract both private capital and other technical assistance capital. In addition to supporting the State, ADB can raise capital for innovation and knowledge.
Thanking Mr. Eric Sidgwic for his goodwill towards Vietnam, Prime Minister Nguyen Xuan Phuc stated that Vietnam Government finds ADB one of the leading sponsors in terms of financial support, technical assistance and consulting. The Prime Minister thanked ADB for actively providing technical assistance to the Government Office in developing the Government's meeting and information handling system (e-Cabinet). Vietnamese government supports ADB's approved 2030 strategy to achieve the UN Sustainable Development Goals and support member countries in addressing issues such as poverty, unequal development, climate change prevention and private sector promotion.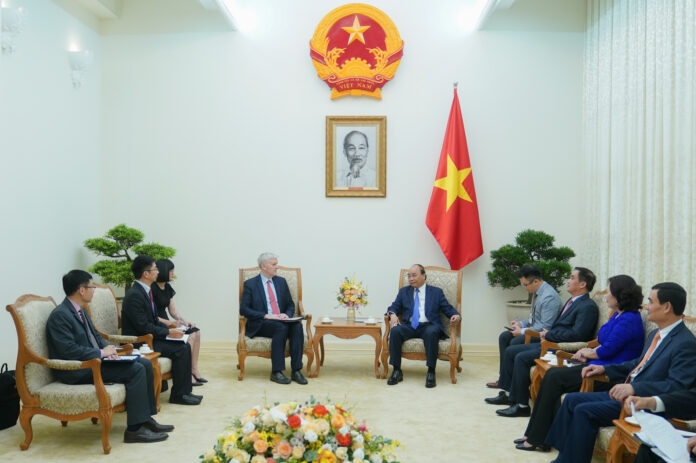 At the meeting (Photo: Light and Life)
Thanking ADB for its policy advice to Vietnam to cope with the COVID-19 pandemic, the Prime Minister said that Vietnam was implementing many important macro measures to develop the economy post-Covid-19 with the goal of sustainable recovery and dual goals achievement.
Regarding the completion of the ODA legal framework and preferential loans, the Prime Minister stated that in recent years, Vietnamese government has made efforts to complete the legal framework on public investment and public debt management through developing important legal documents for the ministries, localities and donors to deploy, mobilize and use foreign loans effectively and transparently. Vietnam always implements seriously and transparently the commitments to ADB. The Prime Minister said that he assigned the Ministry of Planning and Investment to formulate and promulgate in 2020 the orientation for 2021-2025, linking the socio-economic development plan for 2021-2025. This will be a basis for ministries to collaborate with ADB to select specific programs and projects to promote bilateral cooperation.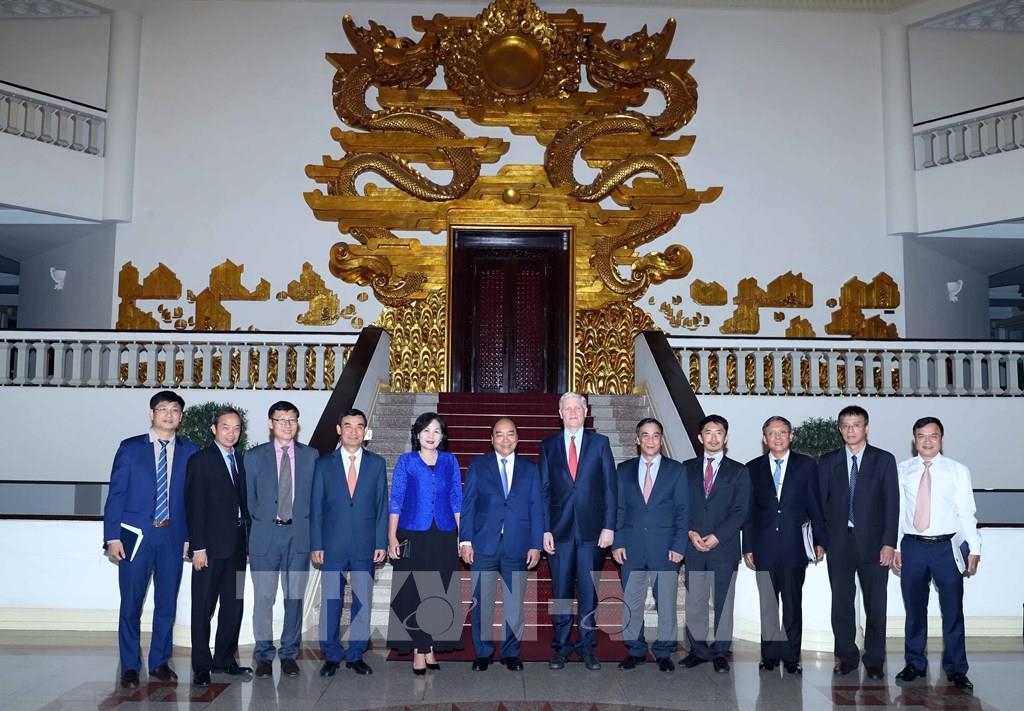 Prime Minister and delegates after the meeting (Photo: VNA)
The Prime Minister thanked Mr. Eric Sidgwic for supporting Vietnam to successfully graduate ADF capital. His tenure is associated with the period when Vietnam graduated from ADF and transferred to normal loans. He also thanked ADB's proposal to provide Vietnam with a COVID-19 loan. The Prime Minister also said that the Ministry of Finance was assigned to discuss further with ADB and do research, if appropriate, to implement the proposal.
The Prime Minister emphasized that Vietnam was striving to become a middle-income country. Therefore, Vietnam needs a lot of resources, while still facing many difficulties, so the ADB's support is very important. Viet Nam expects more support from ADB to develop important areas including infrastructure, smart agriculture, clean energy, urban development, environment, health, education... "The continued support of ADB is essential for us to promote and strengthen the good partnership between Vietnam and ADB", said the Prime Minister.
The Prime Minister once again appreciated Mr. Eric Sidgwic's great, practical and useful contribution in many areas to Vietnam; wished him success in his new position, and wished him always a good friend of the Vietnamese people.
baochinhphu.vn/doi-ngoai/chinh-phu-viet-nam-coi-adb-la-mot-trong-nhung-nha-tai-tro-hang-dau/398623.vgp?fbclid=IwAR0r_GdtZ-CxE7gdSOT1RiWH6OSbt_LtXCKxT9rvVgxzN2jF9TAokmZ6nbY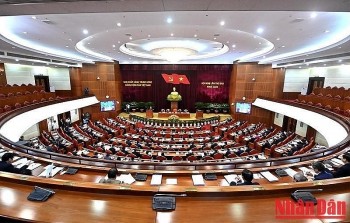 National
The 13th Party Central Committee discussed two important projects on October 4, the second working day of its 6th plenum.
Economy
Vietnam Business & Weather Briefing (Sep 3): The North continuously to be affected by cold air waves, export value of aquatic products up 38% in nine months.
October 03, 2022 | 17:52