Vietnamese in India, Nepal look towards homeland's sea, islands
(VNF) - The Vietnamese Embassy in India on June 26 launched a campaign, themed "Looking towards the homeland's sea and islands."
(VNF) - The program aims to promote solidarity among Vietnamese in India and Nepal to protect sea and islands of the homeland.
Ambassador Ton Sinh Thanh making donation in the launching ceremony of "Looking toward homeland seas and islands"
Vietnamese Ambassador to India, Nepal and Bhutan Ton Sinh Thanh, officers and staff of the Embassy and related agencies attended the event.
The program is a practical activity to express the solidarity among Vietnamese Embassy's staff, monks and nuns and people who are working & studying in India, and especially, signifying strong love from the overseas Vietnamese community toward homeland's seas and islands.
At the launching ceremony, each participant, including the embassy staff and officials of other Vietnamese agencies, donating their one-day salary to military forces who are working hard to safeguard Vietnam's territorial seas and islands.
The campaign will last until September, 2017./.
( VNF )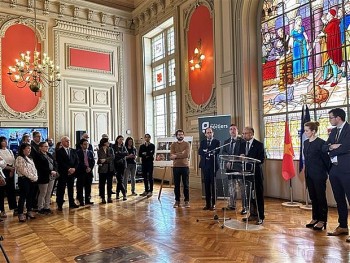 National
Vietnam News Today (Mar. 26): Vietnam and Thailand promote labour cooperation; Vietnamese, French localities look to step up cooperation; Attractive incentives on offer at Hanoi Tourism Festival 2023; E-commerce accounts for 60% of Vietnamese digital economy.