Vietnamese leaders extend congratulations to Laos on 4th National Day
High-profile Vietnamese leaders, including Party General Secretary and State President Nguyen Phu Trong, Politburo member and National Assembly (NA) Chairwoman Nguyen Thi Kim Ngan, President of the Vietnam Fatherland Front (VFF), etc., have sent their congratulations to the Lao Front for National Construction (LFNC) on the 45th National Day of Laos (December 2).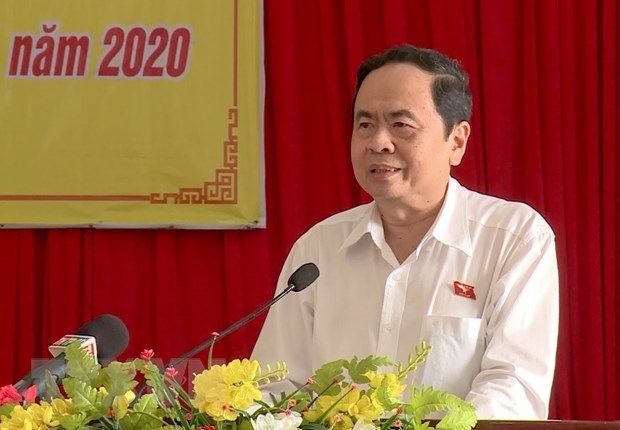 President of the Vietnam Fatherland Front (VFF) Central Committee Tran Thanh Man (Photo: VNA)
In the congratulatory message sent to Xaysomphone Phomvihane - Politburo member of the Lao People's Revolutionary Party (LPRP) and President of the LFNC, Man expressed his delight that over the last 45 years, under the LPRP's clear-sighted leadership and the LFNC's gathering of patriotic Lao people, the country has obtained a number of enormous successes in national construction and defence, VNA reported.
The two nations should be proud of the formation and development of their special and rare relationship, he noted. The friendship and solidarity between the two Parties and the two States as well as the faithful and close-knit ties between the two peoples were built by late Presidents Ho Chi Minh and Kaysone Phomvihane, he wrote, adding that they have been treasured and nurtured by generations of the two countries' leaders and peoples. The VFF President went on to say that President Kaysone Phomvihane is a great and close friend of the Vietnamese Party, State, and people, and he is also a bright moral example and a great revolutionary respected by people around the world.
A grand ceremony was held in Hanoi on December 2 to mark Laos' special occasion. The event was attended by Politburo member and National Assembly (NA) Chairwoman Nguyen Thi Kim Ngan, former Party General Secretary Nong Duc Manh, former President Tran Duc Luong, and former NA Chairman Nguyen Van An, along with many Politburo members and senior officials of Vietnam.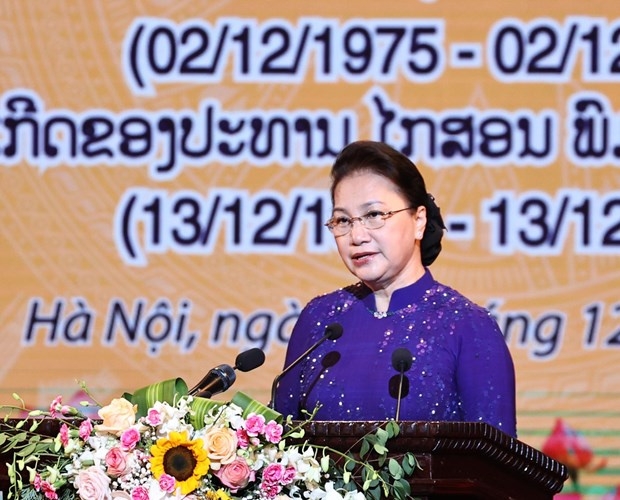 National Assembly Chairwoman Nguyen Thi Kim Ngan addresses the ceremony in Hanoi on December 2 (Photo: VNA)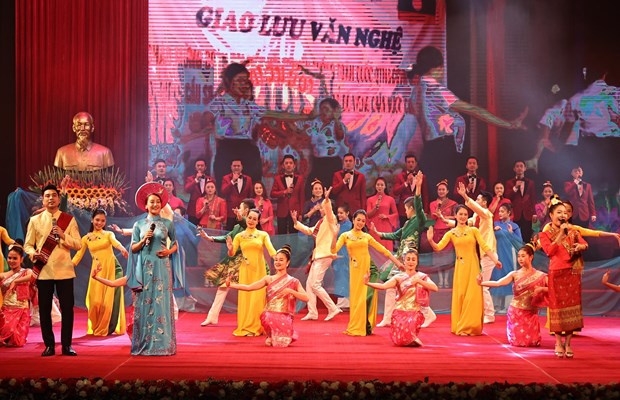 A singing and dancing performance at the ceremony (Photo: VNA)
In her address, Ngan congratulated Laos on its enormous and comprehensive achievements over the last 45 years, which have helped it weather every difficulty and challenge, develop sustainably, improve living standards, and promote its stature in the world.
She attributed the Lao Party and people's accomplishments largely to the major contribution of President Kaysone Phomvihane, "a beloved leader of the Lao Party, State, and people and also a great, close, and faithful friend of the Vietnamese Party, State, and people," she said.
Ngan emphasised that Vietnam and Laos have made unending efforts to strengthen cooperation in all respects, from politics, diplomacy, security and defence, economy, education, and science-technology to culture and people-to-people exchanges, and posted a number of outstanding outcomes.
These have greatly helped safeguard sovereignty and territory, boost socio-economic development, and raise the standing of both countries in the international arena, the NA leader noted, reiterating that "the Party, State, NA, Government, and people of Vietnam treasure and give the highest priority to the great friendship, special solidarity, and comprehensive cooperation between Vietnam and Laos."
Despite the volatile global and regional situation, the faithfulness between the two nations never changes and is always deep in the hearts of the two peoples, she affirmed.
Ngan also thanked Laos for cooperating closely with and supporting Vietnam in fulfilling its role as Chair of ASEAN and Chair of the 41st General Assembly of the ASEAN Inter-Parliamentary Assembly (AIPA) in 2020, as reported by VNA.
In addition, a delegation led by Deputy Minister Nguyen Quoc Dung visited the Lao Embassy in Hanoi to offer their sincere greetings.
Talking to Lao Ambassador Sengphet Houngboungnuang, Dung lauded Laos' significant achievements in national construction, development and defence over the past 45 years.
He expressed his delight at the continuous fortification and development of the two countries' special solidarity amid COVID-19, adding that this year they have flexibly organised a number of important diplomatic activities and achieved practical outcomes.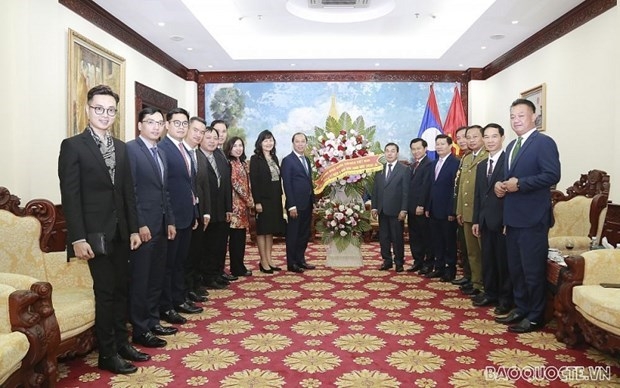 The delegation led by Deputy Minister Nguyen Quoc Dung at Lao Embassy in Hanoi (Photo: Bao Quoc Te)
Dung took the occasion to praise the ambassador's contributions to strengthening bilateral cooperation, and said he hopes the embassy will work closely with the ministry in preparing for key events in December. The events include ceremonies celebrating Laos' 45th National Day and the 100th birthday of late President Kaysone Phomvihane (December 13), as well as the 43rd meeting of the Vietnam - Lao intergovernmental committee.
For his part, the Lao ambassador pledged to continue cooperating closely with Vietnam's Foreign Ministry in enhancing the two nations' great amity, special solidarity, and comprehensive cooperation.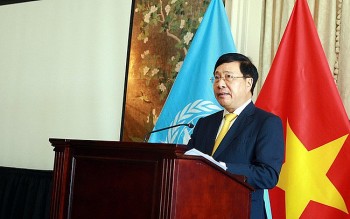 Friendship
Deputy Prime Minister Pham Binh Minh has asserted Vietnam's strong support for and commitment to the UN's role in leading and coordinating multilateral efforts to respond to global challenges.