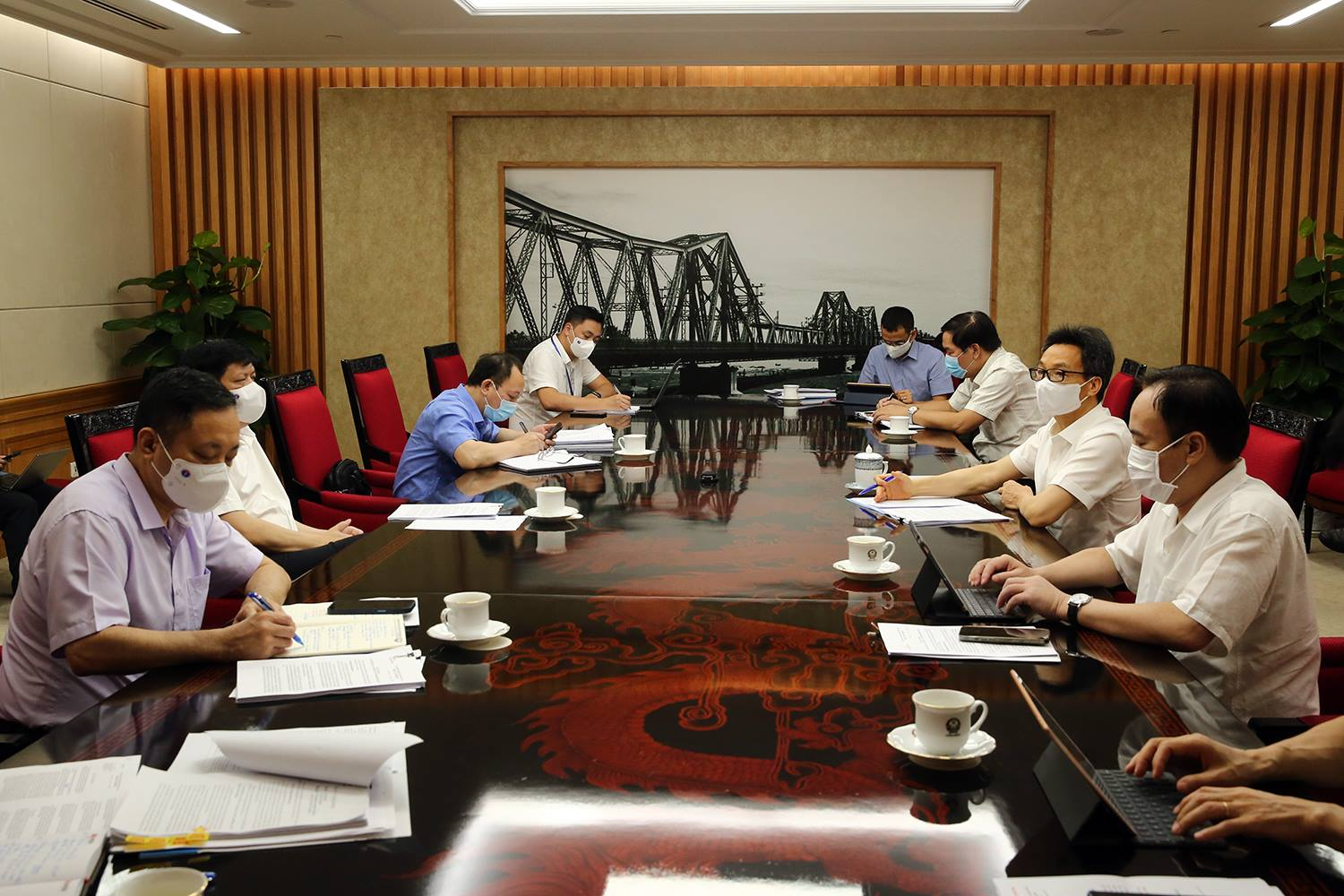 Deputy PM Vu Duc Dam: It is essential not to let any business or organization that really have the source to buy the vaccine right away but cannot buy it. Photo: VGP
According to the report of the Ministry of Health, for many months now, the health ministry has continuously had dozens of contacts and negotiations with vaccine manufacturers as well as health agencies and diplomatic representatives of countries producing vaccines. This is to take advantage of all possibilities and resources to have vaccine as soon as possible, striving for herd immunity by the end of 2021. Minister Nguyen Thanh Long affirmed that although the current situation of vaccine scarcity in the world is still tense, with the agreements reached, "the goal of importing 150 million doses of Covid-19 vaccine in 2021 is very doable."
The Minister of Health also affirmed that the ministry is assigned to be the focal point to import vaccines, but that does not mean that the ministry "monopolizes" the import. The health ministry always encourages all localities and businesses with conditions and ability to access vaccine sources to import vaccines.
According to current regulations, only companies with the function of importing and trading vaccines can import vaccines. Currently, our country has 27 units with this function. Units with conditions to access vaccine supply can work directly with the Ministry of Health or with one of these 27 units.
Vaccines must be licensed by the Ministry of Health, granted registration numbers and batches of vaccines must have documents certifying origin and quality. Currently, the Ministry of Health has licensed two vaccines of Astra Zeneca and Sputnik V and is reviewing the records for two other vaccines.
A medical worker holds a vial containing a Covid-19 vaccine dose by AstraZeneca in Hanoi's National Hospital for Tropical Diseases, March 8, 2021. Photo: VnExpress
Deputy Prime Minister Vu Duc Dam acknowledged the efforts of the Ministry of Health, the Ministry of Foreign Affairs and relevant ministries and agencies over the past time and emphasized: "It is necessary to find all solutions to have vaccine as soon as possible. Any problems must be resolved immediately. Anything that is not clear must be instructed immediately."
The Deputy Prime Minister requested to publicize the policy: All vaccines that have been licensed by the World Health Organization, even though the manufacturer has not completed the procedures to apply for a license or issue a registration number in Vietnam, will still be imported. For vaccines that have not been licensed by the World Health Organization but have been licensed for use by other countries, when any unit has access, the Ministry of Health will also issue a license immediately. Minister Nguyen Thanh Long expressed his complete agreement and affirmed: "The Ministry will process as soon as there is a dossier and if it is valid, it will be granted within 5 working days".
The Ministry of Health also affirmed that all batches of vaccines, regardless of which units are imported, but have documents certifying origin and quality, will be administered by the Ministry of Health to direct the health system to organize injections.
The Ministry of Health urgently issues a Circular guiding the registration of circulation in urgent cases for COVID-19 vaccines. The circular follows simplified procedures, ensuring that all businesses that can access imported vaccines are guided, creating maximum conditions to have the vaccine as soon as possible. On the other hand, it is necessary to focus on preparing when there is vaccine to organize timely and safe vaccination. Especially, it is expected that in the fourth quarter of this year, a huge amount of vaccines will be imported.
"It is essential not to let any business or organization that really have the source to buy the vaccine right away but cannot buy it." Deputy Prime Minister said.
Rosie Nguyen