Vietnamese Leaders Welcome Chinese FM, Stress Need To Well Control Sea Disagreements
Chinese State Councilor and Foreign Minister Wang Yi had meetings with Vietnamese General Secretary, Prime Minister, and Minister of Foreign Affairs to discuss bilateral relations.
At the invitation of Vietnamese Deputy Prime Minister Pham Binh Minh and Foreign Minister Bui Thanh Son, Chinese State Councilor and Foreign Minister Wang Yi paid an official visit to Vietnam. The Chinese officials worked with distinguished Vietnamese leaders to promote the two countries' ties on September 11.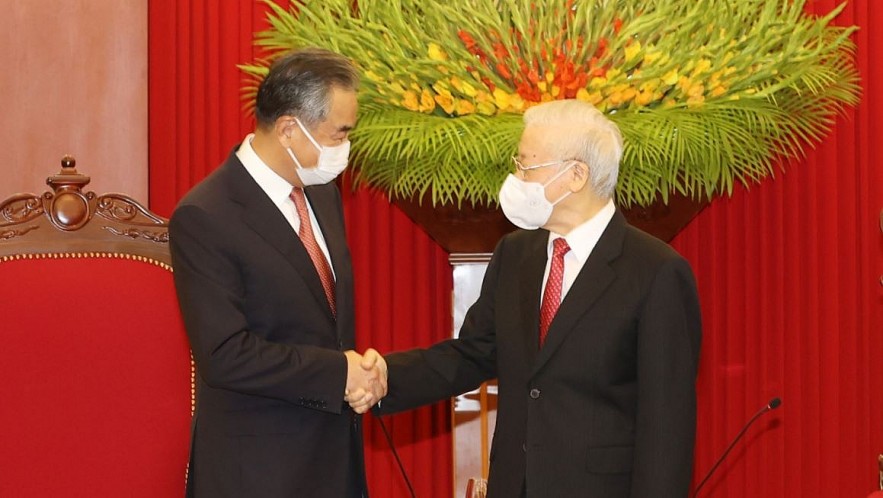 Party General Secretary Nguyen Phu Trong (R) greets Wang Yi, State Councilor and Foreign Minister of China. (Photo: VOV)
Party General Secretary Nguyen Phu Trong hosted a reception in Hanoi for Wang Yi on September 11. Wang Yi congratulated Vietnam on the successful organization of the 13th National Party Congress. He stated that the two sides should strengthen political trust, promote cooperation across the fields and constantly enrich the content of the China-Vietnam comprehensive strategic cooperative partnership. Wang also said China is willing to work with Vietnam in fighting the pandemic.
Party General Secretary Trong appreciated the outcomes of the 13th meeting of the Steering Committee for Vietnam-China Bilateral Cooperation and the official visit by the Chinese Foreign Minister. The Vietnamese Party leader congratulated China on the 100th founding anniversary of the Communist Party of China and the 72nd National Day of China. He re-affirmed that the Vietnamese Party and State attach importance to the neighborly friendship and the comprehensive strategic cooperative partnership between Vietnam and China, according to VNA.
General Secretary Trong proposed that the two sides continue to increase high-level contact, strengthen mutual friendship and political trust, enhance the effectiveness of cooperative mechanisms between the two Parties and promote the sharing of experience in Party building and national governance. The Party chief also urged promoting win-win substantial collaboration between the two countries' ministries, sectors and localities, bolstering educational work to raise the awareness of their people, especially young generations, about the traditional friendship between the two Parties and nations, and patiently settling disputes and differences, thus helping boost the healthy and sustainable development of the Vietnam-China comprehensive strategic cooperative partnership for the benefits of their people.
Prime Minister Pham Minh Chinh (R) and Chinese State Councillor and Minister of Foreign Affairs Wang Yi in Hanoi on September 11 (Photo: Thanh Nien)
On the same day, Vietnamese Prime Minister Pham Minh Chinh had a meeting with Chinese State Councillor and Minister of Foreign Affairs Wang Yi. Chinh affirmed that the traditional friendship between Vietnam and China is a precious asset of the countries, and that the reinforcement of bilateral relations is an important factor for each country's development and also a contribution to regional and global peace, cooperation, and development.
He expressed his belief that both sides would work together to effectively implement the common perceptions and agreements reached at the 13th meeting of the Vietnam - China Steering Committee for Bilateral Cooperation, maintain frequent contact between their senior leaders, and further promote cooperation mechanisms to enhance mutual understanding and trust.
Chinh lauded the countries' and mutual support since the pandemic broke out and thanked China for assisting Vietnam with vaccine, especially another 3 million doses announced during this trip by Wang. He hoped that China continue supplying vaccine for Vietnam, transfer production technology for vaccine and treatment drugs, carry out vaccine purchase contracts to meet Vietnam's demand, particularly in this September and October.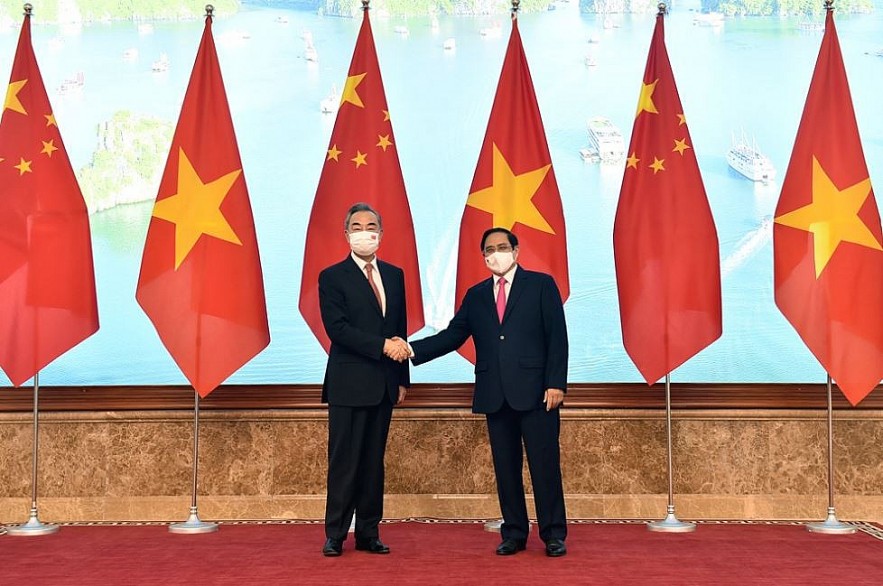 Prime Minister Pham Minh Chinh (R) and Chinese State Councillor and Minister of Foreign Affairs Wang Yi. (Photo: Thanh Nien)
For economic ties, the Vietnamese government leader asked both sides to facilitate cross-border trading, especially the trading of Vietnam's farm produce, aquatic products, and seasonal fruit, to help balance bilateral trade. He called for coordination to remove obstacles to investment projects, including the Cat Linh - Ha Dong urban railway project. He also encouraged Chinese enterprises to invest in projects that match the two countries' relations so that the people can enjoy the benefits from the substantive achievements of the bilateral friendship.
In terms of the South China Sea, in a straightforward and constructive spirit, the PM stressed that both sides should instruct their law enforcement forces to adhere to the high-level common perceptions and the Vietnam - China agreement on basic principles guiding the settlement of sea-related issues, strive to properly settle and control disputes, maintain a peaceful and stable environment; while working with ASEAN countries to step up the negotiation on a substantive and effective Code of Conduct in the waters, comply with international law, especially the 1982 United Nations Convention on the Law of the Sea (UNCLOS), and ensure security, safety, and freedom of navigation and overflight.
Wang affirmed that China attach great importance to the friendly neighborliness and comprehensive cooperation with their Vietnamese counterparts. He thanked Vietnam for supporting and assisting China since pandemic first broke out, stressing that China is ready to continue helping Vietnam in the current period.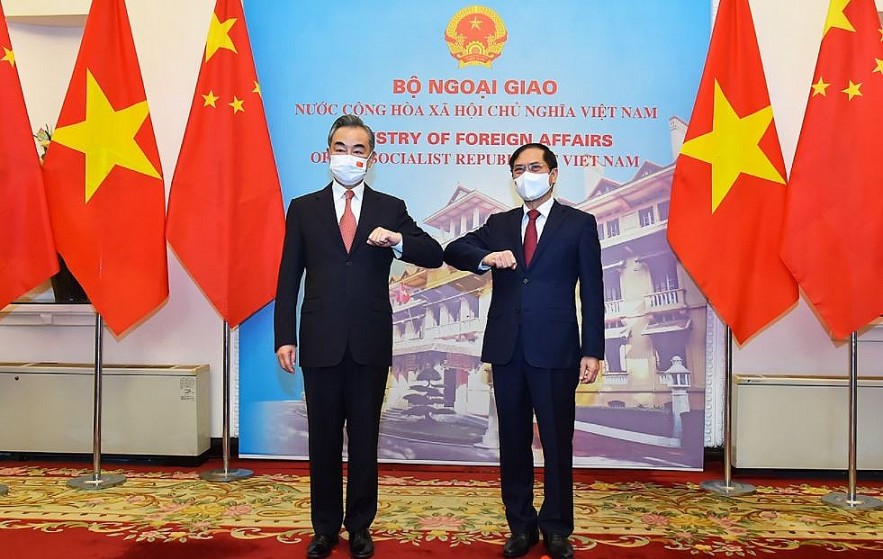 Minister of Foreign Affairs of Vietnam Bui Thanh Son and his Chinese counterpart Wang Yi. (Photo: Baoquocte)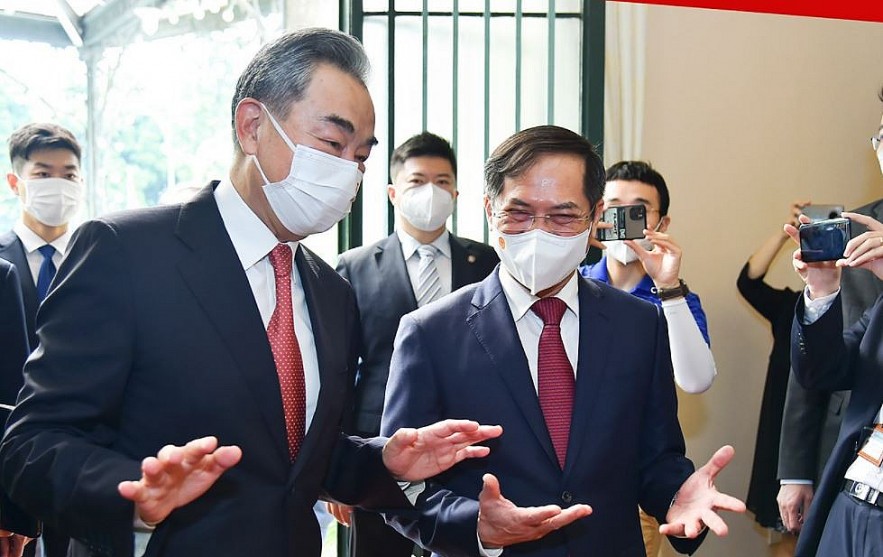 Minister of Foreign Affairs of Vietnam Bui Thanh Son and his Chinese counterpart Wang Yi. (Photo: Baoquocte)
Wang had a meeting with Vietnamese Minister of Foreign Affairs Bui Thanh Son on the same day to foster the comprehensive strategic cooperation partnership between Vietnam and China, VOV reported.
Both sides highly appreciated positive developments in bilateral relations over the past time, noting that senior leaders of the two countries have maintained regular contact and exchanges in flexible forms since the beginning of 2021, outlining orientations for cooperation in all fields. They agreed that given the current complicated and profoundly changing international situation, strengthening political trust and comprehensive cooperation between Vietnam and China meets the fundamental and long-term interests of the two peoples.
The two ministers concurred that their foreign ministries will continue to closely coordinate and consult their leaders to increase contact and exchanges and promote comprehensive cooperation between the two countries in the new period. The two ministers discussed in depth specific coordination measures in Covid-19 prevention and control in order to maintain trade and economic cooperation activities.
Minister Bui Thanh Son thanked China for donating Covid-19 vaccine to Vietnam, and expressed his hope that the two sides would continue to ramp up cooperation in this field, especially in vaccine and drug production.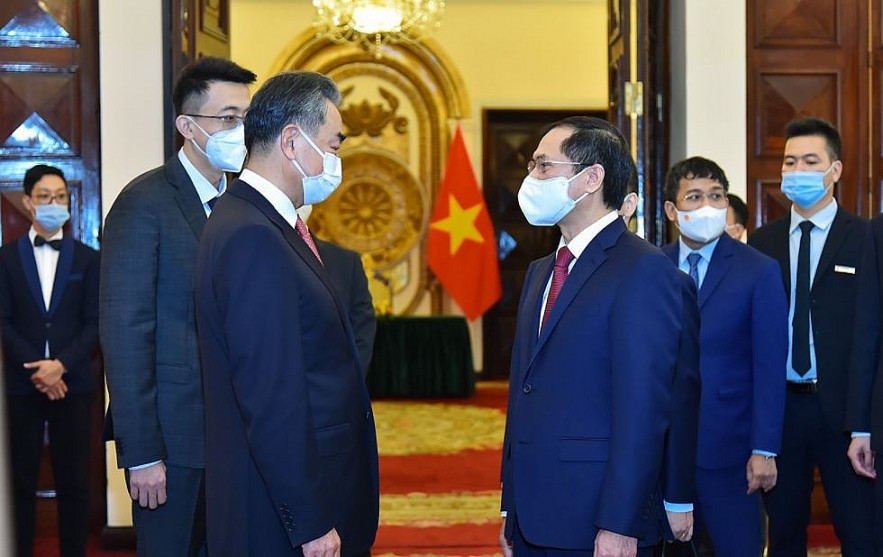 Minister of Foreign Affairs of Vietnam Bui Thanh Son and his Chinese counterpart Wang Yi. (Photo: Baoquocte)
Son suggested that China facilitate customs clearance procedures for Vietnamese goods, especially agricultural products, through border gates, and increase the import of Vietnamese fruits, so as to help balance bilateral two-way and maintain supply and production chains of the two countries. He asked China to promote infrastructure projects so that they would be soon put into use.
Both sides openly and frankly exchanged opinions on border and territorial issues, and proposed specific measures to well manage the common land border and promptly resolve problems that may arise. They agreed to continue to strictly adhere to high-level common perceptions, well control disagreements at sea, and jointly maintain peace and stability in the South China Sea. They vowed to work alongside ASEAN to promote negotiations and soon achieve an effective and substantive Code of Conduct in the South China Sea (COC) in accordance with international law, including the UNCLOS.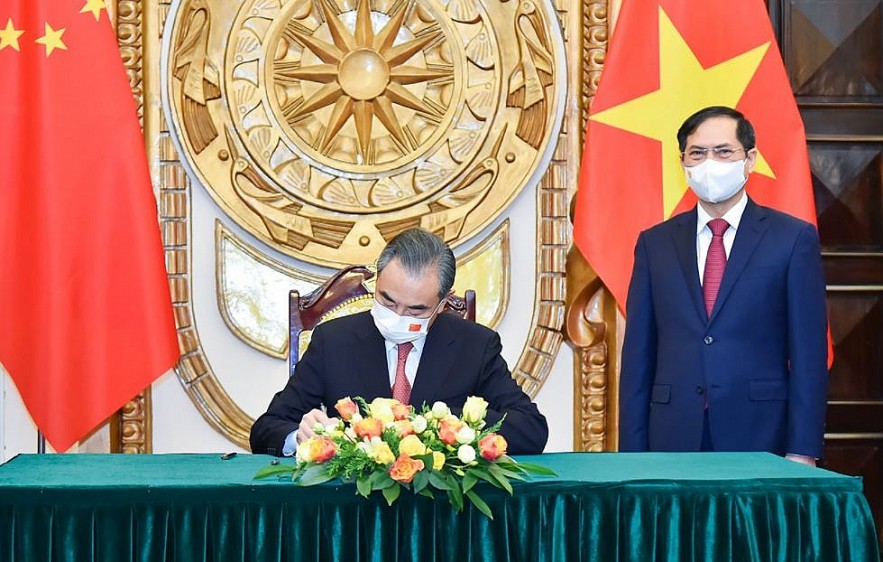 Wang Yi wrote in an open guestbook at the Ministry of Foreign Affairs.. (Photo: Baoquocte)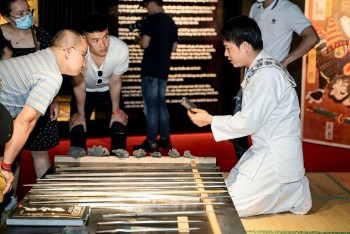 Expats in Vietnam
The new exhibition at CHON de l'art showcases an extremely rare sword, made specifically for Shogun Tokugawa Lemochi, the ruler of all of Japan from 1858 to 1866. Skilled Vietnamese blacksmiths demonstrate how to make the deadly blades.