Vietnamese Localities and Brands Win 16 Categories at World Travel Awards
Meanwhile, the country is accredited as World's Leading Heritage Destination for the third time since 2019.
The 29th World Travel Awards Grand Final Gala Ceremony was held on 11th November in Oman, in which winners of the prestigious award were announced.
Popular Vietnamese locations also won a series of prestigious titles, with the capital city Hanoi and Phu Quoc island in the Mekong Delta province of Kien Giang being named the World's Leading City Break Destination and World's Leading Nature Island Destination, respectively.
Photo: CNN
Phu Quoc's gleaming white sand beaches have earned it the nickname "Pearl Island", but the island's environmental conservation efforts and cultural heritage deserve as much attention as its picturesque sand and surf. Phu Quoc's 150-kilometer coastline, with gentle waves and transparent turquoise water, makes it Vietnam's most popular destination for water sports. Phu Quoc is famous for its fish sauce, and it's well worth touring a fish sauce factory to see how this fermented treasure is made.
Moc Chau district in the northern mountainous province of Son La won the title of the World's Leading Regional Nature Destination, while the Hoi An Memories Land in the central province of Quang Nam's Hoi An city was listed as World's Leading Entertainment Destination.
Photo: Say Hello to Vietnam
Moc Chau is the widest and dreamiest plateau of the Northern mountainous region located in Son La Province which is far about 200 kilometers from Hanoi to the west. Moc Chau entices visitors with its magnificent traditional villages of Vietnamese minor tribes, its many gorgeous flowers ranging from plum flowers to cherry blossoms, and its chilly atmosphere.
Guarding the gate to the vast beauty of Vietnam's Northwest regions, Son La holds in itself more than just tourism values. It is the home of honorable history, varied cultures, and gentle nature. With 12 ethnic groups (Thai, Mong, Muong, Tay) that long inhabited the great land, the province can provide a series of Northwest identities.
Photo: Vietnam Discovery
The Tam Dao area in the northern province of Vinh Phuc has been recognized as World's Leading Town Destination for its first-time nomination this year. Located just 80km from Hanoi, Tam Dao is known as "Da Lat in the North" thanks to its cool climate all year round and poetic and lyrical scenery. This is also the ideal hot spot on the days when the North is in hot weather. Tam Dao now is a complex of different amazing types of both leisure and relaxation, including an amusement park, resorts, guest houses, hotels, garden villas, sports fields, swimming pool parks, and dance floors.
In addition, many famous Vietnamese brands in the fields of hotels, resorts, airlines, and travel agencies have also won first place in the awards' world top categories.
The WTA was launched in 1993 to acknowledge excellence in the travel and tourism industry. Heralded as the "travel industry's equivalent of the Oscars" by the Wall Street Journal, the awards are based on votes from the public and travel professionals across the globe.
Each year World Travel Awards™ covers the globe with its Grand Tour – a series of regional gala ceremonies to recognise excellence within each continent, culminating in a Grand Final at the end of the year.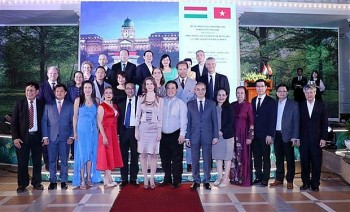 Viet's Home
Saigontourist Group in coordination with the Hungarian Consulate General held a series of events within the framework of the Hungarian Food and Culture Festival 2022 in Ho Chi Minh City