Vietnamese Logistics Company Honored by Google
The One Mount Group was recently been honored by Google as the industry's best practice in digitally transforming logistics and supply chains in 2021 at the Google Cloud Customer Award. This is also the only business in Southeast Asia to receive this award.
One Mount brings technology to solve problems that exist in traditional business models. Photo: vanhoavaphattrien
Open ecosystem strategy
The Google Cloud Customer Award is the result of one year after One Mount and Google joined hands to build the largest technological ecosystem in Vietnam. Through strategic partnerships, One Mount has applied Google's best technologies to its strategy of expanding and strengthening the group's business areas including VinShop, VinID, and OneHousing.
Google said that One Mount is building a digital ecosystem connecting people and businesses. Bringing technology to solve the "bottleneck" of the market is how One Mount is doing to optimize expansion, reach customers, and put people at the center of its services.
One Mount delivers an outstanding experience, secure, high-performance, and reliable service – the benefits customers get from the partnership between One Mount and Google. Building big data sources, and increasing customer insights for large-scale personalization are the goals that One Mount and Google aim for.
Vu Quang Tung, chief strategy director of One Mount Group said that, with the goal of becoming an open ecosystem, One Mount has a roadmap to expand cooperation with strategic partners who are global businesses and leading corporations.
"One Mount believes that technology is the key to Vietnam's sustainable development. By choosing to shake hands with the "giant" Google, One Mount will shorten the road to becoming the largest and trusted digital ecosystem in Vietnam. Our team has many technology talents from international corporations," Tung said.
One Mount won the top award at Sao Khue 2022 with the VinShop application. Photo: vanhoavaphattrien
Before receiving Google's global award, One Mount was honored in prestigious awards: "Asia's Best Place to Work 2021", "Top 10 Enterprises providing digital transformation platform 2021", " Top 10 Financial Technology Enterprises 2021", "Top 10 Enterprises providing logistics and e-commerce solutions 2021", "Top 10 Sao Khue 2022".
"Technology and people can create limitless opportunities"
Launched at the end of 2019, One Mount has the ambition to build the largest and most reliable technology ecosystem in Vietnam. They want to help drive modernization, connecting businesses and consumers across retail, real estate and supply chains with three member companies.
One Mount Consumer with VinID super application is the choice of 12 million users in Vietnam, providing more than 4,000 businesses and sales units with a commercial platform. It helps their products and services reach new customers, deepen connections, and increase customer loyalty.
For consumers, VinID brings users thousands of exclusive offers every day, from thousands of leading brands, in diverse fields from dining, fashion, home, study and medical care.
Users can go to the market, shop online, pay bills, book and buy tickets online for the hottest sports and entertainment events with the VinID application, using it as a payment channel.
One Mount's technology products VinID, VinShop and OneHousing are familiar to Vietnamese consumers. Photo: vanhoavaphattrien
One Mount Distribution with VinShop has now digitized more than 100,000 traditional grocery stores across the country. On average, every day, there are more than 200 "upgraded" groceries with more than 100 promotions per month from VinShop. One Mount is appreciated by Google for applying modern technologies to optimize VinShop operations, saving 10-15% of the cost of the entire supply chain.
One Mount Real Estate with proptech OneHousing offers a combination of data capabilities, technology solutions, quality shopping carts from reputable investors, and professional consulting services to serve the needs of transparent real estate transactions.
Currently, this proptech has become the No. 1 distributor of Masterise Homes in the Northern market. It has succeeded in distributing Vinhomes' mega projects in 2022 (typically Vinhomes Ocean Park 2 - The Empire project).
According to Vu Quang Tung, One Mount will continue to focus on two main areas: retail and housing. These are two areas that account for an important proportion in the economy and have a great impact on the quality of life of Vietnamese people.
"The partnership with Google reflects our shared values of how technology and people can create limitless opportunities," said One Mount Chief Strategy Director.
The Google Cloud Customer Award is Google's annual award. The award honors businesses that turn ideas into amazing products - delivering global solutions and enhancing customer experiences by using technology with Google Cloud. One Mount is the first Vietnamese enterprise to be honored at this award.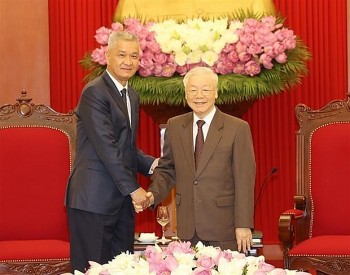 Friendship
Anouphap Tounalom, Secretary of the Lao People's Revolutionary Party (LPRP) Central Committee, and Secretary of the Party Committee and Chairman of the People's Council of Vientiane is conducting a visit to Vietnam.