Vietnamese Nationals Trafficked To Myanmar Return Home
The Ministry of Public Security in coordination with Military Command of Tuyen Quang Province and Blue Dragon Children's Foundation organized an event to receive Vietnamese nationals trafficked to Myanmar.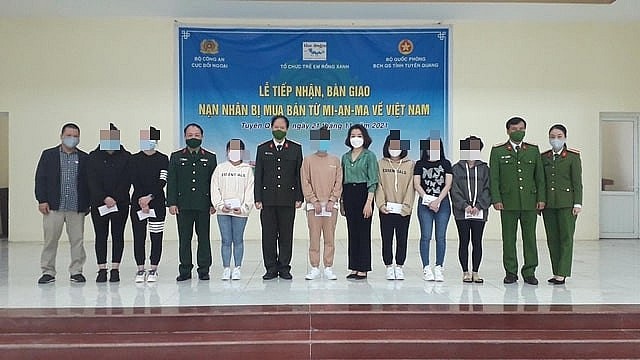 Trafficked victims (blurred faces) who return from Myanmar. Photo Ministry of Labour, Invalids and Social Affairs
Fourteen Vietnamese nationals who were trafficked to Myanmar were brought home safely on November 21 thanks to the rescue efforts of Blue Dragon Children's Foundation, Vietnamese Embassy in Myanmar and relevant agencies from Myanmar.
All of them completed quarantine upon arrival as required.
In the context of complicated situation of human trafficking, the Party, the Government, the National Assembly and relevant ministries and sectors always consider human trafficking prevention and control as a key task.
A number of legal documents and solutions have been taken to prevent this type of crime.
The State has also paid close attention to assisting trafficked victims to return home.
At the event, Senior Colonel Bui Chi Phuong, Deputy Head of Southeast Asia Division, Department of Foreign Affairs under Ministry of Public Security, said in recent years, authorities discovered an average of 260 cases of human trafficking every year with 340 criminals involved. The number of victims was nearly 500 people, mostly women and children who live in rural areas, far from the center.
He said inter-sectoral coordination at home and abroad plays a very important role in order to identify, verify and rescue victims. The Ministry of Public Security has proactively coordinated with relevant agencies to rescue and support the trafficked victims as well as share experience and exchange information with stakeholders, international organizations and NGOs to seek solutions that ensure the best interests for the victims.
In order to improve the effectiveness of preventing and combating human trafficking crimes and assisting victims, in the coming time, authorities of relevant agencies and localities need to continue to overcome difficulties, remove obstacles with flexible solutions to continue to perform well this tasks, he said.
Relevant agencies and localities must also continue to maintain and strengthen inter-sectoral coordination in collecting and sharing information between relevant Vietnamese units and foreign organizations as well as the Vietnamese Embassy in the host country.
At the event, Nguyen Thi Mai Anh, Deputy Head of Victim Support and Communication Division, Department of Social Evils Prevention and Control, Ministry of Labour, Invalids and Social Affairs thanked the Vietnamese Embassy in Myanmar, Blue Dragon Children's Foundation and relevant ministries and sectors for their coordination in supporting trafficked victims to return safely.
She hoped that the victims, after returning to their localities, would strictly follow the laws and mobilize their relatives as well as local residents to avoid being victims of human trafficking.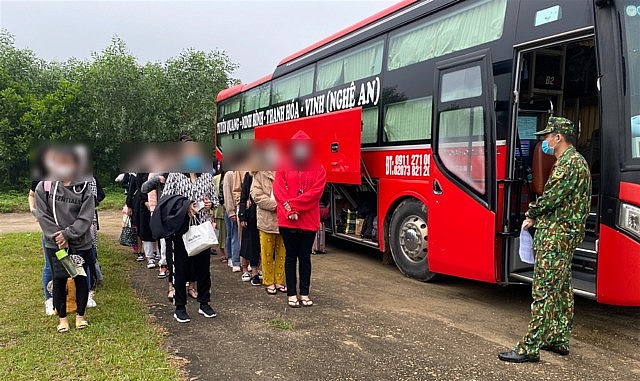 Victims are transported to their hometowns. Photo Ministry of Labour, Invalids and Social Affairs
After the handover ceremony, localities and Blue Dragon Children's Organization arranged vehicles to bring the victims back to their home villages.