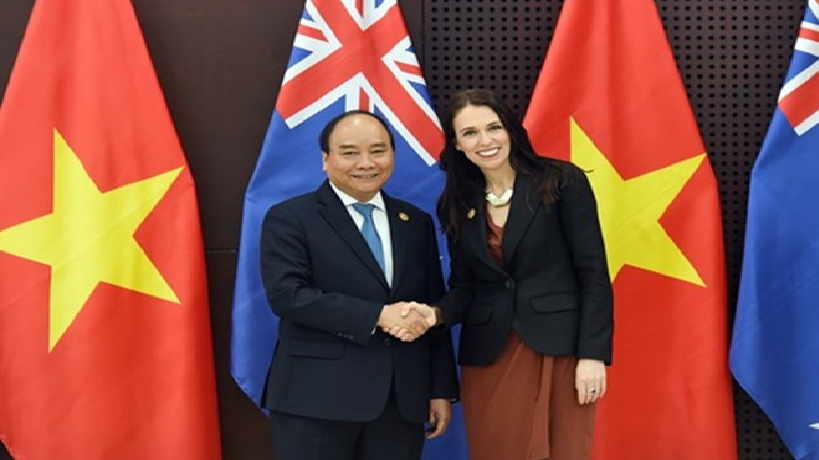 Prime Minister Nguyen Xuan Phuc and his New Zealand counterpart Jacinda Ardern in photo taken during APEC Summit in 2017 in Da Nang city. (Photo: VGP)
Prime Minister Nguyen Xuan Phuc and his New Zealand counterpart Jacinda Ardern will hold online high-level talks on July 22, Foreign Ministry spokesperson Le Thi Thu Hang said at a press conference on July 16.
During the talks, the leaders are scheduled to discuss measures to step up the comprehensive and result-oriented cooperation between Vietnam and New Zealand in various areas, from politics to trade-investment, security-national defence, education, agriculture, people-to-people exchange and the fight against COVID-19.
The talks aim to lift the bilateral ties to a new high in line with the Joint Statement on Advancing the Comprehensive Partnership towards Strategic Partnership, released during the visit to New Zealand by PM Phuc in 2018.
They will also exchange views on certain regional and international issues of shared concern.
According to the spokesperson, Vietnam and New Zealand will celebrate the 45th anniversary of their diplomatic ties this year.
Since the establishment of the diplomatic ties in 1975, the bilateral relationship has developed progressively and sustainably, Hang said, adding that the two countries advanced the relationship to a comprehensive partnership in 2009, which is a milestone promoting the bilateral relations in a more comprehensive, pragmatic and effective manner across spheres.
"With the achievements recorded over the past 45 years, Vietnam wishes and pledges to work together with New Zealand to soon elevate the bilateral ties to a new level, in accordance with the joint statement," she emphasised. /.
Vietnam and New Zealand are eyeing 1.7 billion USD in two-way trade this year.
According to the Vietnamese Trade Office in New Zealand, Vietnam is currently New Zealand's 16th largest trade partner. Bilateral trade enjoyed a three-fold rise in the decade since the two countries established their comprehensive partnership, from 320 million USD in 2009 to over 1 billion USD in 2018.
The figure is expected to rise to 1.7 billion USD as the two are working to upgrade relations to a strategic partnership and both are members of the Comprehensive and Progressive Agreement for Trans-Pacific Partnership (CPTPP).
Rosy Huong