Vietnamese 'Paint the Town Red' for Upcoming Tet Holiday
Check out how you can join the locals to get into the festive spirit and prepare for the Year of the Tiger.
Photo: Zing News
The New Year is only a few days away. People flock the streets in big cities like Hanoi and HCMC. The scenes lifted up every one's mood after a long period of strict social distancing.
Ring in the New Year with red
Photo: Zing News
Red decorations, red flowers, red clothing...everything is dyed in this symbolic color to invite good luck. Along with red, decor market in Hai Thuong Lan Ong street (District 5), pink, yellow, green, blue... all become more vivid.
Tiger-printed items with diverse designs and eye-catching colors are best-sellers. Paper fans, bamboo mats, lanterns, lucky money bags, accessories for hanging apricot trees, peach trees are also popular items.
"We have been staying at home, so I bought some decorations for the house to have special Tet atmosphere. I chose bamboo mats, flower branches and some pretty keychains. It all costs about VND 800,000 (US $32)," said Que Nga (born in 1980, living in District 7).
Photo: Zing News
The products are diverse in design and price. After a long year, residents hope that tiger-shaped accessories and paintings will bring luck and joy to their family.
Photo: Zing News
In Hang Ma Street, bronze tiger carving priced from VND 8-20 million (US $35 - 881).
Trong Phuoc (29 years old, Hai Duong) and his girlfriend Thu Anh (29 years old, Vinh Phuc) walked around Hang Ma and looked at the shops because they loved the bustling atmosphere of Hanoi on the occasion of Tet.
To decorate the house during Tet, Minh Anh (20 years old) and her sister bought plenty of craft supplies to design their own decorations, instead of buying ready-made products.
"For me, making my own decorations is more meaningful," said Minh Anh.
In HCMC, Hai Thuong Lan Ong market also sells all kinds of flares and paper fireworks with prices ranging from VND 120,000-150,000 VND. Some small businesses even set off smoke fireworks on the sidewalk to attract the attention of passersby.
From 6pm onwards, this area begins to become crowded with dozens of people coming in and out at each store.
Newly imported products are prioritized by many stall owners to display them outside to invite customers.
The Tet-design bamboo mat with an object symbolizing good luck is a popular item this year. For a cost of about VND 200,000 - 400,000 (US $8.8 -17), you can own a beautiful designed door hanger.
Sellers are particularly happier now that this year's business situation is relatively better, there are many more customers "My business specializes in wholesale. We receives online orders from provincial customers. I plan to open until the 29th of December (Lunar calendar)," said a decoration distributor that has been in business for a decade.
For my store, fireworks, apricot trees, peach trees, and lanterns are the most popular items. I do not sell fireworks containing explosives. "Working here for 2 years, so I guess around the 26th of December (Lunar calendar), people will buy more," said another seller.
Finish off the year in style
Crowded with many young people, the atmosphere of Tet is much presented at Hang Ma (Hoan Kiem district). This famous street has turned red since the end of December 2021, right after Christmas is over.
Photo: Zing News
Besides those who have shopping needs, people choose their favorite street corners to take Tet photos. Beautiful visitors in Ao Dai, especially red ones, can be seen along the Hang Ma street, showing off the charm of Vietnamese traditional attires.
A young mother and her toddler also joined in the crowd. Photo: Zing News
"I'm very excited about this year's decoration shopping, partly because I was also born in the Year of the Tiger. Hang Ma has many eye-catching tiger products, I love them all," said the mother.
In HCMC, Lan Huong (born in 1998, lives in District 1) wears a new Ao Dai to the Tet market.
Taking advantage of the beautiful sunshine, Huong and her sister captured beautiful moments of the bustling atmosphere of the city during Tet. Photo: Zing News
"I will also buy some decorations for my home," said Huong.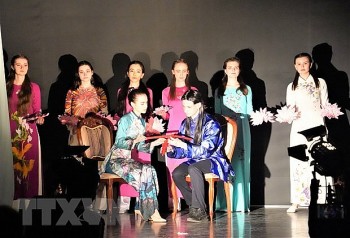 Overseas Vietnamese
Two exchange programmes were held in Russia, attracting manyemany and students of Vietnamese studies from leading universities in Russia.