Vietnamese peacekeepers maintain peace to the world to defend the country
"We contribute to maintaining peace in the world and at the same time other countries must pay respect for Vietnam's peace, legitimate interests, and sovereignty," emphasized Senior Lieutenant General Nguyen Chi Vinh, Deputy Defense Minister, Head of the Ministry of National Defense's Steering Committee on Vietnam's participation in U.N. peacekeeping operations in a recent meeting with the press.
According to General Vinh, Vietnam has so far dispatched nearly 200 peacekeepers to the Central African Republic and South Sudan. These peacekeepers have met all U.N. requirements and been highly appreciated by U.N. leaders for their professional expertise, discipline observance, and capabilities, People's Army Newspaper reported.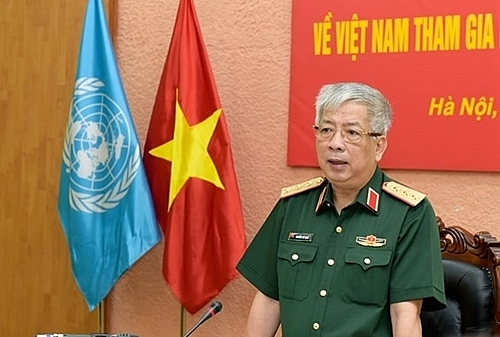 Deputy Defense Minister Senior Lieutenant General Nguyen Chi Vinh
The senior officer proudly said that Vietnam has the highest rate of female peacekeepers (over 10 percent) at U.N. missions and these officers have taken the same missions as males.
According to the United Nations Mission in South Sudan, ten women have been providing medical services for fellow peacekeepers and locals alike. In addition, they have conducted workshops to raise awareness on gender-based violence and HIV/AIDS.
"You have contributed tremendously to the peacekeeping mission's work in Bentiu and your legacy will be remembered by all," said the UNMISS Force Commander Lieutenant General Shailesh Tinaikar, addressing the group at the ceremony.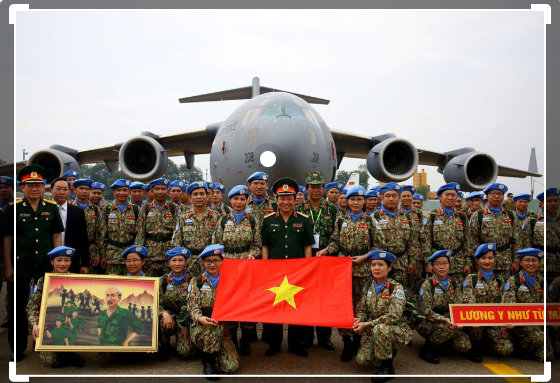 United Nations Peacekeepers from Vietnam have gone to Bentiu South Sudan.
The Deputy Defense Minister also highlighted Vietnamese peacekeepers' fulfillment of all assignments and good behaviors that have left a deep impression on both colleagues and local people and help popularize the image of Vietnam as well.
Regarding the impacts of the COVID-19 pandemic on the blue-beret force of Vietnam in the Central African Republic and South Sudan, General Vinh said that all personnel of the Level-2 Field Hospital Rotation 2 (L2FH Rotation 2) of Vietnam in Bentiu base of the UNMISS have been put on high alert and strictly observed preventive measures. They have also worked out scenarios of the disease outbreak, including a scenario of closing the hospital and withdrawing all personnel back home if the pandemic spreads widely and threatens their lives. These scenarios of course were consulted with U.N. senior officials.
In the article "Vietnamese peacekeepers in South Sudan steel themselves for COVID-19 fight' published on Viet Nam News, medical officers of Việt Nam's second level-2 field hospital were sent to Bentiu to join the fight against the pandemic while undertaking their UN peacekeeping mission in the country.
Vietnamese medical officers have faced many challenges while carrying out their mission there including getting infected the coronavirus, working with a shortage of personal protective equipment, the poor medical facilities, and public health preparedness capabilities in hot conditions.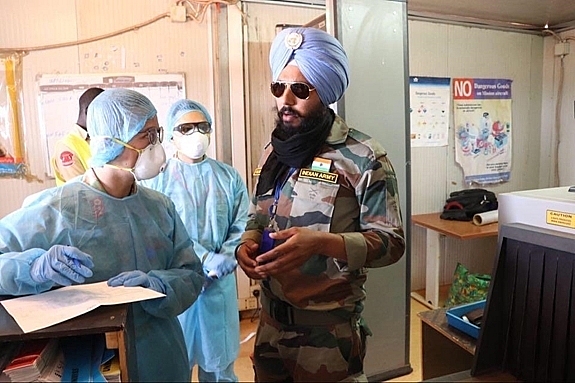 Vietnamese medical officers help a man declare his health status at Rubkona Airport. — Photo courtesy of the Ministry of Defence
Despite these difficulties, Vietnamese peacekeepers have taken a lot of effort to contribute to the fight against COVID-19 in the Central African Republic and South Sudan. Medical officers of the third level-2 field hospital are newly established to replace the second level-2 field hospital in the future.
These efforts were applauded by the UN inspection team for pushing back the disease and protecting community health. — VNS
The Deputy Defense Minister also stressed that Vietnam also pays due attention to assigning officers to working in different positions in U.N. agencies in charge of making common rules on peace, such as policy-making, peacekeeping operation management, disarmament, at U.N. headquarters.
He mentioned Lieutenant Colonel Luong Truong Vinh from the Vietnam Department of Peacekeeping Operations who has been admitted to work as a military official at the U.N. Department of Peace Operations at New York-based U.N. Headquarters.
General Vinh emphasized that Vietnam will dispatch more officers to fill in U.N. military official vacancies at U.N. agencies and expressed his belief that more Vietnamese officers will take high positions in UNMISS, MINUSCA, and other U.N. agencies in the future.
Stressing that participating in U.N. peacekeeping operations is in line with Vietnam's policy of not getting engaged in disputes, military combat, and management over people, but maintaining peace, General Vinh said that the sending of Vietnamese peacekeepers to U.N. peacekeeping missions demonstrates the country's responsibility towards the international community. It also aims to protect the Fatherland in peacetime to ensure national interests, avoid conflicts, and prevent wars. "Partaking in such operations, we can ask for our interests," said General Vinh.
General Vinh said that in the near future, the task is even harder because Vietnam is a responsible partner of the international community as confirmed in the foreign policy of the Party and the State of Vietnam. Therefore, Vietnam will not be able to stand apart from regional and global security and Vietnam will conduct more activities to realize that policy to protect its national interests.