Vietnamese people in Germany, Malaysia celebrate Lunar New Year
Tet celebration in Malaysia (source: CPV)
(VNF) - Vietnamese community in Rostock and adjacent areas, Mecklenburg-Vorpommern State (Germany) on January 28 celebrated the upcoming Lunar New Year (Tet festival).
Art performance at the celebration in Germany
Speaking at the event, Vietnamese Ambassador to Germany, Doan Xuan Hung expressed his delight to attend the program. He also extended warm wishes to the Vietnamese people living and working in the country, as well as German friends, a happy new year.
Nguyen Duy Long, chairman of Dien Hong association, the organizing board of the programme, highlighted the unity among Vietnamese expats in Germany and their contribution to the host country.
Representatives from the local authority, for their part, also lauded the integration and contributions made by the Vietnamese community to the city's development, and the ties among immigrant communities from other countries.
On the occasion, the organization board presented gift to students from Vietnamese families with high academic achievements.
On the same day, the liaison board of the Vietnamese community in Johor State, Malaysia and the Vietnamese Embassy in the country held an art performance program to celebrate Tet, attracting over 300 Vietnamese expats in the state./.
( VNF )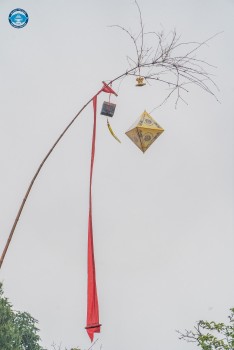 Viet's Home
In the past, the Neu pole (a tall bamboo pole with red garment strips used to ward off evil spirits during the lunar New Year) lowering ceremony at the royal palace of the Nguyen Dynasty was performed to mark the end of the New Year holiday and prepare to enter a new working year.