Vietnamese Products Week Introduces Vietnamese Products to Japanese Consumers
Vietnamese Products Week 2023 held in Japan's Saitama Prefecture, provides an excellent opportunity to introduce high-quality Vietnamese products to Japanese consumers.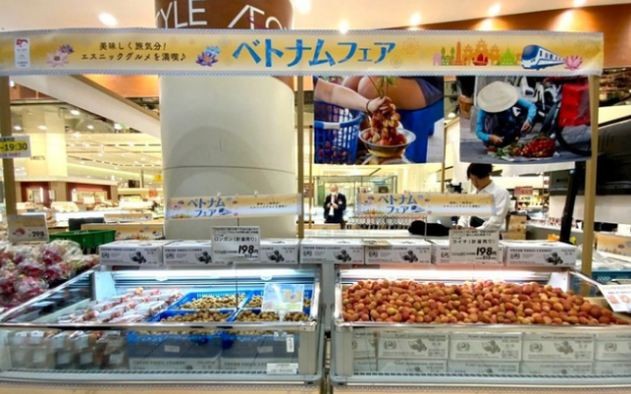 All Vietnamese products entering the Japanese market must meet strict requirements of the local market from material origin to production stages. Photo: NLD
The Vietnamese Products Week 2023 was opened on June 23 in Japan's Saitama Prefecture and all supermarkets and retail stores of the Aeon network in the country, VNA reported Saturday.
The annual activity, held by the Ministry of Industry and Trade, People's Committees of Hanoi and Ho Chi Minh City in cooperation with the Aeon Corporation and scheduled to run through June 26, is part of the project "Promoting Vietnamese enterprises' direct participation in foreign distribution networks by 2030", aiming to raise Vietnam's exports to Aeon trade centres to USD 1 billion in 2025.
Speaking at the event, Deputy Minister of Industry and Trade Do Thang Hai said that over the recent years, Vietnam has been transforming strongly to become a major global production centre with diversified products of competitive prices and increasingly high quality.
With the support of major retail groups in the world such as Aeon, Vietnamese businesses have more opportunities in expanding markets and exporting directly to foreign distribution systems.
Nguyen Huu Dai, CEO of Eco Straws Export Joint Stock Company, said that the Vietnamese Products Week in Japan helps Vietnamese businesses connect with Japanese partners and consumers. It thus creates more jobs and adds value to Vietnamese agricultural products.
Vietnam's key exports such as agricultural products, processed foods, seafood, textiles, footwear, household appliances, and healthcare products are highlighted at Aeon trade centres during the week. Particularly, Vietnam's fresh seafood and tropical fruits such as lychee, longan, banana, dragon fruit, and fresh coconut are promoted to attract Japanese customers.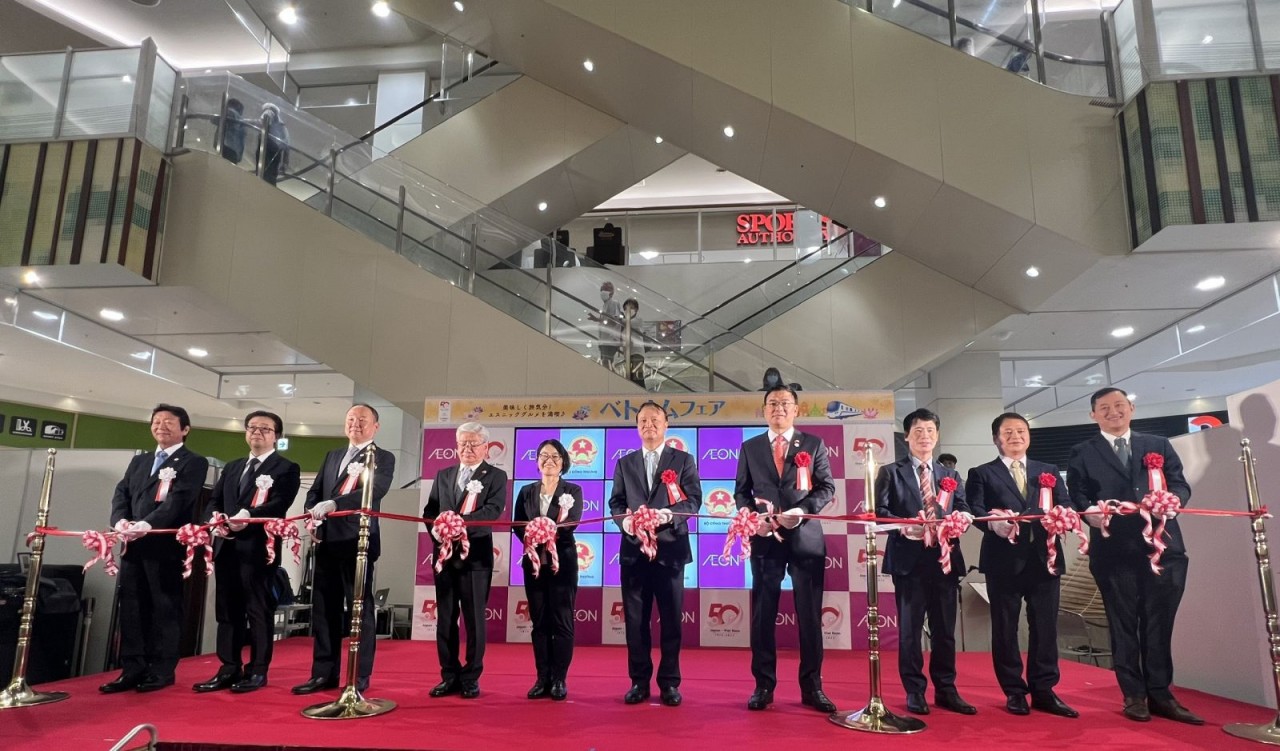 At the opening ceremony. Source: moit.gov.vn
In addition, AEON Group also organises activities to promote the image, cultural identity, and tourism of Vietnam such as the performance of Vietnamese traditional dance, musical instruments, food performances, and Vovinam (Vietnamese traditional martial arts).
Earlier, on June 21, a conference was held in Tokyo to strengthen partnership among Vietnamese and Japanese businesses, drawing representatives from more than 100 firms of both sides.
During the event, Vietnamese firms introduced their products to Japanese firms and sought partnership opportunities
Japan is currently the leading economic partner of Vietnam, the country's biggest ODA provider, the second largest labour export market, the third largest investor, the third largest tourism market, and the fourth biggest trade partner. The number of Vietnamese products sold in Japan has increased and they are welcomed by local consumers.
The conference provided a good chance for businesses of both sides to seek partnership opportunities, bringing more strong products of Vietnam to the Japanese market on the basis of optimising the Vietnam-Japan Economic Partnership Agreement (VJEPA).