Vietnamese SMEs Suffer 2 Million Cyber-attacks
Data from the security firm Kaspersky shows that, in the first half of this year, cybercriminals have carried out 11,298,154 web attacks against small to medium-sized businesses in Southeast Asia, of which there are more than 2.07 million in Vietnam.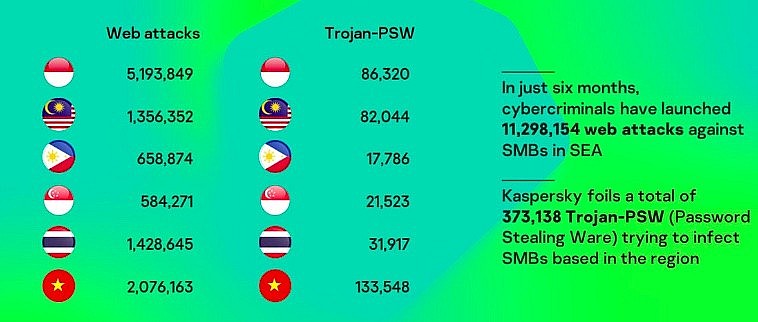 Statistics on malicious activities targeting small to medium-sized businesses in ASEAN in the first half of this year, recorded from security firm Kaspersky. Photo: ictnews
Information about malicious activities targeting small to medium-sized businesses (SMBs) in Southeast Asia (SEA) in the first half of this year has just been announced by security firm Kaspersky. Data is recorded at SMBs with a size of 50 - 200 employees, agreeing to provide statistics for this security firm's solution.
Specifically, cybercriminals have carried out nearly 11.3 million web attacks against small businesses.
Indonesia, Vietnam and Thailand are the countries with the most web attacks, with nearly 5.2 million, more than 2.07 million and over 1.35 million respectively.
Threats on the web are network security risks that can cause many unwanted actions on the Internet. They are created from vulnerabilities on the end users, developers, operators of the web service or the web services themselves.
Besides the web threat, security firm Kaspersky recorded a total of 373,138 trojan-PSW attempts to infiltrate the systems of small to medium-sized businesses in the Southeast Asia region. In the first six months of this year, the countries that recorded the most incidents included Vietnam, Indonesia and Malaysia.
Trojan-PSW is malware that steals passwords and other account information that helps attackers gain access to corporate networks and steal sensitive information.
According to Kaspersky's expert in Southeast Asia, owners of SMBs may think their company is too small to be a target for cybercriminals. This is quite reasonable because usually, the attacker will look for the highest profit with the least effort.
"However, SMBs are often service providers for larger companies, a link in the chain of operations. When password-stealing software can infiltrate a small company's system, it is entirely possible that the whole supply chain is compromised, as a result of a domino effect," said the experts at Kaspersky.
Photo: todayswillsandprobate.co.uk
To avoid falling victim to web attacks and password-stealing Trojans, SMBs are recommended to follow the "least privilege" rule when granting permissions, meaning that the employee is only authorized enough to get the job done.
Businesses need to understand where important information is stored and who has access to it; develop guidelines for new employees, including restricting access for different job positions.
Experts also recommend that businesses need to build a cybersecurity culture. This helps prevent attacks, such as a cybersecurity handbook for employees, so that everyone has the same knowledge and information.
They need to store all passwords in a secure password manager, preventing employees from forgetting passwords and minimizing the possibility of outsiders accessing their accounts.
SMBs should also recommend that employees lock their computers when leaving their desks. They consider installing anti-virus software to protect the device from viruses, trojans, and other malicious programs.
In Vietnam, well aware of the importance of ensuring information security in digital transformation, the Ministry of Information and Communications has chosen to provide small to medium-sized businesses with the SMEdx program.
SMEdx has platforms to support businesses to ensure information safety and security when participating in the digital environment. Vietnamese small to medium-sized businesses can visit smedx.mic.gov.vn to experience the excellent Vietnamese digital platforms that support digital transformation and ensure information security.