Pandemic Leaves Overseas Vietnamese Students in Difficulty
Many Vietnamese students living around the world are facing a difficult time with the Covid-19 outbreak, longing for resumption of a normal curriculum and to fly home any time they wish.
Vietnamese students of Chinese universities are desperate to get their higher education back on track as online classes are rife with difficulties including disruptions and lack of access to textbooks.
Nguyen My Duyen, 25, is feeling unsettled and uncertain about her immediate future.
The native of Quang Ninh Province is pursuing a master's degree in tourism management at the Fujian Agriculture and Forestry University in Fuzhou City, China's Fujian Province.
She returned to Vietnam in January 2020 to celebrate the Tet (Lunar New Year) festival with her family, intending to return immediately after.
However, the international border closures because of Covid-19 have prevented her from returning to China for almost two years, during which period she has been taking online classes.
She was initially encouraged and comforted by her professors who said she would be able to return to China in September. But two Septembers have come and gone, and she is still at home.
"Waiting without an exact return date makes me feel really unsettled," she told VNE.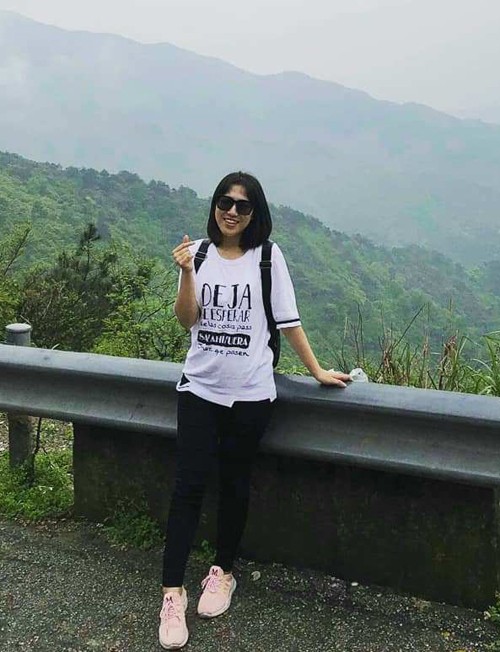 Nguyen My Duyen during a hike in Guilin City, China's Guangxi Province. Photo courtesy of Duyen/ via VNE
Nguyen Thi Hai of Hanoi's Hoai Duc District has recently begun her second year in International Economics and Trade at the Zhejiang Sci-Tech University in Zhejiang Province.
She was granted a partial scholarship from the Chinese government last year. She has never attended in-person classes and has only been studying online.
Hai has lessons on Mondays, Tuesdays and Fridays. Classes begin at 7 a.m. every day and end at around noon. Her class has 40 students, only five of whom are learning remotely.
Hai says the two years have been a struggle. There are days she finds it difficult to log back into the online class because of bad Internet connections.
And even if she manages to log back, she has no idea what the professor was talking about. She said some professors have refused to email students the power points used, so she has to ask a friend to film the lecture and email her afterward.
"When I listen to the video, it doesn't seem clear and is difficult to comprehend. I have to continuously text and ask the teacher, but I'm worried about asking too many questions," Hai said.
With just online classes, Hai has a hard time keeping up with friends and feels she still has not gained much knowledge even though she is already in her second year. But she can't bear to give up and start again at another university because it would be a colossal waste of time.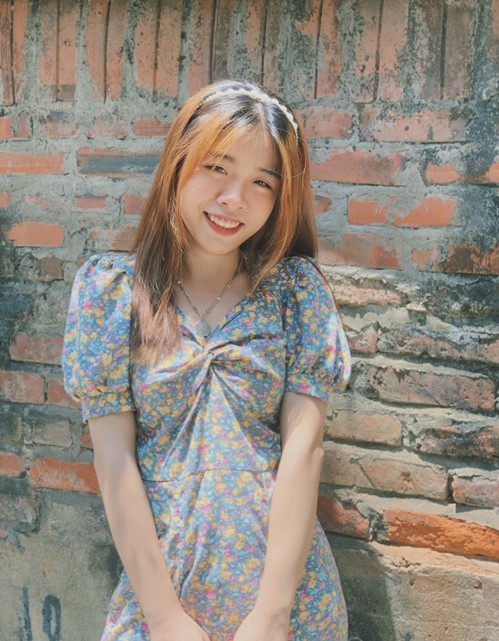 Nguyen Thi Hai. Photo courtesy of Hai/ via VNE
International students like Duyen and Hai have been unable to attend in-person classes after China closed its borders to most foreigners from March 2020 to curb the spread of the coronavirus.
Last August, China restarted issuing visas for South Korean students, who make up the largest number (10%) of all international students in the country.
Meanwhile the majority of international students from developing countries have not received any information about their return. In February, thousands of Indian medical students staged a protest on social media, with the hashtag #TakeUsBackToChina.
Tran Ngoc Duy, who is taking online classes for his master's degree in Chinese Teaching at Yantai University in Shandong Province, said international students have suffered "many deadlocks and interruptions," because of the pandemic.
Duy is the admin of an online group of international students studying abroad in China, which has around 54,000 members.
Adding to the worries and frustrations of foreign students was recent information that China's Ministry of Education and universities was planning not to support online learning with scholarship funds.
Some schools have also said they find it difficult to organize online classes because they do not find them effective.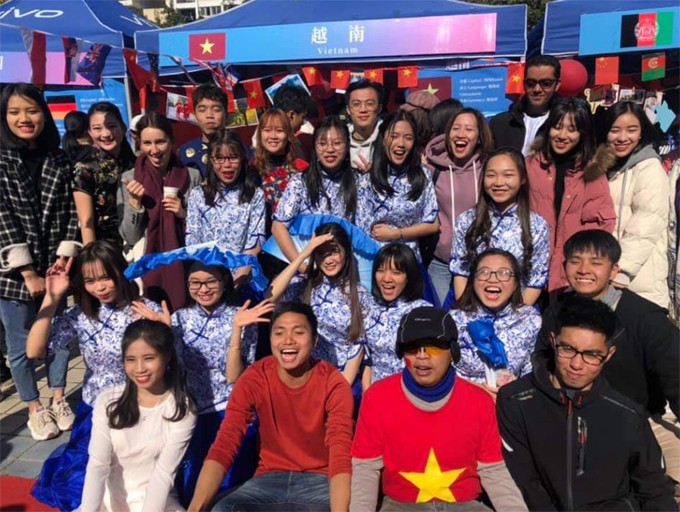 Duyen (pink jacket, second from right, top row) and Vietnamese students at a cultural event at Fuzhou University, China's Fujian Province, November 2019. Photo courtesy of Duyen/ via VNE
On hold
Many students have been forced to put their academic programs on hold since they are struggling financially to cover living expenses while paying full tuition fees.
Online learning has also meant that some subjects have not been taught yet, and Duyen said this is affecting her chance to retain her scholarship.
Each term, the school reviews a student's academic performance and in order to retain her scholarships, Duyen can only have two subjects with less than 80% scores.
In September, when she began the first semester of her second year, Duyen received an email from the school, suggesting that international students reserve their seats with the current program, but temporarily suspend their studies till the pandemic situation stabilizes and they can return. She did so without hesitation.
When she was in China, Duyen studied materials in both Chinese and English. But after returning to Vietnam, she has not been able to find the books that her lecturers suggest.
After reserving her seat and suspending classes, Duyen has begun working part-time for a Taiwanese website, teaching Vietnamese online to earn an income.
Duyen's case is not an exception.
Results from a quick survey in his online group show that of about 60 participants, five students had temporarily suspended their academic program, three had dropped out and the rest were studying online.
Most students said they have "ineffective" lessons and have "extremely frustrating" experiences because of poor internet connections, lack of practice and interaction with peers.
Some students have actually given up their scholarships and looked to continue their education in Vietnam.
Pham Phuong Thao won a Chinese government scholarship this year to study marketing at the China University of Petroleum in Shandong Province. She wanted to experience a new learning environment and meet people from different cultures, an important factor in deciding to study abroad.
She spent a week deciding between studying temporarily at a school in the countryside while studying online in China or giving up her scholarship and returning to Hanoi.
"Instead of living with the uncertainty of returning to China, I can complete my studies in Vietnam. Online learning is not suitable for me, so I gave up the scholarship," she explained.
Thao is a student majoring in Chinese at Thang Long University now. Since she scored 6 points in the Hanyu Shuiping Kaoshi (HSK), a Chinese proficiency test, she was able to advance to the second year.
China currently ranks third in the world for the number of international students after the U.S. and the U.K.
According to December 2020 statistics compiled by Chinese social network Tencent, Vietnam has 13,549 international students in China, the fifth-largest contingent after South Korea, the U.S., Japan and Thailand.
The Chinese government said in July that it always valued international students and would consider "synchronous" arrangements for their return to China in keeping with pandemic-related safety requirements.
Since there has been no mention of possible dates mentioned, Vietnamese students of Chinese universities continue to remain in limbo.
Meanwhile, overseas Vietnamese students in the United States reportedly gradually felt secure when witnessing how schools in the state were organized.
In mid-August, 18-year-old Ha Hai Duong, a former high school student of University of Science, Vietnam National University, came to the US on a scholarship from Georgetown University.
After completing the isolation, Duong received the first injection, about a month later, he received the second injection. Life in America has entered a new normal, he said. In public places or in large gatherings, the organizers do not check the vaccination certificates of attendees. However, people are required to wear masks in enclosed spaces, indoor activities; for outdoors, masks are not required.
During the first month, Duong always wore a mask because he was "still afraid."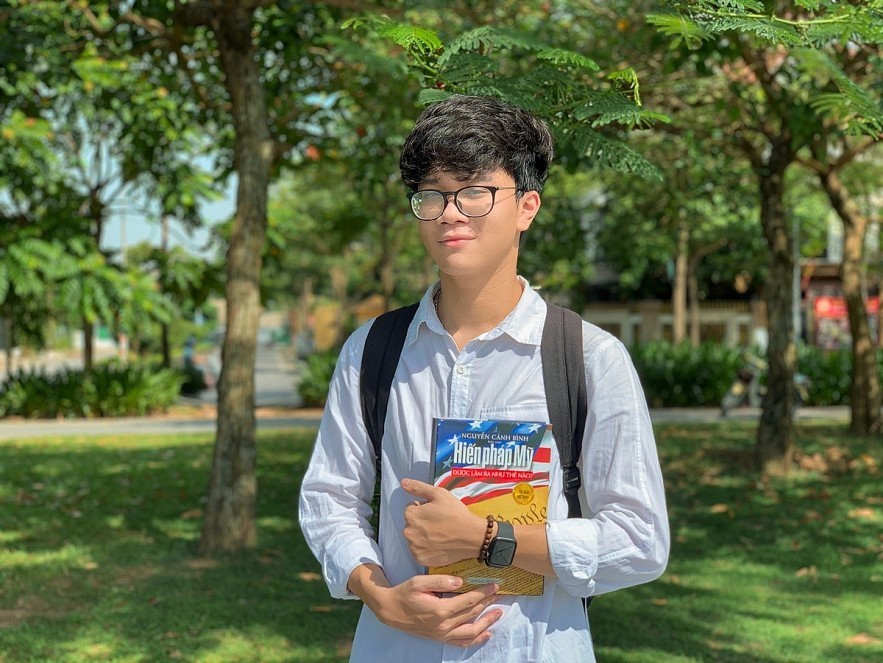 Ha Hai Duong while in Vietnam. Photo: Ha Hai Duong
In mid-September, two of Duong's classmates were infected with Covid-19 and he was in direct contact with both. Duong felt worried. As an F1, but instead of concentrated isolation like in Vietnam, Duong only needs to be tested, if negative, he can go to school normally.
Last week, Georgetown University reported a relatively low case-to-student ratio of 0.25%. Compared to other areas in the US, Duong assessed the situation in Washington, DC as quite safe. Although feeling more secure, he still keeps the habit of wearing a mask and washing his hands often. "I study science, go to the laboratory a lot. If I accidentally get sick, I have to isolate for 10 days and I will miss the experiment," Duong said.
Staying at the dormitory, the male student thinks that his circle of contact is not too much. Friends and teachers around are all aware of pandemic prevention and strictly follow the regulation of wearing masks during class time. Thanks to that, Duong is no longer as worried as before coming to the United States.
Ta Minh Trang, currently living in Nottingham, England, said she yearn for home during Vietnam's traditional festival.
Trang moved to the UK in August to you do a master's degree at the University of Nottingham. Her first days living in the UK was also the time Vietnamese people prepared for Mid-autumn festival, yet the girl said she didn't feel sad or disappointed.
"If I let my emotions overwhelm me, I would probably want to go home soon. Plus, my time in the UK is important for my studying, which I should concentrate on more," Trang told Zing News. "I also talk with my family on video call every day, thus I can feel their joy at home."
Trang last spent her Mid-autumn with family two years ago. The festival often reminds her of the mooncakes in her hometown Nam Dinh, which for her is the most delicious mooncakes she ever tried.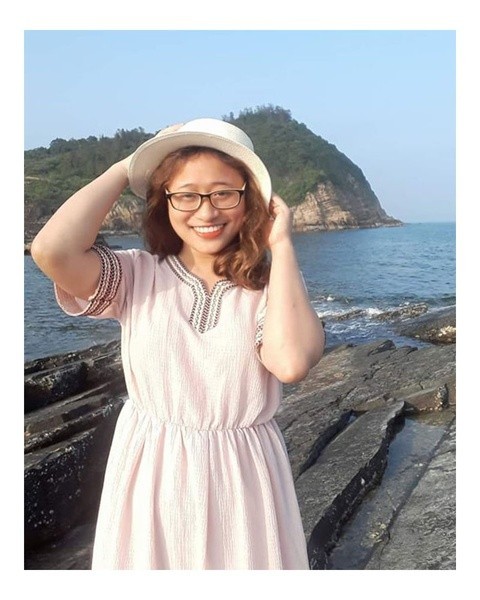 Ta Minh Trang is studying in Nottingham, England. Photo courtesy of Ta Minh Trang/ via Zing News
Trang's family often goes to Nam Dinh to celebrate the full-moon festival with relatives. Trang and her siblings join the festival parade and lion dancing on the streets in the evening.
"The Mid-autumn four years ago was my last time seeing my grandfather. Until now, I still regret I didn't take more photos with him. Now I no longer have that opportunity anymore. My grandfather has gone," Tang said.
This season, Trang and her roommates prepared a small Mid-autumn feast at the rented house.
"We had some Vietnamese traditional dishes, such as boiled chicken, vermicelli, bamboo shoot soup, braised fish. We consider this is a way for us overseas students to share homesickness and celebrate the festival," she added. "Had it not been for the pandemic, the Vietnamese students in Nottingham would have made a bigger celebration."