Vietnamese-styled Board Games to Try in 2023
Here are some game suggestions for you to hang on to the feeling of fun Tet parties and to cure the post-holiday blues.
Tet holiday, the biggest national holiday in Vietnam, lasted for a week this year, and even longer for some. Now that you have to come down from the high after a long break, you might be experiencing something called the "post-holiday blues". It is the feelings of stressing out, anxiousness and even lacking concentration.
For your emotional, and social well-being, trying out some group games could help. You want something pleasant and exciting but don't require to spend the whole night out in a busy crowd. Perhaps it could be something light and easy, something you and your flatmate would enjoy on a weekend night in.
Long gone are the days when Monopoly was your only option. There's no shortage of choice when it comes to Vietnam-styled board games. Find your favorite in 2023 from this list.
Bau Cua (Wheel of Luck) Limited Edition for Lunar New Year
Bau Cua (Wheel of Luck Game) is a popular Southern activity enjoyed by generations. Every year, people try their luck with Bau Cua, and this year the boardgame store Maztermind has brought new colors to this folk game.
The young creative minds of Maztermind take familiar images of "gourd, crab, fish, tiger" and turn them into more vividly designed, combined with bright colors with the meaning of praying for a prosperous new year.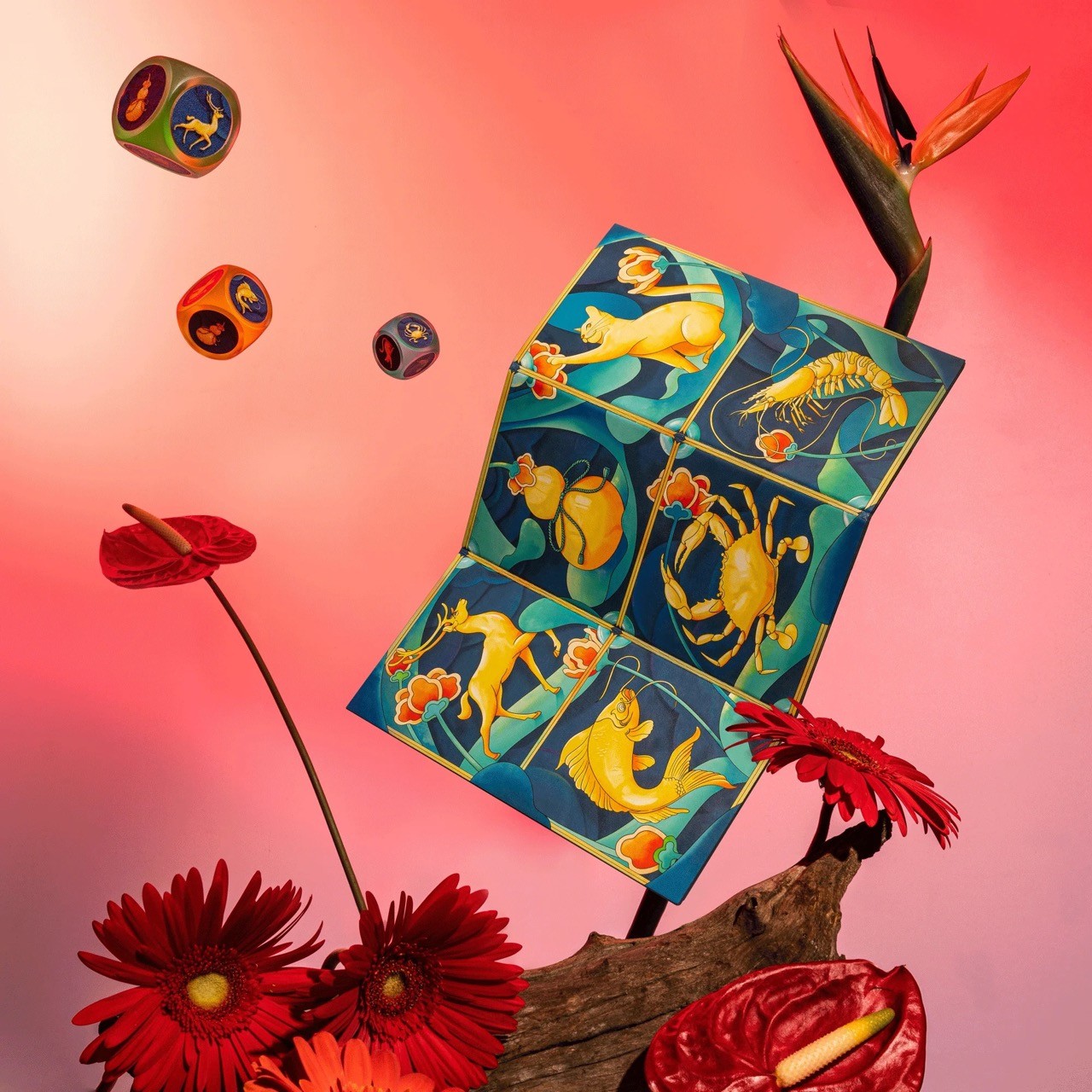 The game set is skillfully handcrafted by local artisans, even the materials are carefully selected to bring the best quality to the players (Photo: Maztermind)
This game of luck has a Chinese origin but many versions were created in different provinces of Vietnam. In the Year of the Cat, the image of the Chicken in the game is replaced with the feline animal.
Bau Cua is much similar to the Roulette game in other cultures but it is especially a common group activity on Vietnamese holidays because of the betting. With the lucky red envelope money that people are betting on (usually among family, and close friends who exchanged the red envelopes), the game becomes more entertaining. It is not about winning or losing but more about trying your luck.
Saigonopoly and Hanoiopoly
Testing your mind with intricate gameplay and relevant themes could be a good way to de-stress. By trying to master the Vietnamese version of Monopoly, it delights in letting you be as interactive with the places as possible.
The special games are called Saigonopoly and Hanoiopoly, also made by Maztermind store, take inspiration from two most famous cities in Vietnam.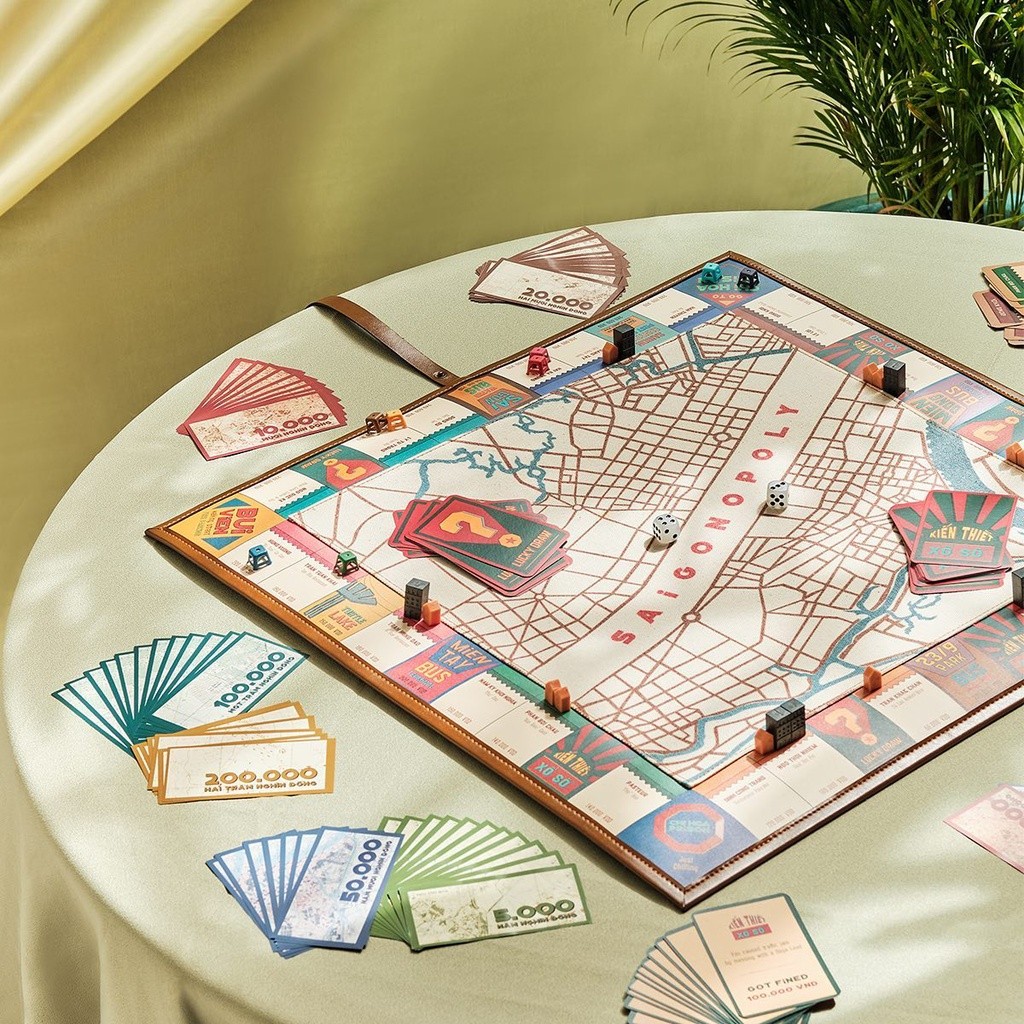 According to Maztermind, it took about 20 hours for the designers to create a set (Photo: The Craft House).
With vintage colors as the main theme, the game makes players feel like traveling back to the old days of two big cities. Besides, the modern fun details such as Phuc Long store, Pizza 4P... also bring a unique and interesting experience.
It is a good ice-breaking game for you and your group of Vietnamese friends. You can have a fun time exploring the symbolic beauties of Vietnamese culture through creations of young local artists.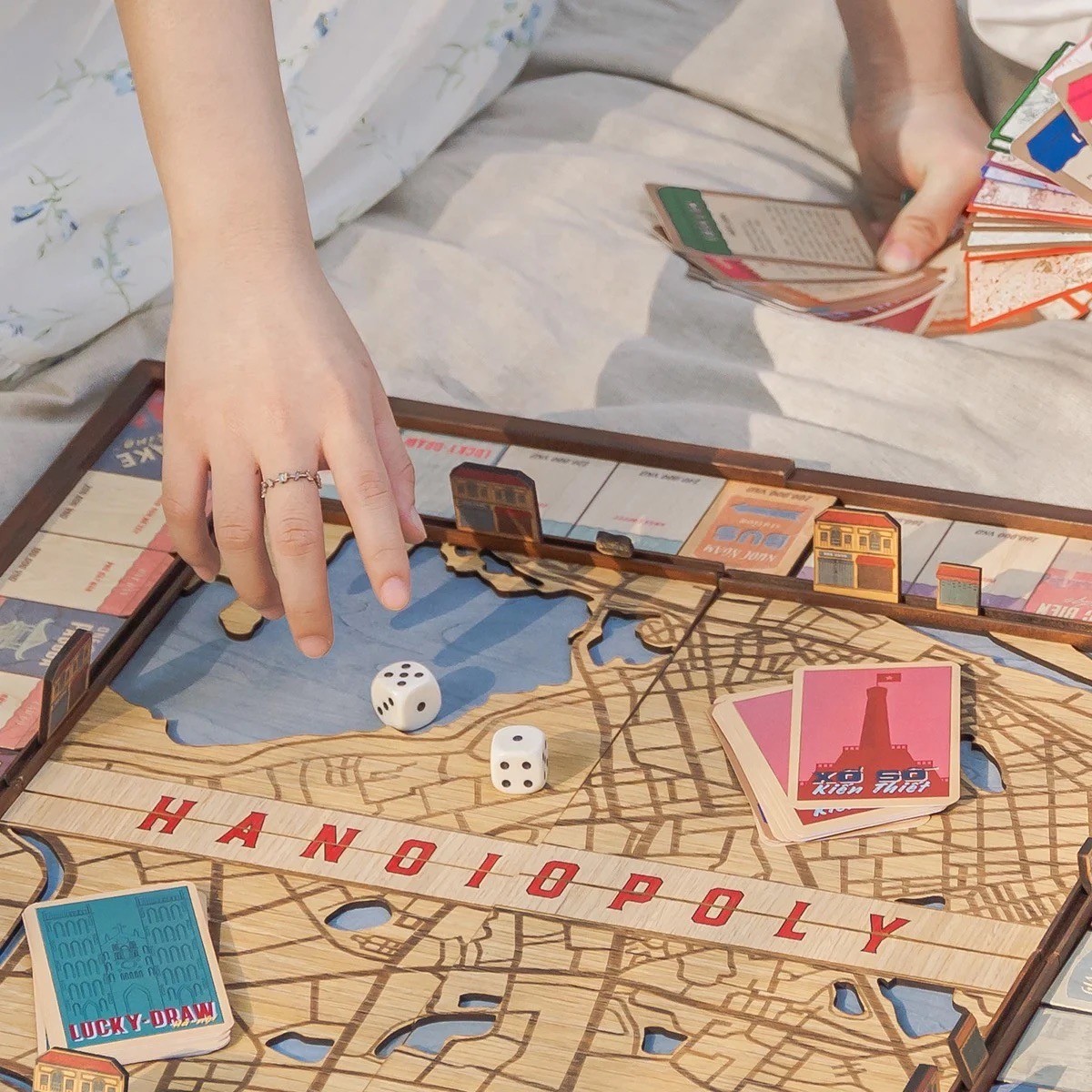 Any board game lover will appreciate the hours and effort that went into the design when they see street corner, and familiar shops of Saigon and Hanoi on the game (Photo: The Craft House).
Mobility is also a plus. The set comes with a lightweight pine material covered with a clear PU print, can be separated into 4 pieces of wood with magnets. Smart package and easy to carry, this is a set you can take anywhere and enjoy the outdoors, or for picnic trips.
Bai Tuong - Deck of Cards Inspired by Vietnamese Opera
The good old-fashion card deck got a makeover and the East-meet-West style is perfectly executed in this design. "Bai Tuong" by creator Dala Nguyen started off as a competition project but quickly gained online popularity after it is finished.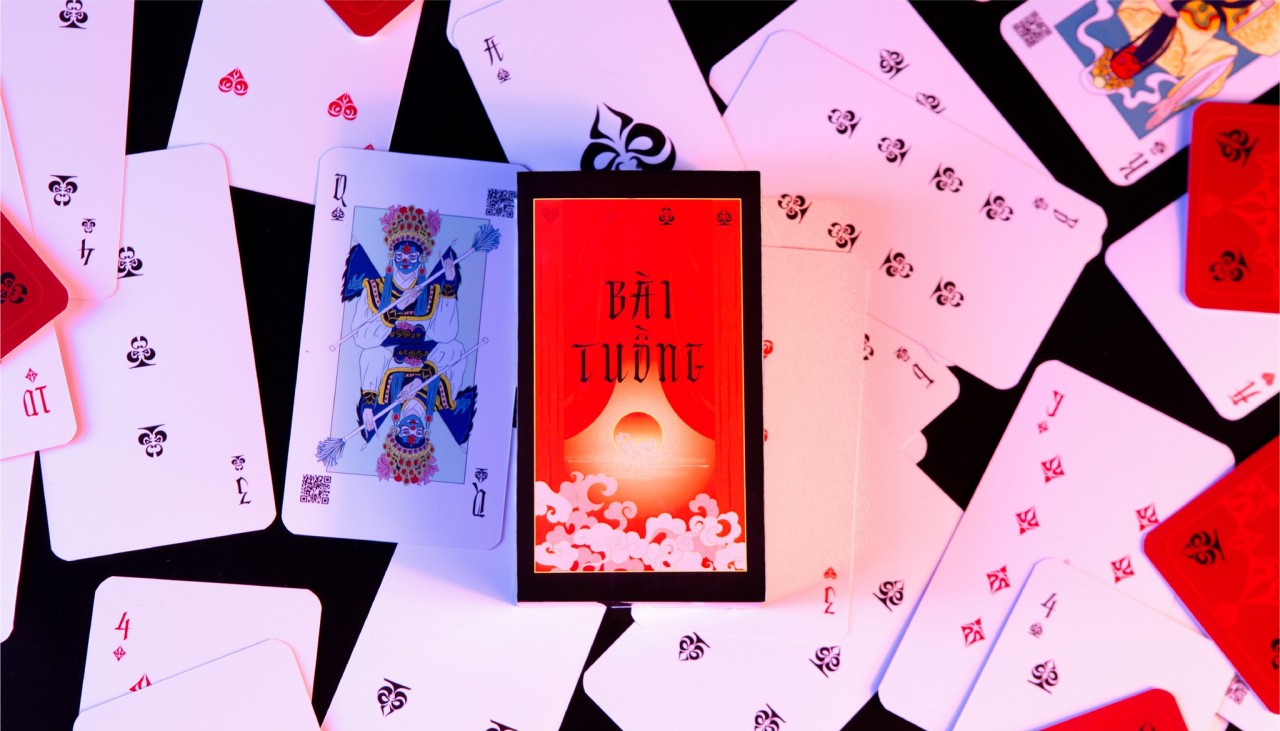 Photo: Dark Creation
"After learning about Tuong when participating in the Young Marketer 2018 competition about preserving Vietnamese art of Tuong, an idea popped up in my mind about making this deck," said Dala Nguyen.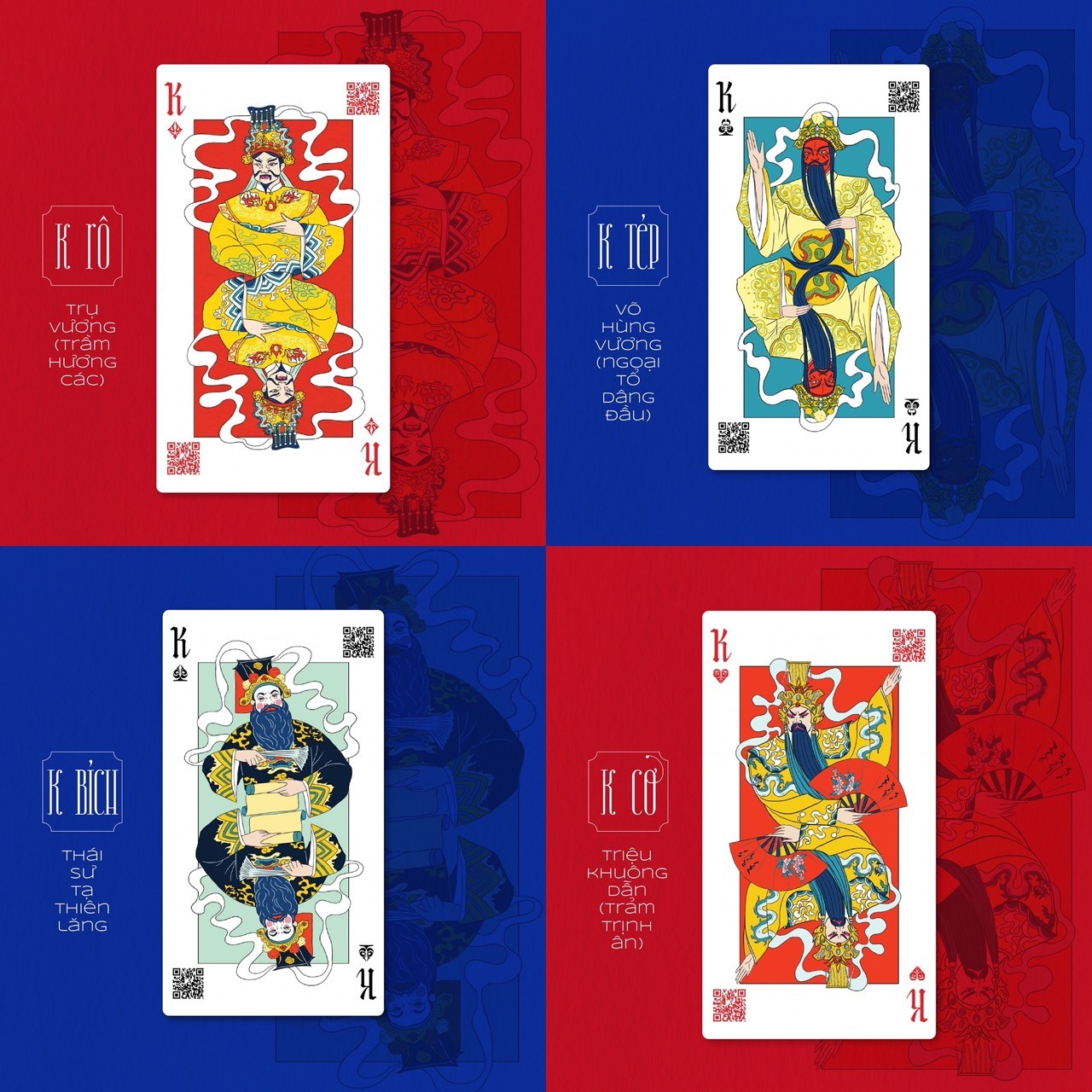 Photo: Dark Creation
He spotted the similarity of the dominant colors between the Western and Tuong decks. Using this red-blue-white color scheme, the young creator and his team decided on a deck of cards inspired by Tuong.
The idea is to turn the Tuong mark, the signature of this theatrical art form, in an aesthetic yet practical representation of 4 suits: heart, club, diamond, and spade.
Players will also be thrilled to learn about the stories of the court cards. The creator turned the main characters from well-known plays into the Ks, Qs, and Js. For example, Ngheu the fortune teller of the famous play Ngheu So Oc Hen is chosen as the Joker. His attires, the shades, and the comedic make-up to showcase his pretentious and naughty nature.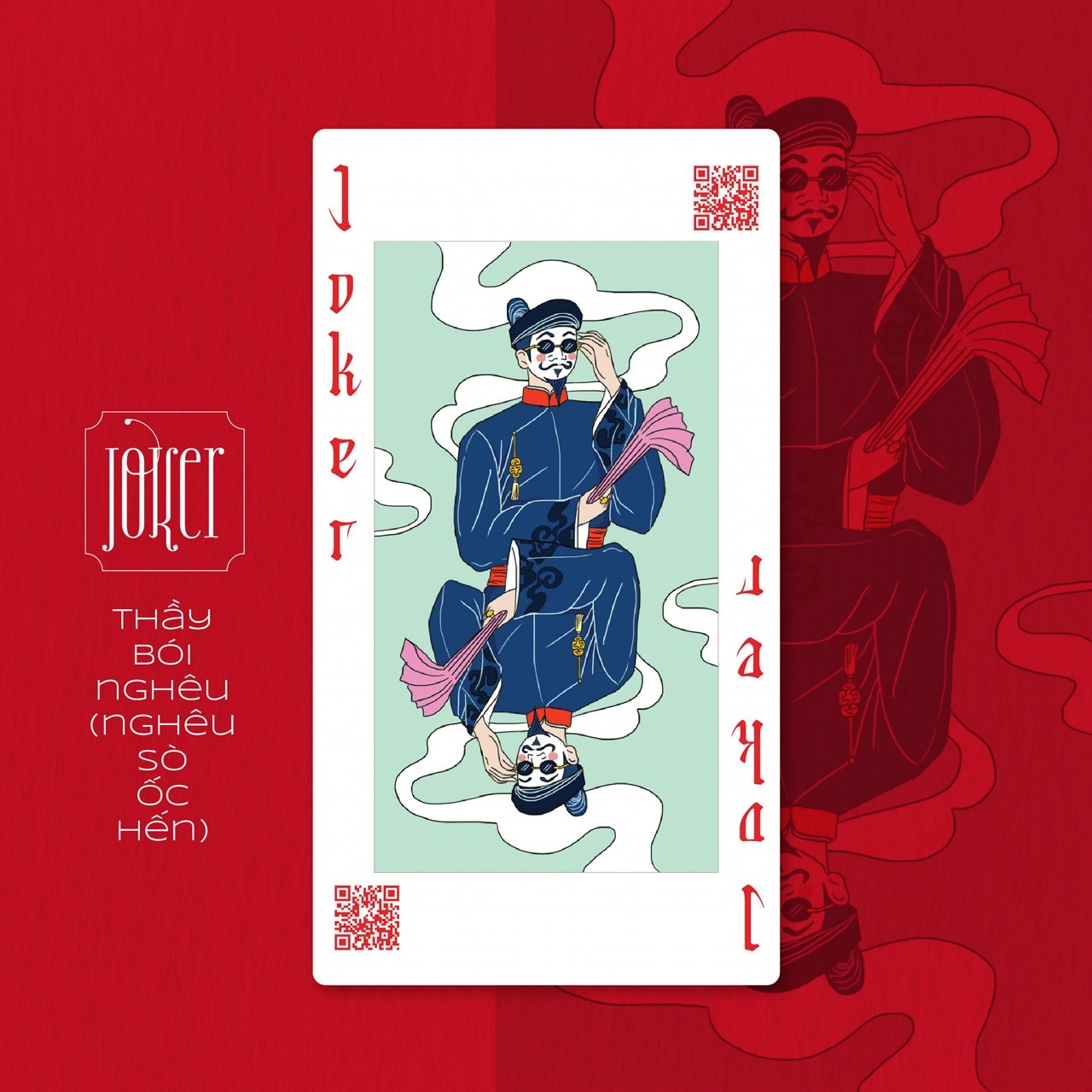 Photo: Dark Creation