Vietnamese Teacher Wins Thai Prize for Education
Thailand's Princess Maha Chakri Award honors teachers in Southeast Asia with significant contributions to education and human development.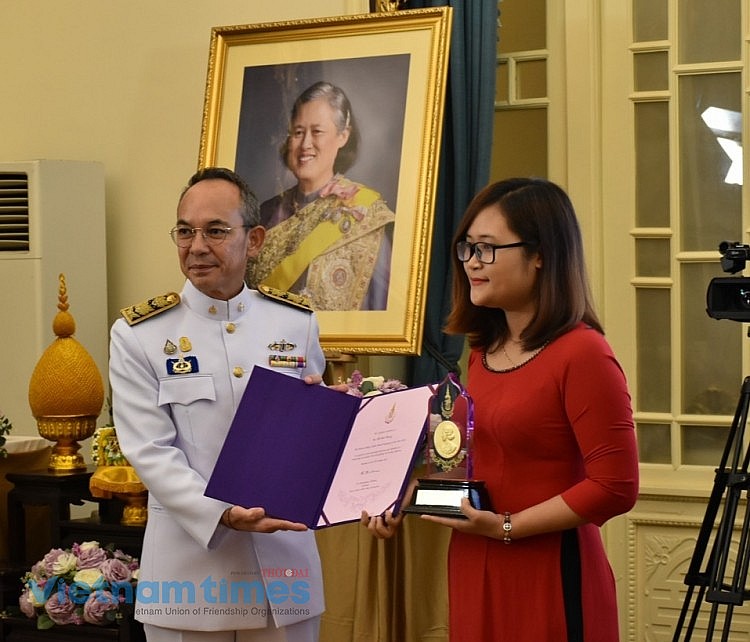 Ha Anh Phuong received the Princess Maha Chakri Award. (Photo: Hong Anh/ VNT)
Vietnamese teacher Ha Anh Phuong received the Princess Maha Chakri Award (PMCA) at a ceremony held by the Thai Embassy in Hanoi on Oct. 29 for her breakthrough teaching initiatives, such as the borderless classroom model.
The event was held with 10 other Thai embassies in Southeast Asian countries and the main ceremony in Bangkok was presided over by Thailand Princess Maha Chakri Sirindhorn.
Representatives from the Vietnamese Ministry of Education and Training, Ministry of Foreign Affairs, ASEAN and Timor-Leste embassies in Hanoi, local press agencies, and the Thailand embassy's officers attended.
PMCA recipient list includes 11 teachers from 10 ASEAN countries and Timor-Leste.
Ha Anh Phuong, the Vietnamese recipient, is a young English teacher in Huong Can high school in Phu Tho, a mountainous province.
Phuong was born in the Muong ethnic group. She was shortlisted for the Global Teacher Prize top 10 finalists by Varkey Foundation - a partner of UNESCO.
She was also selected for the precious Vietnamese Award for 10 Outstanding Vietnamese Young Faces 2020 by the Central Ho Chi Minh Communist Youth Union.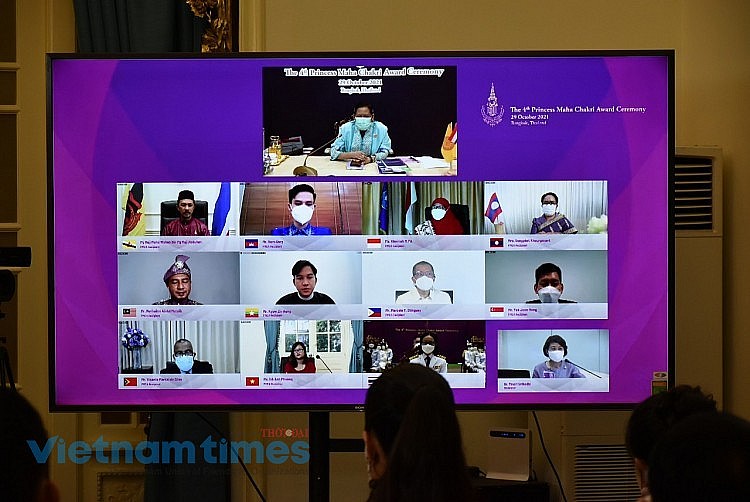 Live conversation between princess Maha Chakri Sirindhorn and the Southeast Asian teachers. (Photo: Hong Anh/ VNT)
Ha Anh Phuong was honored for her creative methods in teaching for her students, most of whom are from ethnic groups.
Phuong opens opportunities for her students to join international projects promoting gender equality, environment awareness, and cybersecurity.
One of Phuong's projects connects Vietnamese and Thai young people. A conference in the project's framework attracted 22,000 attendants from 21 countries.
Ha Anh Phuong also joins volunteer classes for vulnerable children in India and South Africa, and establishes free libraries for students. The young teacher has been invited to be a speaker at many international and national conferences.
Phuong said the award was a motivation for herself and her students to further devote themselves to the community.
"Vietnam's new general education curriculum aims to develop students' abilities and qualities in a comprehensive way. They will learn about self-confidence, creativity, self-study ability, critical thinking, problem-solving skills, which they need to become global citizens," she said.
"Through my lectures, I try to connect ethnic minority students with students from other countries. They participate in many global projects, where they can learn new skills from foreign friends but at the same time preserve and promote the cultural characteristics of their country and ethnic groups."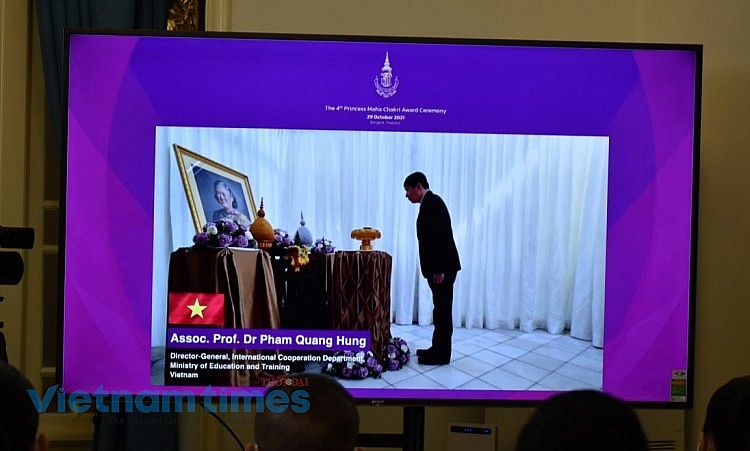 Pham Quang Hung, director-general of the International Cooperation Department of the Vietnamese education ministry received the honorary brooch. (Photo: Hong Anh/ VNT)
Besides honoring outstanding teachers, the princess granted the PMCA honorary brooches to Nikorndej Balankura, ambassador of Thailand to Vietnam, and Assoc. Prof. Pham Quang Hung, director-general of International Cooperation Department of Vietnamese education ministry, for their contributions to educational development.
The Princess Maha Chakri Award is an international biennial award established in 2015 to commemorate the auspicious occasion of Her Royal Highness Princess Maha Chakri Sirindhorn's 60th birthday anniversary and to honor highly dedicated teachers in Southeast Asia whose significant contributions to education and human development deserve international recognition.
Each PMCA recipient will receive the Award package including the PMCA brooch, plaque, medal, and certificate of honor, as well as prize money of US$10,000.
A year after receiving the award, all PMCA recipients participate in a forum to share their experiences and best practices in improving themselves, the lives of their students, as well as in serving as examples for other teachers in their respective countries and beyond.
Prior to Ha Anh Phuong, other Vietnamese teachers who received the award are Tran Thi Thuy Dung from Lao Cai (2015), Phan Thi Nu from Da Nang (2017), and Le Thanh Liem from Hau Giang (2019).
Princess Maha Chakri Sirindhorn is the second daughter of Thai King Bhumibol Adulyadej (Rama IX) and Queen Sirikit Kityakara. She has spent more than three decades educating young people, especially those in disadvantaged areas of Thailand and other countries.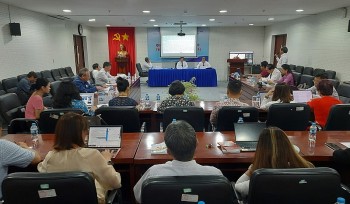 Friendship
The Vietnam - India Friendship Association's Ho Chi Minh City branch, the Ho Chi Minh City Union of Friendship Organizations (HUFO) and the Southern Institute of Social Sciences on March 21 held a scientific seminar themed "Vietnam - India relationship: tradition and present".