Vietnamese Team in Lowest FIFA Ranking After 2 Years
The Vietnamese team dropped 3 places to 95th in the world, after two defeats in the final qualifying round of the World Cup in Asia.
The Vietnamese team lost to Australia. Photo: Tien Phong
The International Federation of Association Football (FIFA) has just announced the September rankings, the Vietnamese team has been deducted a total of 16.76 points, down to 1,244 points. With this result, coach Park Hang-seo's team dropped 3 places, from 92nd place to 95th in the world. This is the lowest ranking of the Vietnamese team in the past two years.
In September, the Vietnamese team played 2 matches in the third qualifying round of the 2022 World Cup in Asia and both received defeats. In the opening match on September 3, the Vietnamese team lost 1-3 to host Saudi Arabia and was deducted 9.55 points. On the evening of September 7 at My Dinh Stadium, the students of Coach Park Hang-seo lost 0-1 to Australia and continued to be deducted an additional 7.21 points.
Among the Group B teams in the final qualifying round of the World Cup, China has the most points deducted. With 2 defeats against Australia and Japan, they lost 18.16 points, from 71st place to 75th in the world.
Vietnamese team is ranked 95th in the world. Photo: Tien Phong
Meanwhile, despite winning against China, Japan still lost 8.99 points after losing to Oman in the opening match at home. The Green Samurai warriors fell from 24th place to 26th in the world.
The Australian team with 2 wins, added 16.78 points to get 1,494 points, rising to 32nd in the world. Similarly, Saudi Arabia added 20.13 points after 2 wins to get 1,406 points, ranked 56th in the world.
In Asia, Iran took the lead with 1,538 points after 2 victories over Syria and Iraq.
Yesterday, the Vietnamese team reunited to prepare for two matches against China (October 7) and Oman (October 12) in the final qualifying round of the World Cup. The ranking of the Vietnamese team in October will certainly change after this series of international matches.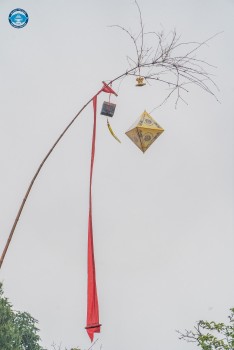 Viet's Home
In the past, the Neu pole (a tall bamboo pole with red garment strips used to ward off evil spirits during the lunar New Year) lowering ceremony at the royal palace of the Nguyen Dynasty was performed to mark the end of the New Year holiday and prepare to enter a new working year.