Vietnamese Woman Dedicates Career to Wildlife Conservation
While many young people pursue finance and business jobs with high-paying salaries, Trang embarks on a challenging career in wildlife conservation in Vietnam and across the world.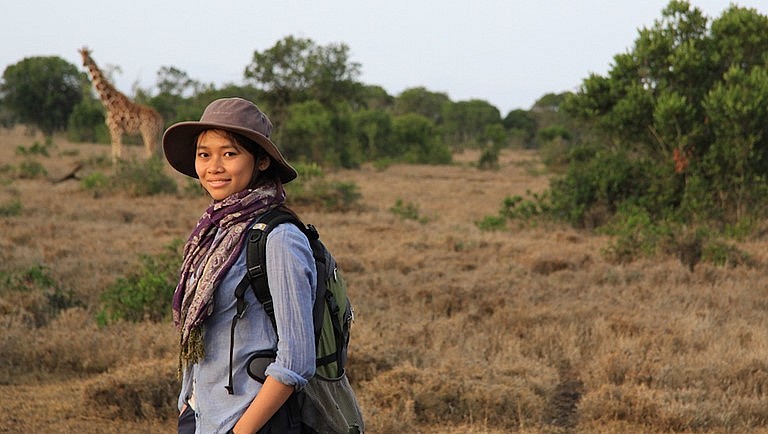 Nguyen Thi Thu Trang is passionate about wildlife conservation. Photo: Nguyen Thi Thu Trang
A fearless conservationist
Nguyen Thi Thu Trang is the founder and director of WildAct, an NGO working on wildlife protection and the environment in Vietnam. At 31, Trang has been traveling across the world as a professional wildlife conservationist.
Her career, while very important, is an uncommon field in Vietnam. Trang received some pushback when becoming a conservationist.
"My parents did not even support me when they heard about my career plan," Thu Trang said and added that not many people in Vietnam consider her job desirable.
"But I love research work, so I have been spending a lot of time doing field trips in remote areas. I have been in dangerous situations many times. No parents would want to see their child facing such circumstances," Trang said.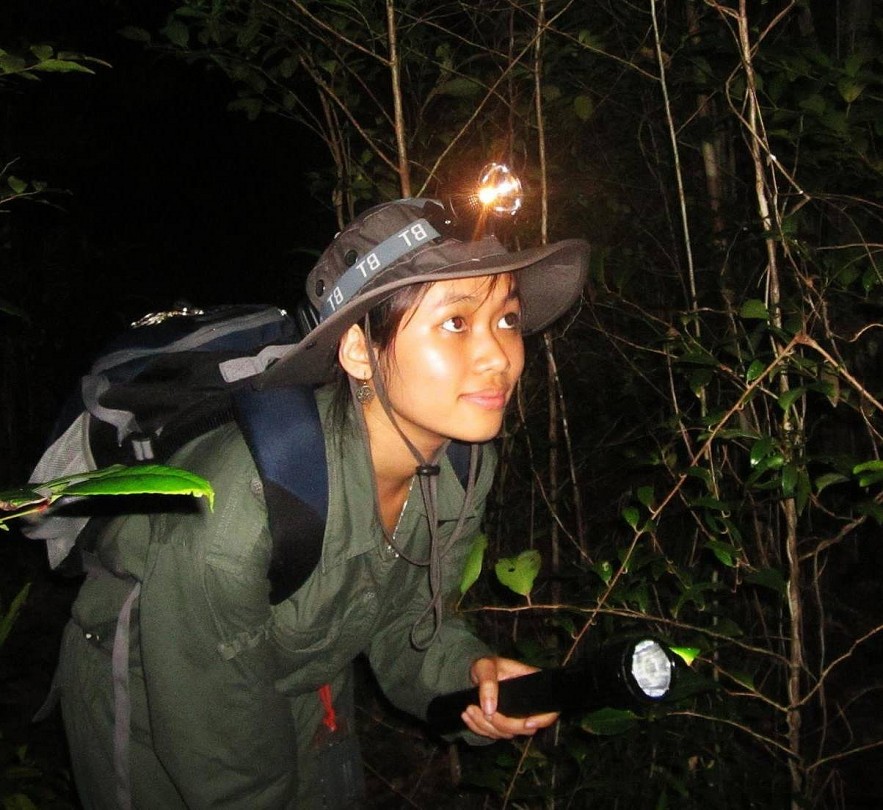 Trang during a field trip. Photo: Nguyen Thi Thu Trang
Vietnam is an illegal wildlife trade hotspot, especially with illicit tiger trading. This comes from a traditional belief that products made from tiger bones can alleviate joint and bone pain and diseases.
Meanwhile, rhino horn consumption becomes popular as it is believed to cure cancer.
Trang herself was once stunned to hear that cancer should be treated by early detection and treatment, not by ungrounded belief. This is a "strong message" pushing her to "do something" to fight against increasing rhino horn trade, according to Trang.
A challenging job
Wildlife hunting attracts policy makers' attention again as the concern about diseases transmittable from animals to humans during the Covid-19 pandemic rises.
In Vietnam, the Prime Minister issued a direction on urgent wildlife management solutions, including halting import of wild animals, whether alive or dead, eggs, larva, body parts and extraction. This direction has been welcomed by conservationists, although how to carry out follow-up action remains a concerning issue.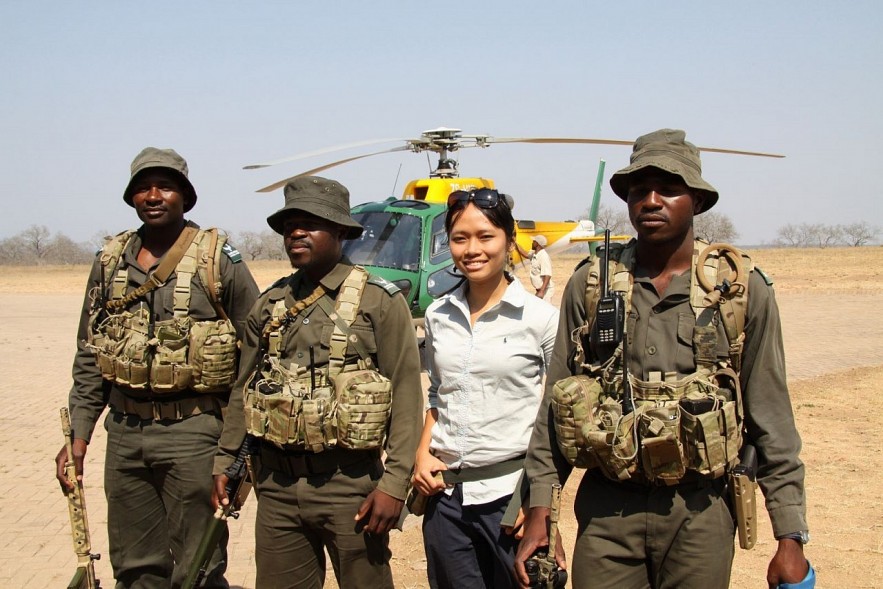 Trang and members of the special anti-poaching task force of the Kruger national park in South Africa. Photo: Nguyen Thi Thu Trang
Trang has always been passionate about environment-related activities since she was a young girl. Two years ago, she graduated with a Ph.D. in biodiversity management from the United Kingdom.
Anti-wildlife trafficking is a daunting task because it is a "sensitive subject in Vietnam" and animals under the red list continue to be hunted.
Nguyen Thi Thu Trang (Trang Nguyen) was born in 1990. She is a wildlife conservationist and founder of WildAct, a Vietnamese NGO working on wildlife conservation and the environment in Vietnam since 2015.
Trang has left positive influences on the youth. She was awarded a full scholarship by Cambridge University in wildlife conservation at 23. In November 2017, she was honored by the Women of Future Award Southeast Asia. In 2018, she was awarded Green Warrior by Elles Vietnam.
"The major reason is that wildlife protection policies have not been carried out effectively. There is a lack of experience in wildlife trafficking crime investigation and prosecution due to insufficient education and training," Trang noted.
Trang's WildAct has been providing training for local communities and foresters about developing and implementing conservation projects in Vietnam.
WildAct is working with Animal Doctors International to provide training on first aid for injured animals in WildAct's project areas, which is necessary to improve the rate of survival for rescued wild animals.
"The right way is to build the capacity so that local people can actively participate in these activities," Trang noted.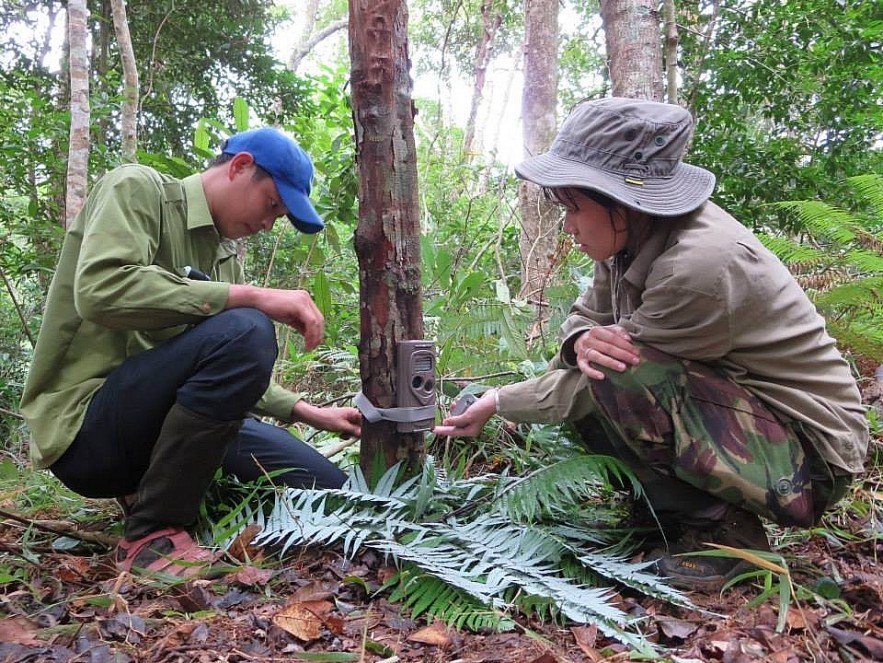 Trang and local communities looking for wild animals in a forest in Kon Tum. Photo: Nguyen Thi Thu Trang
She also hopes to empower women and helps WildAct to become an organization that upholds gender equality.
Mark Spicer, former program manager for WildAct, noted that what Trang and WildAct had been doing was challenging but rewarding as they had motivated more people to engage in these works.
"I hope that there will be more people like Trang"
Trang established WildAct in 2015 after working for environmental organizations in many countries from Cambodia to Mozambique. In 2018, she received the prestigious Future for Nature award for her contributions to anti-wildlife trafficking.
Hoang Thi Minh Hong, founder and director of the Vietnamese environment NGO CHANGE, said people like Trang were hard to find in Vietnam.
However, Hong also noted that more young people were paying attention to environmental issues. In addition, authorities at different levels had been supporting these activities, thus creating more favorable conditions for environmental NGOs to organize their activities.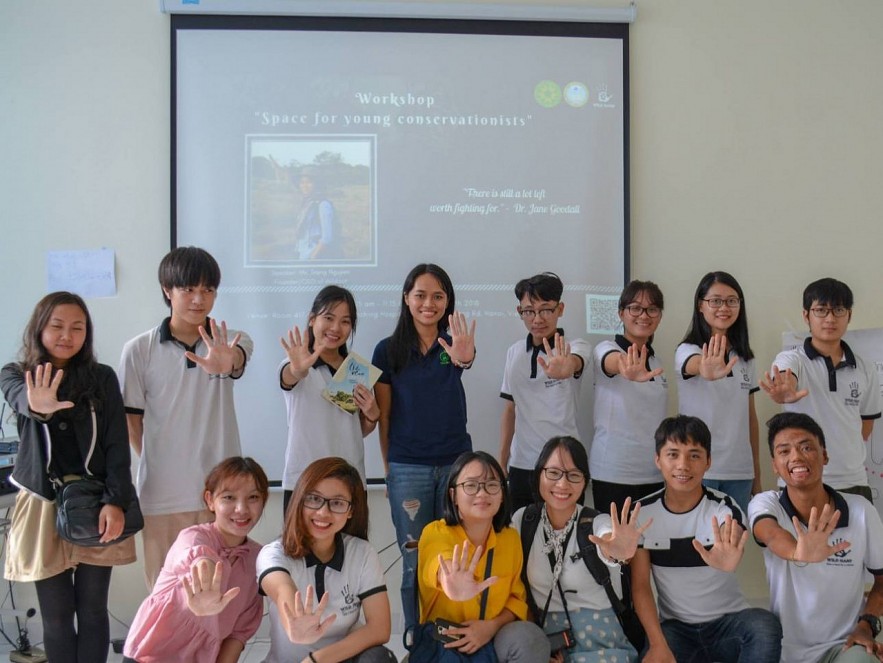 Trang and university students after a training course on wildlife conservation. Photo: Nguyen Thi Thu Trang
"Environment issues have been attracting more attention from the authorities. Local communities have also become more open in expressing their opinions about the negative impacts from these issues on their health, work and economy," Hong said.
Hong believed that there was still a long way to go.
"I hope that there will be more people like Trang in Vietnam and more opportunities for young people to contribute to addressing issues in conservation and wildlife," Hong noted.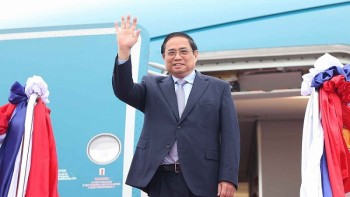 National
Vietnam News Today (Feb. 6): PM Chinh to pay official visits to Singapore, Brunei; Vietnam attends ASEAN+3 Tourism Ministers Meeting; Exports in 2023 and high demands from new generation FTAs; Digital technology to spearhead Vietnam's drive for Industry 4.0.