Vietnamese workers' average salary rises in first quarter
In the first quarter of the year 2021, Vietnamese's average income saw an increase despite the number of workers joining the labour market fell.
Average income rises amid Covid-19 pandemic
Vietnam saw a year-on-year fall in the number of workers joining the labour market in the first quarter but increases in average income, according to Pham Hoai Nam, Director of the Population and Labour Statistics Department at the General Statistics Office (GSO).
Workers' average monthly income increased to 6.3 million VND (US$273) in the first quarter, rising by 339,000 VND (US$14.7) quarter-on-quarter and up 106,000 VND (US$4.6) year-on-year, according to Pham Hoai Nam, director, Population and Labour Statistics Department, General Statistics Office (GSO), Vietnam.
On an annual basis, as reported by Hrm Asia, the highest increase in average income was seen in the agro-forestry-fisheries sector which posted growth of 5.2%, followed by the service sector's 1.5% and industry-construction's 0.8%.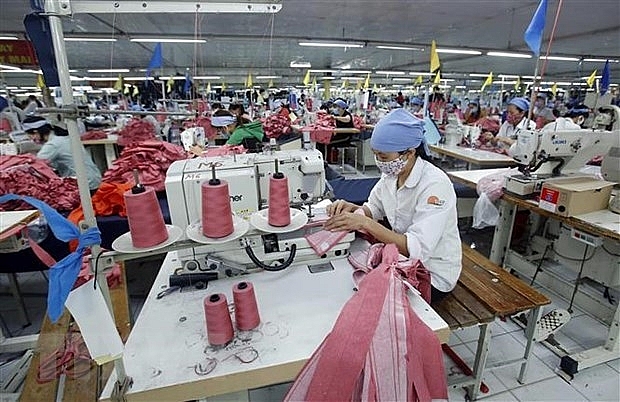 Illustrative image (Photo: VNA)
The incomes of those with employment contracts rose to 7.2 million VND (US$312) per month, increasing by 556,000 VND (US$24) in the first quarter compared to the fourth quarter of 2020 and up 132,000 VND (US$5.7) year-on-year.
According to Nam, the return of COVID-19 before the Lunar New Year (Tet) holiday changed normal growth trends in the first quarter, with a fall of nearly 200,000 workers in the workforce compared to the same time last year and about 600,000 over the same time of 2019.
The proportion of workers joining the labour market was 66.7% in urban areas and 69.9% in rural areas.
The GSO reported that among 49.9 million employees, 39.5% (or 19.7 million) were employed in the service sector, 32.3% (16.1 million) in the industry-construction sector, and 28.2% (14.1 million) in the agro-forestry-fisheries sector.
According to VOV News, in the first quarter, 57.1% of the workforce, or 20.7 million workers, were employed in the informal sector, down 251,700 over the fourth quarter of 2020 but up 525,400 over the same period last year, it said.
As reported by ILO, the ILO Viet Nam Director believed that Viet Nam is better positioned than most other countries in overcoming the economic and labour market challenges as it did with the public health crisis.
Informal workers suffer from a worse credit crunch than formal workers (Illustrative photo: VietnamPlus)
Stimulating the economy and jobs; supporting enterprises, employment and incomes; protecting workers in the workplace; and using social dialogue between government, workers and employers to find solutions are what Viet Nam would need to persistently continue, he said.
"It's time for the Government, employers and workers to unite together to develop and implement evidence-based policies and measures to help the country come out of this crisis even in a better shape than when it started," he added. "And the ILO stands ready to provide our support."
Respond to pandemic with new opportunities
In the face of the increase of the COVID-19 pandemic, several businesses have turned proactive in epidemic prevention while flexible in management in order to find opportunities to overcome this difficult time, Vietnam Plus reported.
Plants run at full capacity
In the face of an economic downturn, the Viet Xanh Agricultural Products Processing Joint Stock Company (Ninh Binh) has maintained a production line that runs at full capacity. In order to do this, Mr. Nguyen Truong Nghia, Chairman of the Board of Directors of the Company, said the company had mapped out response plans early on, strengthening marketing activities to expand the export markets.
"Before Tet (Lunar New Year), orders came in very slowly, but now we receive many orders, mainly from the Russia market. The amount of goods exported was very stable, so the factory had to increase production. Employees work in shifts from 5AM to 9PM every day. In addition, this is the fruit harvest season, the pineapple output in the market is very high but we cannot export fresh fruits to China due to the pandemic. Therefore, the company must step up production to handle this abundant supply," Nghia said.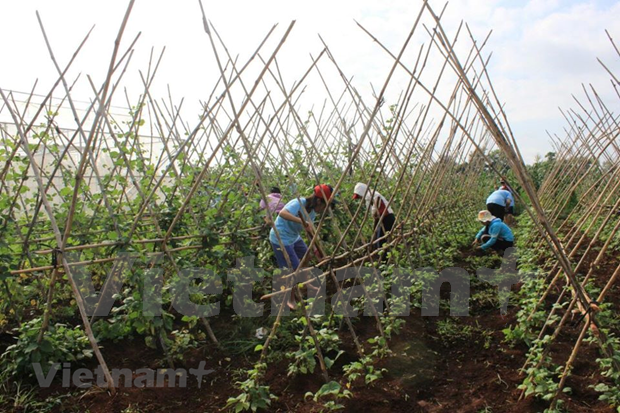 Vegetable of the Viet Nhat Smile Company are harvested amid the pandemic (Photo: Vietnam+)
A similar situation is also happening to Viet Nhat Smile Company (Ho Chi Minh City). Director Pham Thi Bich Lan said the company is working hard, with 100 percent of workers and employees working to meet the needs of consumers as hoarding activity increases.
The transport of fruits and vegetables from Buon Me Thuot city to Ho Chi Minh City, however, continues to face difficulties as there is only one trip per day. Therefore, Ms. Lan must find ways to coordinate with other agricultural businesses to share a truck to ship their products.
Similarly, Hanhsilk Company (Thai Binh province) still maintains domestic customers and ensures jobs for all the employees, thanks to the organisation of a production chain from cocoon purchasing to producing, then commercialising and bringing products to consumers.
Luong Thanh Hanh, Director of Hanhsilk said: "The company's products have been trusted by consumers for a long time, so the domestic demand is still very high with products such as towels and massage products,... Besides, we also promote sales through e-commerce channels to attract more customers."
"Every cloud has a silver lining"
The widespread of the pandemic has forced importers to postpone their orders, while sales at supermarkets has gone slow. In this context, Le Thi Thuong, Vice Director of Viet Pepper Co. Ltd (Ho Chi Minh City) said the company is seeking new sales channels, while innovating their products to suit the new market context. At the moment, the company has mostly shifted its sales channels to Amazon online platform.
"Every cloud has a silver lining! Business on Amazon is very effective, the number orders has been constantly increasing since the beginning of the epidemic. Currently, the company's employees are working overtime days and nights. Now, the most important thing for us is to protect the health of workers, limit community contact which leads to quarantine or even infected people must stop production," Thuong said.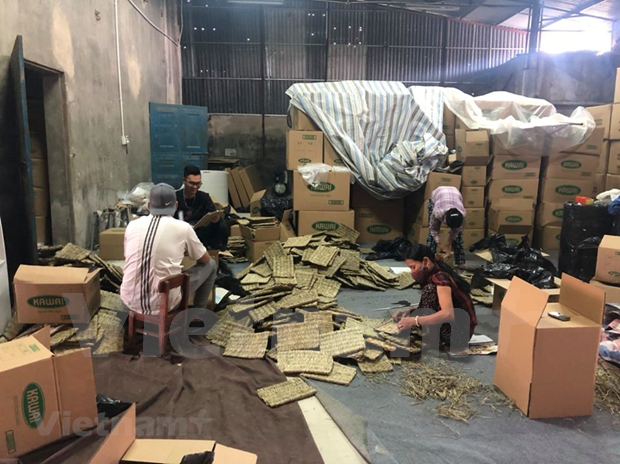 Viet Trang Craft employees work hard to meet deadlines (Photo: Vietnam+)
For handicrafts which are not essential goods, if at the beginning of the season, the exports to the European and American markets are still relatively stable, now, the enterprises doing business in the industry has started to "infiltrate."
Mai Thi Anh Dao, Business Development Manager of Viet Trang Export-Import Private Enterprise (Thanh Hoa province), said that the two main markets of the company: Europe and the US, have stopped all new orders, even old orders cannot be exported. However, Dao's company has developed a new product line related to pets, which is favored by the Japanese market, thus the workers' income is still maintained.
Although small and micro enterprises have gradually adapted to the market, analysts have stated that the pandemic is still evolving in complicated ways, with an uncertain ending. In addition, the economy could feel the negative impact of the pandemic. Therefore, the road ahead will remain challenging for businesses, especially those on the small and micro scale.
An unique style of crab noodle soup in Hanoi

"Vietnamese crab noodle soup" - Hanoi's style has plenty of versions which combine special ingredients such as fertilized duck egg, beef and stir-fried snail,...which bring ...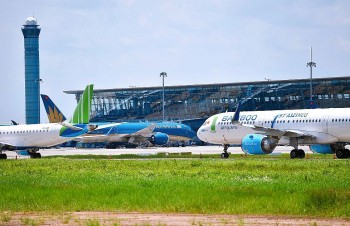 Economy
Vietnam Business & Weather Briefing (August 9): Vietnam's economic growth is expected to reach 7.5% in 2022, new securities accounts hit a near two-year low in July.