Covid-19 fight and GPS of the Vietnamese community in Poland
"Quê Việt" (Vietnamese homeland) news of the Vietnamese community in Poland on April 18 informed new Covid-19 deaths. To date, the community has reported more than 1000 Covid-19 cases and 18 fatalities. Vietnamese people in Poland have grappled with the serious third wave of Covid-19.
It's a norm that Vietnamese people in Poland start a new day with hot news named CafeCoVy at 10:30 a.m right after the Health Ministry officially publishes the updated data on the epidemic situation in Poland, Vietnam, Europe, and the world. The gloomy picture still sparkes hopes. Vietnamese people in Poland feel secure as they have always received assistance from the Covid-19 Support and Prevention Committee.
Talking to the World&Vietnam Report, Vice President of Covid-19 Support and Prevention Committee and Vietnamese Association in Poland Tran Trong Hung said that he wrote qv.wolka.center, an app that updates data in real-time from the website of the Vietnamese Ministry of Health and worldometer of Polish Ministry of Health. Based on that information, he and his members have made CafeCoVy news daily since February 2020.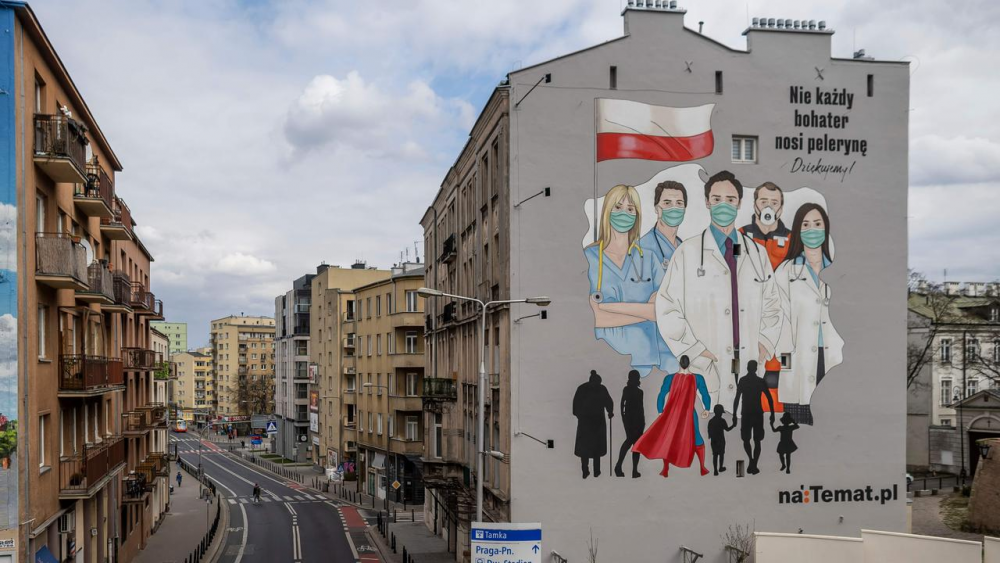 A street in Poland is deserted during the third wave of Covid-19.
The Covid-19 Support and Prevention Committee includes members of the Vietnamese Association in Poland, representatives from the Vietnamese Embassy in Poland, Vietnamese traders in shopping centers, etc. As soon as the first Covid-19 community transmission was detected, the Committee was divided into Sub-committees that have effectively operated, especially on social networking platforms.
The financial aid sub-committee has the responsibility of fundraising and financially supporting disadvantaged Vietnamese and Poland medical workers, meanwhile, the health sub-committee is in charge of advising treatment regimens. On Facebook, this committee acts as a focal point aiding people in free testing seeking, quarantine, treatment, and interpretation.
Another important subcommittee involves information and communication, with two focal points of Quê Việt newspaper and Facebook fan page which update news daily, even hourly, about the Polish government's regulations on quarantine and treatment, workshops on Covid-19 prevention and control, etc.
The Committee has also cooperated with the Public Health Center to guide people to get vaccinated.
Thanks to using social networking platforms, the Committee has provided timely support for many Vietnamese people in Poland.
The community promotes solidarity
Amidst the difficulties caused by Covid-19, the Vietnamese community in Poland has promoted the spirit of solidarity and mutual support. There was a time when 5-6 members of the Committee tested positive with the virus, but fortunately, all of them recovered thanks to the attention and assistance from other members.
Amidst the complicated development of the Covid-19 pandemic, the Committee organizes an online meeting twice a month.
Mr. Tran Trong Hung said "We always side by side. We just need to call on, there are people to respond. Some leaders and I are just people putting forth ideas, efforts are made by the whole community".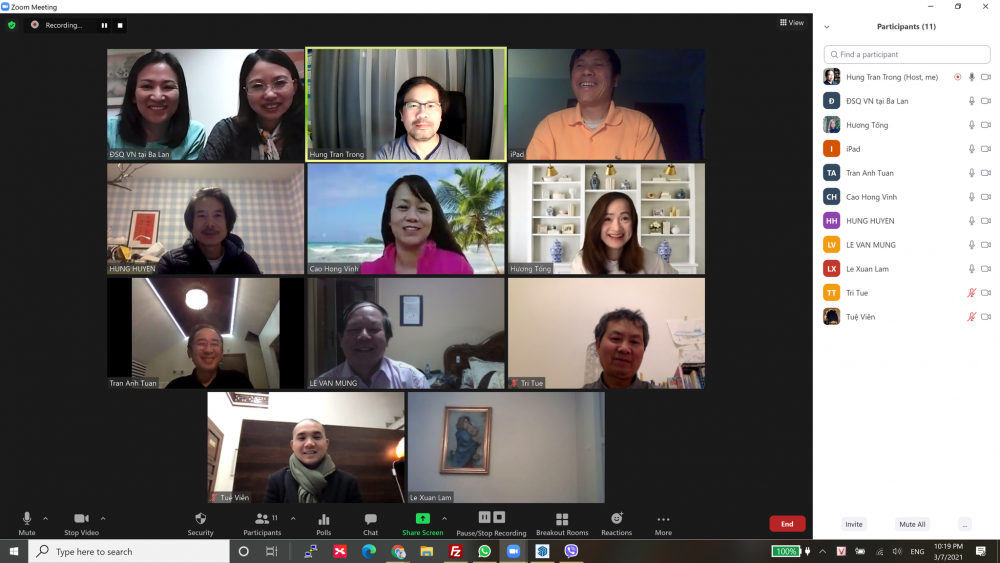 The Committee organizes an online meeting twice a month.
In particular, the Committee has also received support from the Vietnamese Embassy in Poland in handling procedures for Vietnamese ex-pats wanting to come back to Vietnam.
In 2020, Polish President sent a thanking letter to the Committee and Vietnam-Poland Friendship Association for presenting the host country 1,000 protective clothes, 4,100 test kits, and 1,500 medical gloves, etc.
In addition, the #vnjestesmyzwami program has offered thousands of free meals for medical workers across Poland. Vietnamese ex-pats in Poland sew face masks to donate to health facilities, the police force, and local authorities.
The Polish government is expected to conduct the Covid-19 vaccination campaign until August 2021. The Committee is making all-out efforts to help all Vietnamese people here to get vaccinated.