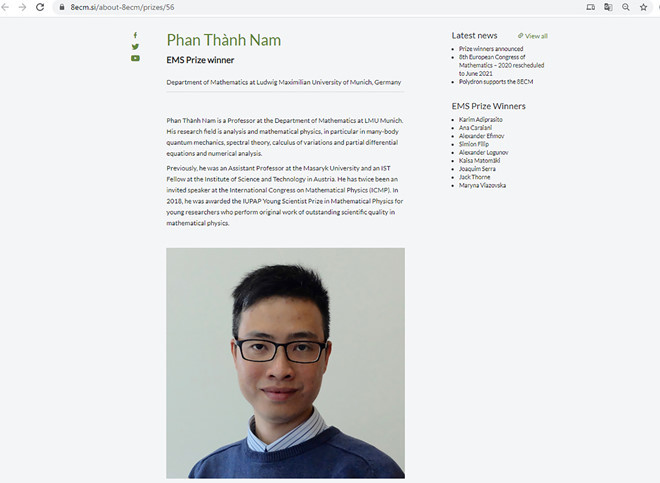 EMS Prize announces winner Prof. Pham Thanh Nam on its website. Photo: Screen capture.
Phan Thanh Nam, alumni of the Ho Chi Minh City National University is currently a Professor at the Department of Mathematics at LMU Munich, according to Thanhnien.
His research field is the analysis and mathematical physics, in particular in many-body quantum mechanics, spectral theory, calculus of variations and partial differential equations and numerical analysis.
Previously, he was an Assistant Professor at the Masaryk University and an IST Fellow at the Institute of Science and Technology in Austria. He has twice been an invited speaker at the International Congress on Mathematical Physics (ICMP). In 2018, he was awarded the IUPAP Young Scientist Prize in Mathematical Physics for young researchers who perform original work of outstanding scientific quality in mathematical physics.
EMS Prize is considered one of the most prestigious of its kind after the Field Medal of the International Mathematical Union (IMU).
The prize is held every four year, awarded to 10 young researchers not older than 35 years, of European nationality or working in Europe, in recognition of excellent contributions in mathematics.
Due to the impacts of COVID-19, this year's awarding ceremony will not be held as usual at the European Congress of Mathematics (ECM) and rescheduled to June 2022.
Dan Tri reported that Professor Phan Thanh Nam is the only Vietnamese in the list of EMS Prize. Previously, he also received the Young Scientist Prize in Mathematical Physics award by the International Association of Applied and Theoretical Physics (IUPAP) in 2018 for his pioneering results with excellent scientific quality in mathematical physics.
According to MathSciNet report of the US' Mathematic Society, professor Phan Thanh Nam is the owner of 39 scientific works on several famous world magazine namely Comm. Math. Phys., Jour. Eur,… and his announcement was cited 346 times by his colleagues.
Lyan Vu