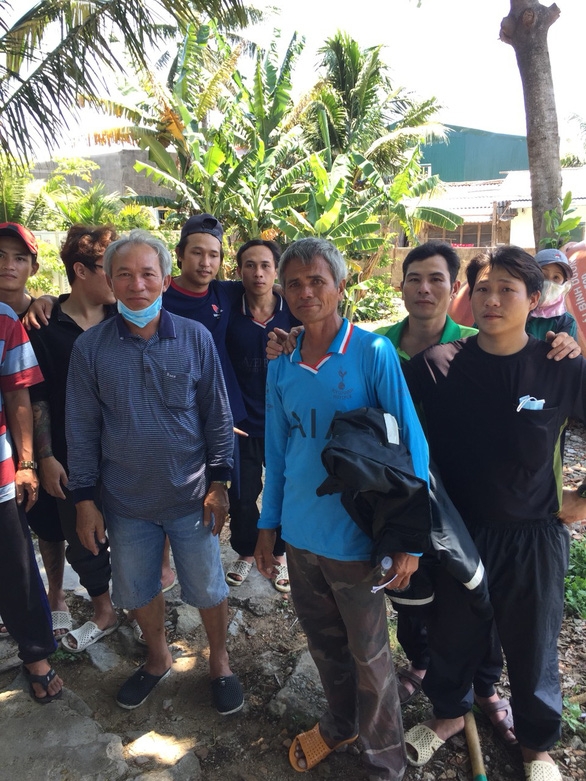 Anding Nadie Repil (fourth, right) and the Vietnamese fishermen who rescued him. Photo: Pham Kha
Anding Nadie Repil was thrown overboard after his boat collided tossing him into the ocean. He survived by clinging on to a plastic can and eating seaweed, reports say.
After his miraculous rescue by Vietnamese fishermen, his daughter spoke of her immense gratitude to the men who saved her Dad's life.
"We can't image life without my father… We couldn't even do something because of this pandemic as we are in a lockdown," she said.
"God used the Vietnamese fishermen to save our father. To all Vietnamese that helped and saved our father, you are all a hero."
Her 52-year-old father has told the authorities he went fishing alone on March 19 on a small boat from the port of Candria in the Philippines. He was asleep when his boat was struck by a cargo ship, tossing him into the water around 40km off the coast of the Philippines.
"I was wearing a life jacket. When the boat sank I could only hug a plastic can and began to drift."
"On April 5, a small Vietnamese boat appeared but it could not accommodate many people, so the fishermen on board gave me a basket boat and some food," he said.
Twelve days later he was picked up by another boat which took him ashore and handed him over to the authorities in Binh Dinh province.
"When the fishermen rescued me, I was very touched and could only cry. I have a wife and four children, I have not seen them for so long. Now I only want to get home," he said.
Vo Dinh Kha, deputy director of the Department of Foreign Affairs of Binh Dinh Province, told Tuoi Tre newspaper that after being rescued on April 17, Anding was taken care of by the provincial authorities and arranged to stay at a hotel in Quy Nhon City.
He said: "Currently, Binh Dinh authorities has completed relevant procedures to hand over Anding Nadie Repil to the Philippines Embassy in Vietnam on May 12, according to the regulations."
Jennifer Tran