Vietnamese Youth Talk About Gender Equality
Vietnam has made various achievements in advancing gender equality and empowering women.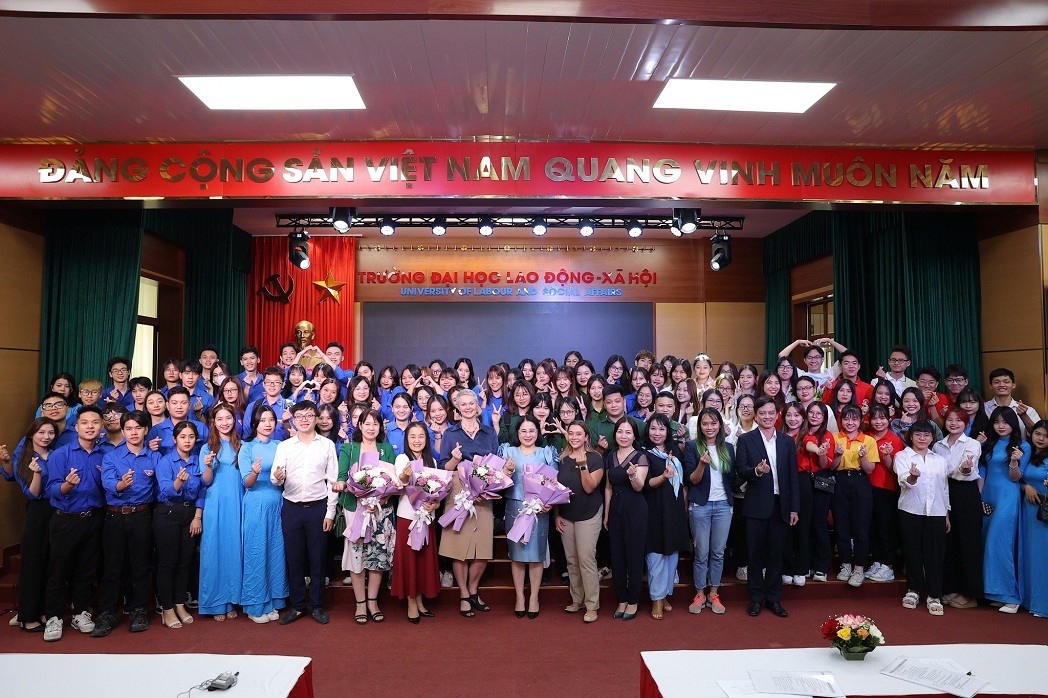 At the event. Photo: UNFPA Vietnam
More than 300 students of the University of Labour - Social Affairs discussed the issue which affects our lives, which is, the true value of girls within the context of promoting gender equality and addressing gender-biased sex selection on October 17.
The discussion was held at the University of Labour - Social Affairs in collaboration with the United Nations Population Fund – UNFPA under the fame work of the Project "Addressing Gender Biased Sex Selection and related harmful practices in Vietnam" funded by the Government of Norway for the period 2020-2022.
Gender equality in Vietnam has improved over the past decades. However, gender-based violence, particularly domestic violence, and harmful practices including son preference and gender-biased sex selection still persists in the country. According to the 2019 Cencus, Vietnam's "sex ratio at birth (SRB)" is currently estimated at 111.5 male births for 100 female births.
To stop gender-biased sex selection and "son preference" and to honour the roles and the values of women and girls in the family and in society, it is critical to stimulate a change in everyone's attitudes and behaviours towards gender-biased sex selection, and this has become one of UNFPA's missions in Vietnam.
However, such a change cannot be achieved overnight. There is a need for joint efforts from all ministries and agencies, various sectors and partners and the entire population including young people who play their unique role and shared responsibilities in ending gender-biased sex selection.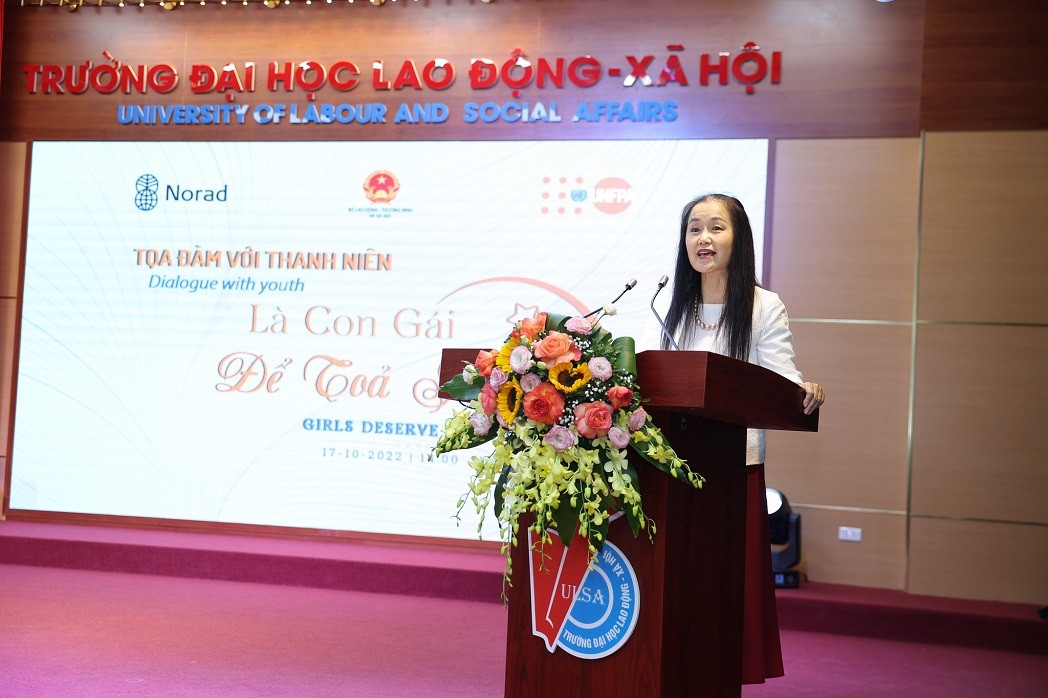 UNFPA Representative for Vietnam, Naomi Kitahara. Photo: UNFPA Vietnam
UNFPA Representative for Vietnam, Naomi Kitahara stressed that it is high time to have a fair view that women and men have their own values and roles, and are able to contribute to the family and society equally. Everyone regardless of gender or age, job or social position, deserves to be recognized and appreciated for their values and contributions to this life. This can only be achieved through solidarity.
"Let us all get united to achieve the philosophy of the SDGs agenda 2030 of "Leaving no one behind" – We are not leaving girls behind!"
Speaking at the event, Deputy Minister of Labor, Invalids and Social Affairs Nguyen Thi Ha said that in Vietnam, gender equality is a cross-cutting policy of the Party and State; At the same time, it is also a key strategic task in the socioeconomic development of the country, building a stable, consensual and sustainable nation. The system of policies and laws on gender equality and women's empowerment is increasingly strengthening, especially regulations related to solutions to promote gender equality such as policies on training and fostering staff ministry, health care, and support for women in entrepreneurship.
Notably, Vietnam recently revised the Labor Code in the direction of shifting from an approach to protecting female workers to ensuring rights for all workers, both male and female. Activities involving women in employment are also governed by a separate chapter for women in the code. In addition, for the first time, the Prime Minister approved a separate communication program for gender equality, thereby contributing to raising awareness, changing behavior, and gradually eliminating gender stereotypes in society.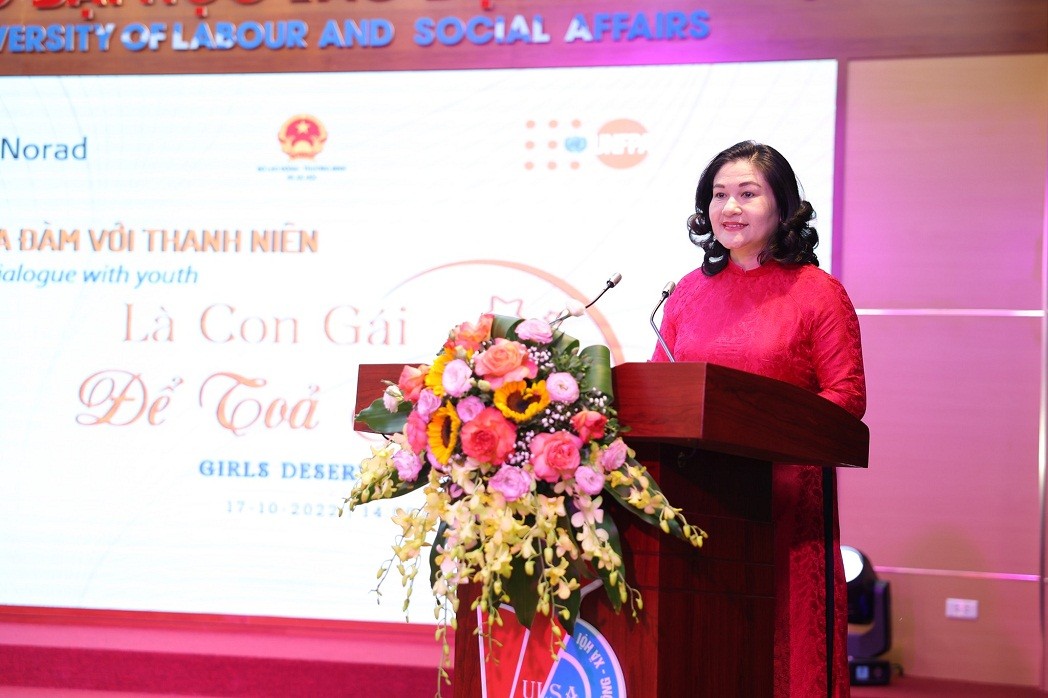 Deputy Minister of Labor, Invalids and Social Affairs Nguyen Thi Ha. Photo: UNFPA Vietnam
In Vietnam, women are taking 30.26% of total seats at the 15th National Assembly. The ratio of wage earners is 48.3%, while 26.5% of total enterprises of the country are led by women, bringing Vietnam to the ninth position among 58 countries reviewed at the Mastercard Index of Women Entrepreneurs 2020 in term of the number of women in leadership roles and labour force participation, and the second among Southeast Asian nations.
Earlier, on October 14, Kitahara, had a courtesy meeting with Bui Quang Huy, the First Secretary of the Ho Chi Minh Communist Youth Union, to discuss the priorities and key issues of youth development and sexual and reproductive health and rights of young people in Vietnam.
Kitahara congratulated Huy on his new appointment as the First Secretary, and appreciated Youth Union's strong partnership and collaboration with UNFPA to improve the sexual and reproductive health status and rights of Vietnamese young people.
Kitahara also reaffirmed that UNFPA will continue to support the Ho Chi Minh Communist Youth Union in promoting comprehensive sexuality education and life skill education for in and out-of-school youth, especially vulnerable young people, as well as promoting youth participation in the development and implementation of policies for youth development.
During the meeting, Huy thanked UNFPA for its continuous support to the young people of Vietnam and emphasized its importance to achieve common goals.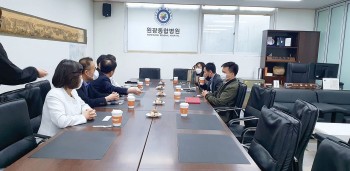 Overseas Vietnamese
A meeting was organized at the Wonkwang Hospital on the provision of medical support for the Vietnamese community in Korea in accordance with the signed cooperation agreement.