Vietnam's achievement to be one of 10 countries with lowest unemployment rate
Vietnam's labour sector has gained significant results and created new jobs for more than eight million workers in the five year period, which helped the country become one of the 10 countries worldwide with the lowest unemployment rate.
According to Hanoitimes, Minister of Labour, Invalids and Social Affairs Dao Ngoc Dung made the announcement during a nationwide online conference held yesterday in Hanoi.
Mr. Dung said that so far, Vietnam has sent more than 635,000 workers abroad, exceeding 27% of the 2020 target.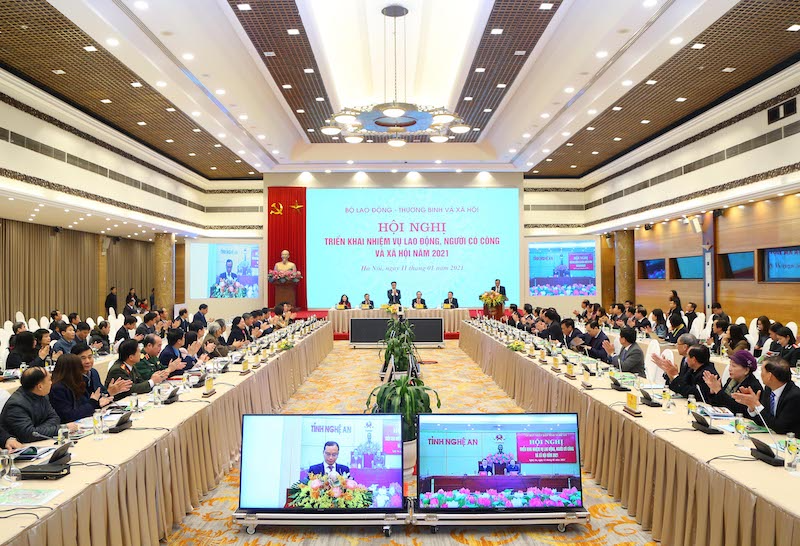 An overview of the online conference for for the Labor, Invalids and Social Affairs sector held on January 11 in Hanoi. Photo: Do Huong (VGP)
The overall unemployment rate among those of the working-age was 2.48%, in urban areas, a decrease of less than the expected rate of 4%. Labor proportion in the agriculture, forestry, and fishery sector decreased from 45% in 2015 to 32% in 2020.
Addressing the event, Deputy Prime Minister Vu Duc Dam said that, over the past time, sustainable poverty reduction has achieved impressive results, contributing to social stability and increasing people's confidence in government policies.
Up to now, 99.7% of the families of revolution contributors gained a living standard equal to or higher than the average standard. There are 3% of the population and 100% of social welfare beneficiaries are eligible for a regular subsidy and no poor households of people with meritorious services. The elderly and disabled people have received support according to regulations.
During 2015-20, Vietnam was one out of 30 countries applying the multidimensional poverty reduction criteria. With the efforts of the whole political system, the country is expected to have lowered its national average poverty rate from 58.1% in 1993 to 2.75% by the end of 2020, thereby helping Vietnam complete 10 years ahead of the Millennium Development Goals.
Achievements in economic growth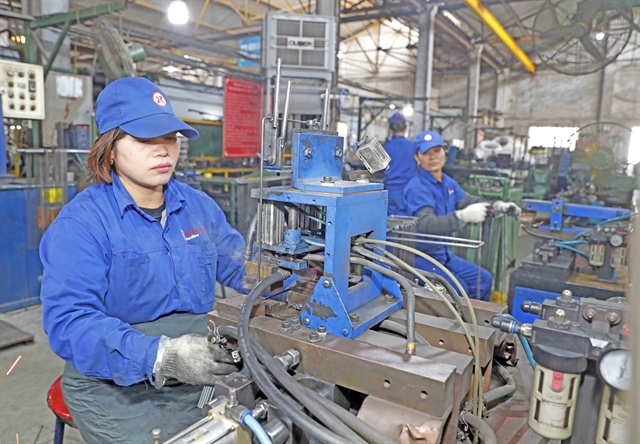 Workers produce interior decorations at a company in the northern province of Vĩnh Phúc. The labour sector has made remarkable achievements in the past five years. — VNA/VNS Photo Trần Việt
Dung said that in the period 2015-20, while many countries in the region and the world fell into recession, Vietnam was proud to have achieved "double goals" in pandemic prevention and control and maintain economic growth whereas social security is guaranteed.
He said this was particularly important because of problems last year with COVID-19 and natural disasters causing extensive loss of life and damage to infrastructure.
He also revealed more than 635,000 people had been working abroad under contracts in the past five years exceeding the target by 27 percent.
There has also been a commitment to reducing inequality with Việt Nam currently ranked second in the ASEAN region and 77 out of 158 countries worldwide in terms of ensuring gender equality and promoting women's rights.
In particular, the country successfully completed the role of ASEAN Chairmanship last year.
"In the past five years, the labor sector has persisted in implementing goals, synchronous tasks, creating breakthroughs and outstanding results," said Dung.
Multidimensional poverty reduction also received good results. The average reduction of the past five years is 1.35 percent per year, from 9.88 percent in 2015 to 2.75 percent in 2020.
Plans in the future
According to Vietnamtimes, experts at the conference agreed that in the context of international integration and the fourth industrial revolution, along with efforts to restore the global economy after the effects of the COVID-19 pandemic, it requires more work, determination and creativity in implementing tasks.
Minister Dung said that in the period 2021-25, the labor, invalids, and social affairs sector should focus on developing a synchronous, modern and efficient labor market with quality human resources to meet rapid development, sustainability, and economic competitiveness.
It would also develop a comprehensive social security system, towards covering the entire population, to meet the basic needs and allow people to live a safe, equal, and happy life, contributing to ensuring social justice.
The sector would also focus on building a harmonious, stable, and progressive labor system and form the representative organization of employees at enterprises as prescribed in the Labour Code, effective from the beginning of this year.
"These are very important issues that will make fundamental changes in industrial relations in the business sector," said Dung.