Vietnam's COVID-19 cases pass 1,000 mark; one "false alarm" case in Hanoi
The Ministry of Health on August 20 evening registered 14 new cases of COVID-19, bringing the country's tally to 1,007. Meanwhile, one case of COVID-19 infection reported in Hanoi on Thursday morning was removed from the infection list because of being tested negative to SARS-CoV-2 three times the same day.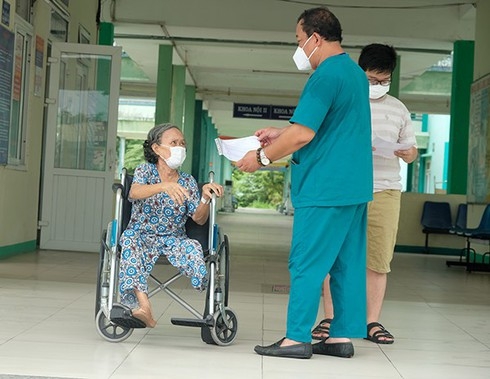 Two COVID-19 patients who had been receiving treatment at the Da Nang Hospital for Lung Diseases were declared to have fully recovered on August 20. Source: VOV
Nine others have recovered from the infection during the past 24 hours, raising the total number of recoveries raising to 542, the Ministry of Health said in a statement.
Of the new cases, one is Vietnamese citizen who returned from Equatorial Guinea and one is a Philippine expertarrived at Cam Ranh airport on flight OZ773 on August 14, while the other 12 are local transmissions.
The ministry said all local cases are contacts of known confirmed cases in Da Nang, the nation's latest epicentre of the coronavirus outbreak and Quang Nam province, Da Nang's neighbor.
As of 6pm August 20, Vietnam has registered 666 community acquired cases, including 521 cases tied to the Da Nang outbreak. The remaining cases were infected with the virus before they returned to Vietnam.
The new outbreak has spread to 15 cities and provinces since the SARS-CoV-2 virus recurred in Da Nang three weeks ago. Da Nang is the hardest hit locality, followed by Quang Nam, Hai Duong, Ho Chi Minh City, and Hanoi.
Up to 83,644 people who had close contact with patients or entered Vietnam from pandemic-hit areas are under quarantine, including 1,887 at hospitals, 20,294 at other facilities and 60,981 at their homes.
The Ministry of Health has also ordered localities across the nation to improve their testing capacity, and be fully prepared for epidemic prevention work.
According to Acting Minister of Health Nguyen Thanh Long, outbreaks in Da Nang, Quang Nam and some other localities are being brought under stricter control, however, the epidemic is anticipated to drag out in the time ahead.
There are likely to be clusters of community infections in the coming time, Long warned, and demanded that all localities remain on high alert to detect new cases, and zone off in a timely manner. The sooner fresh infections are detected the more effective measures to contain the pandemic will be, he added.
Elsewhere, on the afternoon of August 19, Da Nang removed a lockdown on Hai Chau General Hospital after 14 days of isolation, making it possible for more than 300 people to return home after the quarantine period.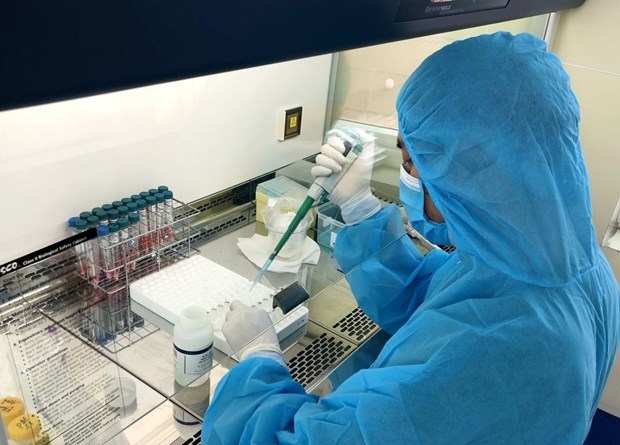 A worker of the disease control centre of Quang Ninh province conducts COVID-19 testing. Photo: VNA
False Alarm: Newly announced COVID-19 patient in Hanoi tests negative for the virus
The latest COVID-19 patient in Hanoi has just tested negative for the virus at both the National Hospital for Tropical Diseases and the National Institute of Hygiene and Epidemiology.
The 87-year-old man from the northern province of Phu Tho was then confirmed the 994th Covid-19 patient in Vietnam on Thursday morning.
On August 11, he had a fever and stomachache. On August 12 he came to the Hanoi-based E Hospital for a medical check-up and stayed at his relative's house in Tu Liem District. On August 13, he was hospitalised and diagnosed with pneumonia.
He tested positive for COVID-19 on August 19 and was transferred to the National Hospital for Tropical Diseases for treatment.
On the morning of August 20, director of the National Hospital for Tropical Diseases, Pham Ngoc Thach said that they had carried out two consecutive viral tests for the patient and the results all came negative. The National Institute of Hygiene and Epidemiology also confirmed the same negative result.
The same day, leaders of the E Hospital also announced that all 68 medical workers and 19 patients at the hospital who had close contact with the Patient 994 have tested negative for SARS-CoV-2.
At the patient's hometown, director of Phu Tho Provincial Department of Health, Nguyen Huy Ngoc, said that they had taken samples of eight people who had close contact with the patient for the first viral testing and the results all came negative.
With the confirmed test results of the National Institute of Hygiene and Epidemiology and the National Hospital for Tropical Diseases, the Ministry of Health removed him from the infection list. However, he is still being monitored and treated at the Central Hospital for Tropical Diseases in Hanoi's Dong Anh District.
Leaders of the Ministry of Health said that this is a suspected coronavirus case who exhibited many of the symptoms associated with COVID-19 (e.g., fever, cough, difficulty breathing) and, it is necessary to implement lots of quality control measures.
Acting Health Minister Nguyen Thanh Long said that this case, a 87-year old man man who came to Hanoi from Phu Tho province for a medical examination, has no epidemiological factors of returning from the epidemic areas or having contact with infected people.
Long added more tests need to be conducted before confirming this case./.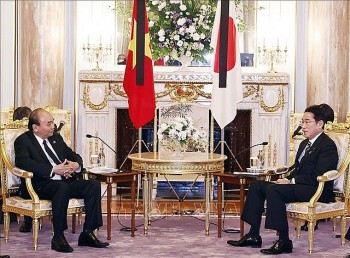 Friendship
Vietnam always treasures the extensive strategic partnership with Japan and views Japan as an important and long-term strategic partner, President Nguyen Xuan Phuc told Japanese Prime Minister Kishida Fumio in Tokyo on September 26.