Apple turns into the first US company reaching $2 trillion
Apple hit the value of over $2 trillion on Wednesday, becoming the first publicly traded US company in the section despite the Covid-19 pandemic.
Although Apple spent 42 years to reach $1 trillion in market capitalization, it only took just two more years to gain $2 trillion, punctuating the big Tech's Grip.
Even more stunning: All of Apple's second $1 trillion came in the past 21 weeks, while the global economy shrank faster than ever before in the coronavirus pandemic, said NY Times. The figure was double over the past two years, boosting to become the first US, and the second world company reaching that valuation.
Based on a share count of more than 4.275 billion, Apple broke the barrier just before 11 a.m. ET, when its price rose to $467.77. However, Apple fell below the $2 trillion mark as the day moved on, and shares closed at $462.83, giving it a market cap of about $1.98 trillion, according to CNBC.
Apple's surge in market value. Photo: CNBC
As recently as mid-March, Apple's value was under $1 trillion after the stock market plunged over fears of the coronavirus. On March 23, the stock market's nadir this year, the Federal Reserve announced aggressive new measures to calm investors, reported NY Times.
The company posted a historically strong third quarter in late July, including $59.7 billion in revenue and double-digit growth in its products and services. Apple saw widespread retail closures during the quarter, especially in the United States but said work-from-home trends and strong online sales boosted overall operations, according to CNBC.
Apple is a US Giant Tech, founded in 1976 by Steve Jobs, Steve Wozniak, and Ronald Wayne. The company owns numerous prestigious hardware products such as iPhone, Ipad and Macbook. It was also the first US company to reach $1 trillion market cap on Aug. 2, 2018, which was then followed by Alphabet, Amazon and Microsoft.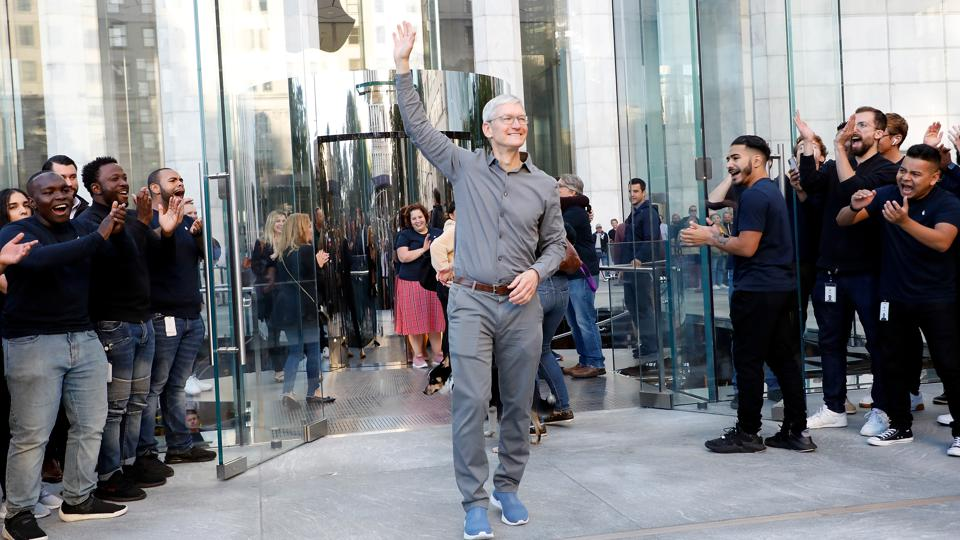 Apple CEO Tim Cook. Photo: Taylor Hill/ WireImage
However, Apple is facing a string of regulatory headwinds regarding the ecosystem of apps that underwrite its hardware. Most notable of these is the legal challenge from Fortnite creator Epic Games, which is currently suing Apple for kicking Fortnite off iOS after Epic tried to circumvent Apple's payment systems. Part of Epic's complaint (and one echoed by many other companies who reach customers through Apple's App Store) is that the company's 30 percent cut on transactions is extortionate, according to The Verge.
The Silicon Valley company's business has been only further entrenched by the pandemic, which has forced people to work, learn and socialize virtually. From April through June, even as Apple shuttered many of its retail stores because of the virus, it posted $11.25 billion in profits, up 12 percent from a year earlier. It increased its sales of every product and in every part of the world, by NY Times.
In the company's most recent earnings call, Mr. Cook said, "We do not have a zero-sum approach to prosperity." He added, "We are focused on growing the pie, making sure our success isn't just our success and that everything we make, build or do is geared toward creating opportunities for others."
The $2 trillion benchmark was first hit by Saudi Aramaco, the gas and oil giant headquartered in Saudi Arabia. The company reached the milestone in December 2019 but has since dropped below that figure as its stock price wavers. This year, Apple surpassed it as the world's most valuable company.