Positive coronavirus numbers slowdown in Vietnam as repatriation flights continue
Four new coronavirus cases, including two community infections relating to Da Nang, the nation's latest epicentre of the coronavirus outbreak and one each in Quang Nam and Hai Duong provinces, were reported by the Vietnam's Ministry of Health on August 19 evening.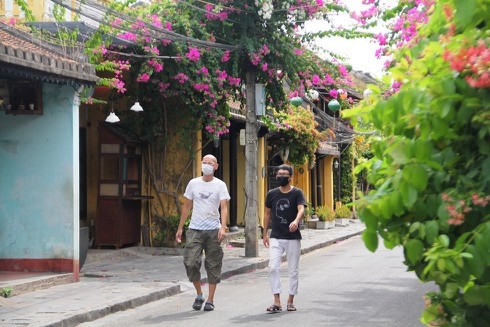 People in Hoi An wear face masks to prevent the spread of COVID-19. Source: VOV
Da Nang City registered two new cases, both of whom are medical workers in hospitals.
Quang Nam province, Da Nang's neighbor, announced a case, a 34-year-old man who took care of his wife, a COVID-19 patient, at Da Nang hospital.
Meanwhile, Hai Duong, a gateway to Hanoi capital, reported a case in Tan Binh ward, Hai Duong city. The 40-year-old woman had close contact with two other COVID-19 patients who were closely linked to an outbreak at a restaurant on Ngo Quyen street in Hai Duong city.
It brings the total number of infected patients nationwide to 993. Of which, 653 are locally-transmitted cases, including 513 linked to the pandemic hotspot in the central city of Da Nang since July 25.
The new outbreak has spread to 15 cities and provinces since the SARS-CoV-2 virus recurred in Da Nang three weeks ago. Da Nang is the hardest hit locality, followed by Quang Nam, Hai Duong, Ho Chi Minh City, and Ha Noi.
However, new cases of coronavirus continue to show signs of slowing. The number of new infections in Da Nang and Quang Nam has fallen in recent days, from an average of 20 cases a day from August 3 to 9 to about 10 cases from August 10 to 18.
The number of patients recovered stands at 535.
Up to 81,585 people who had close contact with patients or entered Vietnam from pandemic-hit areas are under quarantine, including 3,350 at hospitals, 22,360 at other facilities and 55,875 at their homes.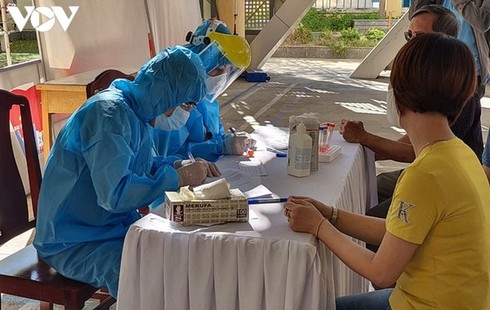 Da Nang city has conducted an extensive COVID-19 testing campaign to early detect and quarantine suspected cases. Source: VOV
Meanwhile, Hoi An town in central province of Quang Nam, said on August 19 that it is to offer free COVID-19 testing for foreign visitors looking to depart the locality.
According to local authorities, approximately 400 foreign tourists are currently staying at various accommodations throughout the city which is still under travel restrictions due to the COVID-19 pandemic. However, many of them have expressed the desire to leave and head to other localities.
To support them, the Hoi An municipal administration has suggested that accommodation establishments notify the tourists of the COVID-19 free testing on offer in the event they want to leave the city.
After undergoing a test, visitors must quarantine themselves at their respective accommodation and will not be permitted to contact people outside of this bubble until they leave the town.
Since July 25, Quang Nam province has recorded a total of 95 COVID-19 cases, including 30 cases in Hoi An.
Repatriation flights continue for Vietnamese nationals
Over the past few months relevant agencies have coop repatriate Vietnamese citizens stranded around the globe.
Most recently, more than 230 Vietnamese citizens from the Republic of Korea (RoK) were brought home safe and sound on August 19.
This was thanks to the coordination of Vietnamese relevant agencies, the Vietnamese Embassy in the RoK, and the budget airline Vietjet with the RoK counterparts.
Passengers on the flight include under-18 children, the elderly, workers with expired labour contracts, and others from disadvantaged backgrounds.
The Vietnamese Embassy in the RoK dispatched officials to support citizens at the airport.
To ensure the safety of the passengers and crew and prevent the spread of COVID-19, the airlines strictly implemented security, safety, and hygiene measures during the flight.
Right after landing at Can Tho International Airport in the Mekong Delta city of Can Tho, all passengers and crew members were given heath examinations and quarantined in line with regulations./.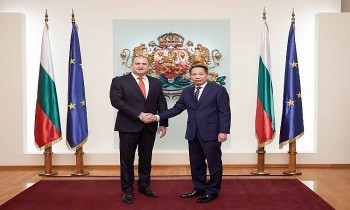 Friendship
With the traditional policy of relations and friendship between the two countries, the Vietnam-Bulgarian partnership still has a lot of potential for development in the coming time when the two countries gradually stabilize in response to the pandemic.