Vietnam's Economic Outlook is Favorable, According to World Bank
As reported in Taking Stock March 2023 titled "Harnessing the potential of the services sector for growth" issued by World Bank, the GDP of Vietnam is expected to grow by 6.3% in 2023. In supporting Vietnam's ambition to become a high-income economy, World Bank Country Director for Vietnam Carolyn Turk saw that the country still has room to implement measures to promote growth, unlike many other countries.
Notably, Vietnam's GDP growth is expected to improve in the 2nd quarter of 2023 and the next 2 years (2024-2025), with a growth forecast of 6.5% per year. Along with the improvement in GDP growth, the Consumer Price Index (CPI) in 2023 could be at 4.5% and will gradually decrease to 3.5% in 2024 and 3.0% in 2025.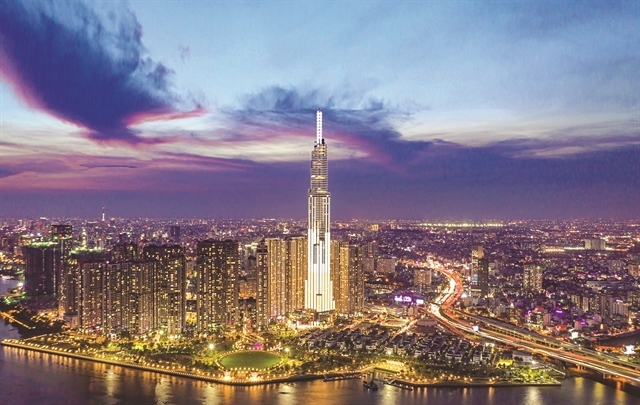 Landmark 81 in HCM City - the tallest building in Southeast Asia. Việt Nam has been described as a rising star amid the pandemic by the World Bank which ranks the country fifth fastest-growing economy in the world. — VNA/VNS Photo Anh Tuan.
Vietnam's outlook reflects growing uncertainties worldwide, such as the economy's low growth, high inflation, the lingering effects of COVID-19, and the military conflict in Ukraine.
Multi-sourced domestic and external headwinds affecting economic growth
According to World Bank, Vietnam is likely to experience a positive outlook for the economy this year, but heightened domestic and external headwinds warrant coordinated and data-driven policy responses from the authorities. In particular, the expected recovery of Vietnam's major export markets during the second half of the year will positively impact exports. Growth is expected to reach 6.5% in 2024 onward as exports strengthen further in response to recovery in all three of Vietnam's primary markets (the U.S., eurozone and China).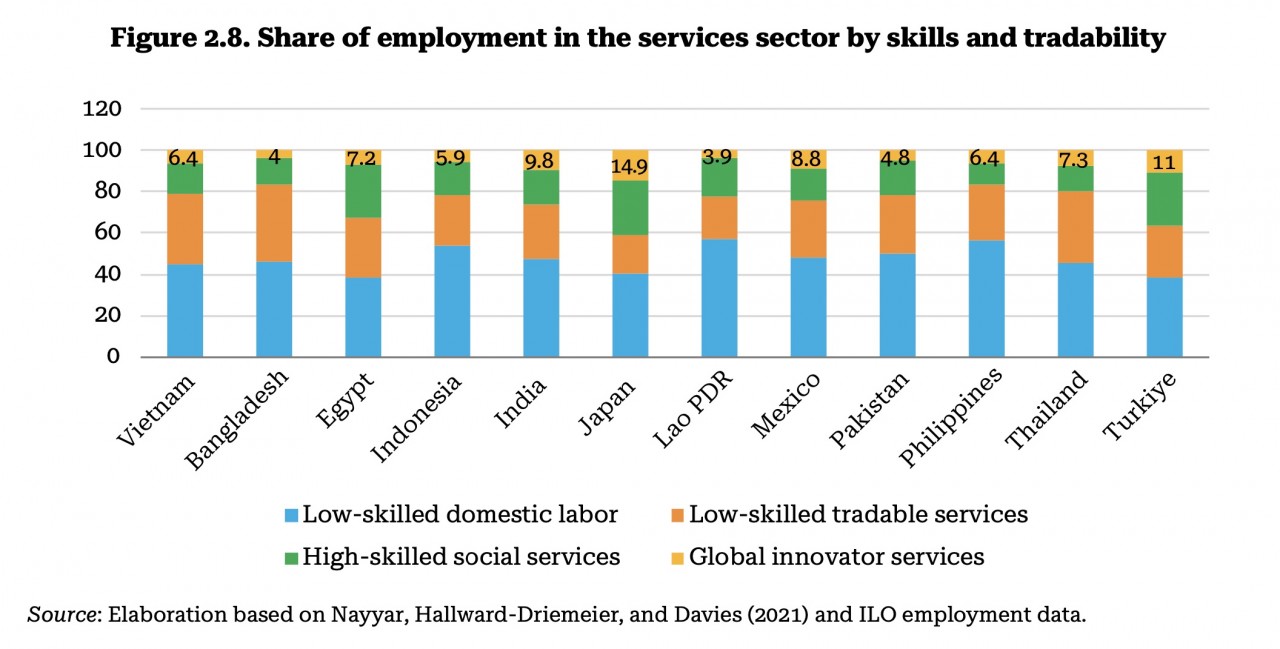 The share of workers employed in services increased from 19% in 1991 to 35.3% in 2019, similar to the increase in the employment share in the industrial sectors over the same period. Screenshot from the Taking Stock March 2023 issued by World Bank
Meanwhile, the tourism sector continues to recover (thanks to the gradual return of Chinese tourists, who accounted for about 30% of total tourists to Vietnam before the pandemic) and the services-sector growth will moderate as the post-COVID-19 low base effects fade.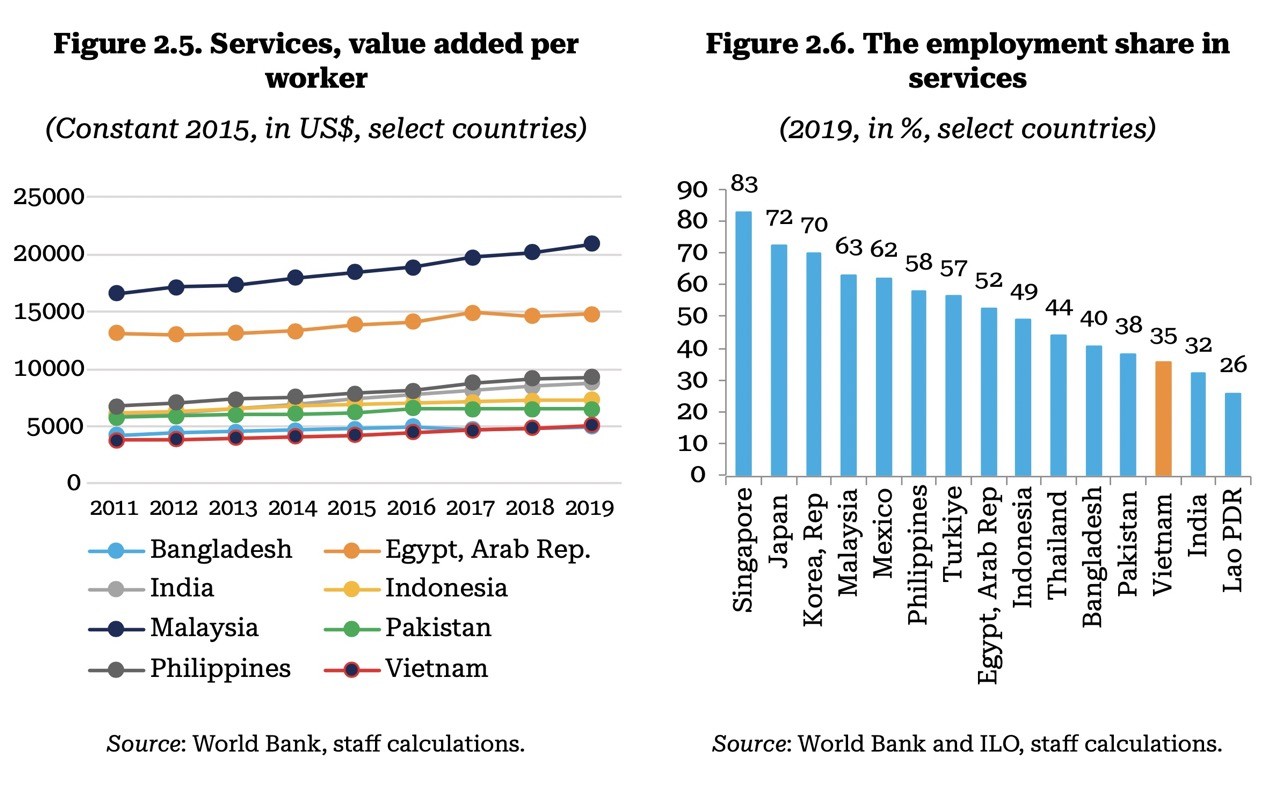 The performance of Vietnam's services sector lags behind peer countries. Screenshot from the Taking Stock March 2023 issued by World Bank
The Taking Stock for March referred to the service sector in Vietnam as diversified on with untapped potential. The share of workers employed in services increased from 19% in 1991 to 35.3% in 2019, similar to the increase in the employment share in industrial sectors over the same period. However, productivity improvements were uneven across sectors and subsectors. The 2009-10 global financial crisis severely affected manufacturing and some services sectors—especially commerce and hospitality— causing a sharp decline in productivity.
Global innovator services (including ICT, finance, and professional services) are, in relative terms, highly offshorable and traded internationally, require intensive R&D, and share linkages with other sectors, but typically require intensive high-skilled labor. Global innovator services in Vietnam tend to be among the most productive in the economy.
At the moment, the performance of Vietnam's services sector lags behind peer countries. Research shows that Vietnam's services sector labor productivity (measured by value added per worker) has increased by 34.3% between 2011-19; however, it matches that of only Bangladesh and is well below other comparators.
Moreover, global innovator services in Vietnam constitute only 9% of total services exports, significantly lower than in most other countries. For example, 79.2% of Vietnamese services employment in is in low-skilled jobs, which is relatively comparable to its peers.
Recommendations from the report stated that achieving greater scale, innovation, and cross-sectoral spillovers will boost the services sector productivity and that of connected sectors.
Important implementation in the Economic Recovery Program to promote growth
As for policy implications, in the short run, the focus in Vietnam is appropriately on the implementation of the capital budget, including the projects identified in the Economic Recovery Program that include digital and physical infrastructure. These projects would help bolster domestic demand in the near term and contribute to Vietnam's long-term potential growth.
In the medium term, addressing institutional bottlenecks that have led to the chronic under-execution of the public investment program would make fiscal policies more effective. In addition, continued expansion of the targeted social safety nets would help buffer the effects of elevated inflation on poor and vulnerable households and cushion impacts on private consumption.
Following last year's tightening measures, monetary policy will need to continue balancing inflation, financial stability, and growth objectives.
1. Enhance the framework for risk-based supervision by the State Bank including early intervention to prevent significant weakening of balance sheets and contain insolvency risks.
2. Continue the focus on strengthening the framework for resolving weak or insolvent banks.
3. Setting a clear separation between banks and company groups towards robust frameworks and policies for supervising consolidated banking groups.
4. Amend the Law on Credit Institutions and the State Bank Law. This is to ensure supervisors have a strong legal mandate and are legally protected from actions they take in good faith within their supervisory responsibilities.
5. Enhance corporate bond market standards, including promoting a more-transparent public offer market (vis-à-vis, private placement) and using credit rating to strengthen investor protection and prevent market abuse.
6. Regularly publish banking sector and financial market indicators in a timely manner with sufficient granularity to increase the overall transparency of the financial sector.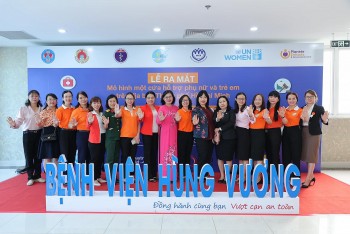 Viet's Home
What is the one-stop centre for women and children experiencing violence?