Vietnam's Most Expensive Banh Mi: What's So Special?
These banh mi have impressive fillings
Banh mi, a signature of Vietnamese street food, is known for its reasonable price and savory taste.
Most banh mi cost from VND15,000-25,000 (US$ 0.6-1.1). However, there are always exceptions. Some banh mi are known for their hefty price of VND 50,000 - 100,000 and long-standing popularity.
Banh mi Huynh Hoa (VND 58,000)
The brand name Huynh Hoa comes from two ladies, Huynh and Hoa, who founded the stall. Considered the most expensive banh mi in Saigon, a Huynh Hoa loaf comes at VND 58.000.
Diners are willing to wait in long lines to hold a hot bread full of ham, meat, meat rolls, rousong and pate. According to diners' opinions, Huynh Hoa bread is worth the hype. It comprises delicious, well-seasoned, quality ingredients. A loaf is big enough for two people. Huynh Hoa's store is located at No. 26 Le Thi Rieng, Pham Ngu Lao Ward, District 1, Ho Chi Minh City.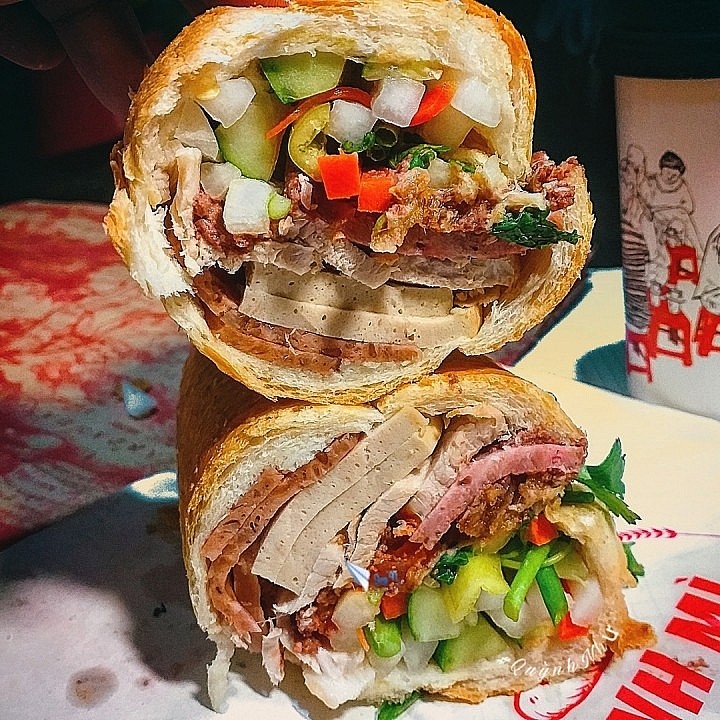 Huynh Hoa banh mi (Photo: @quynhu.joyn/ Instagram)
Ba Huynh's banh mi (VND 58.000 )
Huynh, who founded Huynh Hoa, later started another banh mi store called "Bà Huỳnh".
Ba Huynh's banh mi is quite similar to Huynh Hoa's. Sold at the same price, the two have the same fillings and flavors. The store is located at No. 55, Street 4, Do Thanh Residence, District 3.
Opened on Dec. 15, Huynh's store has attracted thousands of people. However, due to too long lines of diners waiting to taste the dish, which goes against current pandemic preventive regulations, the store has had to close down and is waiting for further announcement.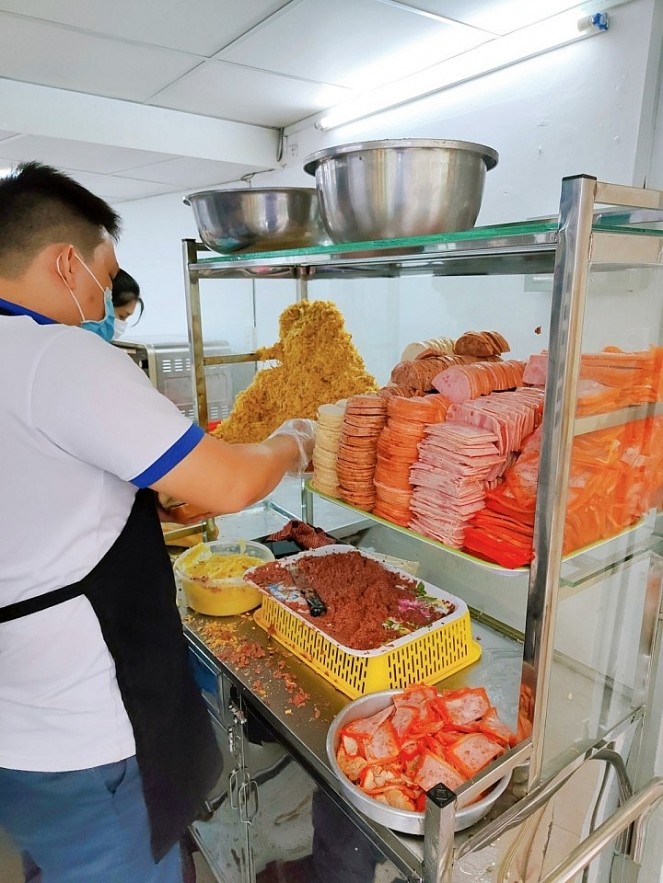 Ms. Huynh's stall. (Photo: VTC)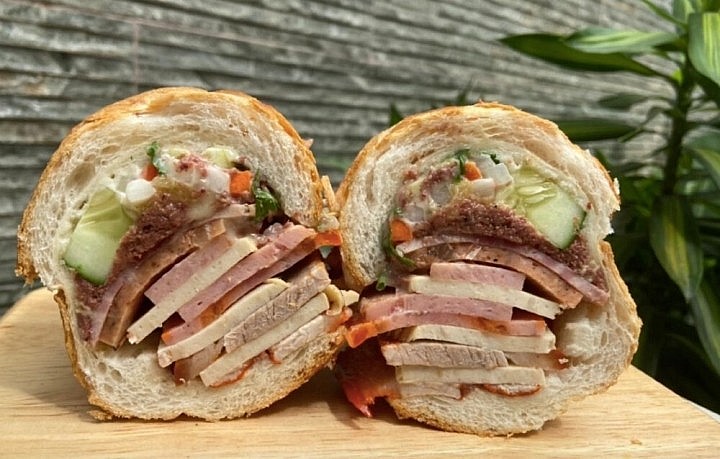 Ms. Huynh's banh mi (Photo: VTC)
Banh mi Hoa Ma
Banh mi Hoa Ma is a long-standing food stall in Saigon. Opened in 1958, the place is still crowded these days.
Hoa Ma's signature dish is banh mi chao - banh mi and fillings served on a hot pan. Hoa Ma hot pan consists of a variety of delicious ingredients such as omelettes, ham, sausages and fish cakes, all of which are beautifully fried. The stall is at 53 Cao Thang, District 3.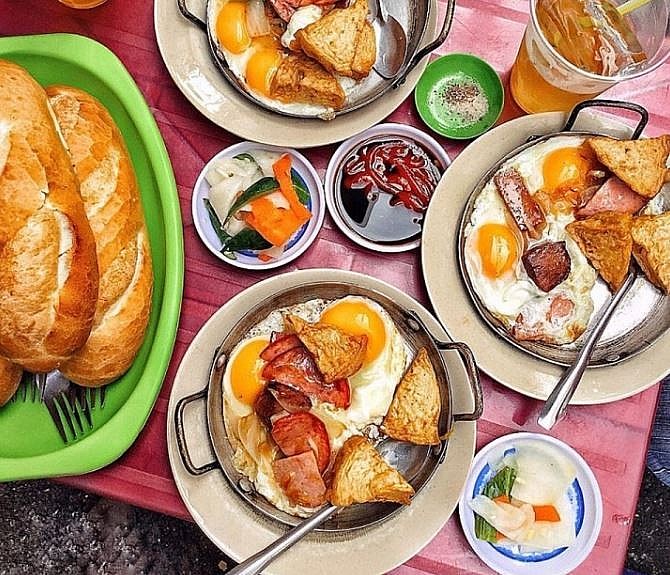 Banh mi Hoa Ma (Photo: VTC)
Banh mi Nhu Lan (VND 60.000)
In addition to moon cakes, Nhu Lan is also famous for banh mi. The price of a Nhu Lan loaf ranges from VND 15,000 - 60,000.
The highest-priced banh mi is filled with house cold meat, pate, and mayonnaise, and served with fresh cucumber, cilantro and pickled radish.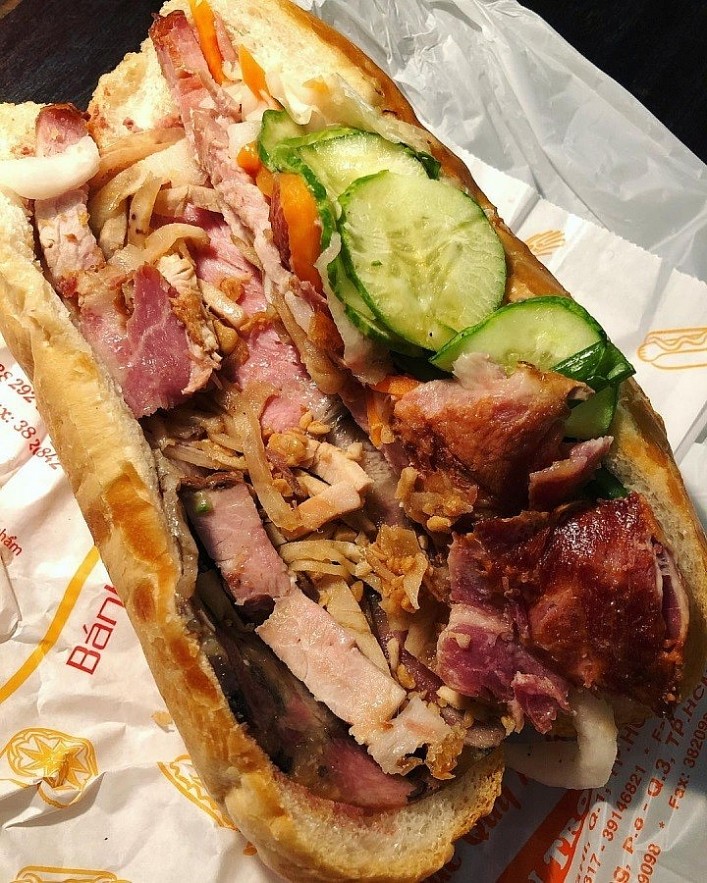 Banh mi Nhu Lan. (Photo: VTC)
Banh mi Tram (VND 45.000-80.000)
Banh mi Tram in No. 30 Dinh Ngang street, Hanoi, has been open for more than 10 years, and its name is also associated with the childhood memories of so many Hanoians. Banh mi Tram has both indoor and outdoor tables.
The stall's signature dishes are banh mi with beef stew in red wine sauce and banh mi with Vietnamese-styled steak.
As the winter comes, diners love stopping by the place to order a hot bowl of banh mi sot vang - banh mi with beef and wine sauce. The tender meat and savory sauce are such an attractive treat on a cold day!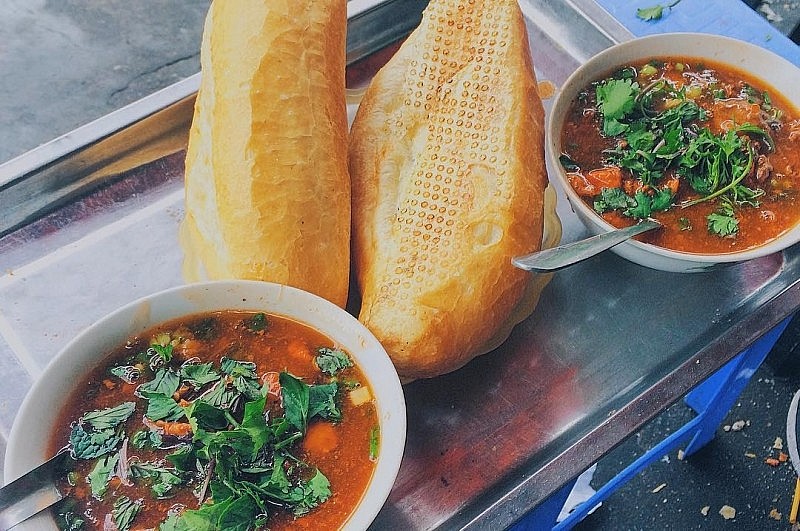 Banh mi Tram (Photo: Toplist)
6 Creative Banh Mi Dishes in Vietnam

Banh mi with filling, sweet, salty or combined with butter is an attractive culinary option to show off your cooking skills during social distancing day.