Make Your Own Vietnamese Pâté At Home During Lockdown
You can make your own loaf of bread at home during social distancing by following the steps below.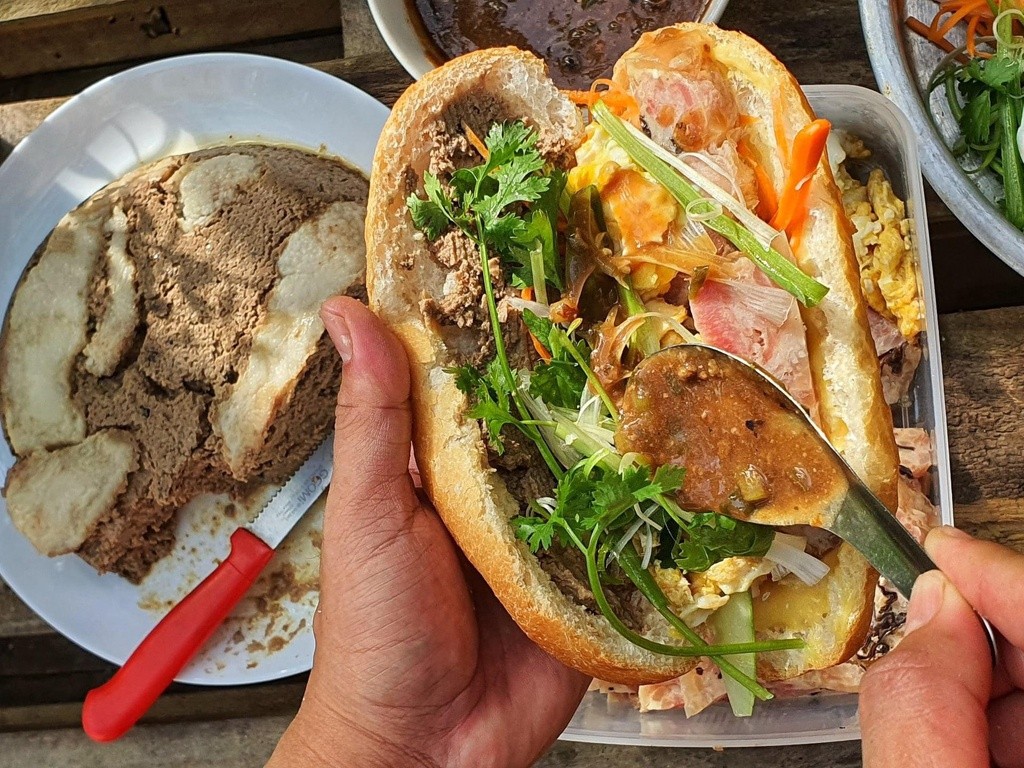 Photo provided by Eric Nguyen
Paté is a traditional French dish; it's a combination of meat and animal fats, added with some spices. Pate was likely brought to Vietnam from the French colonial period (from 1858 to 1954) with other dishes like bread, white coffee, butter, pastries and custard. Nowadays, these kinds of food are becoming popular, especially pate with bread, which is the choice of many Vietnamese people for breakfast.
PGD Product & Marketing at Luminarc and Founder of culinary channel Eric's home, Eric Nguyen believes that since Ho Chi Minh City implemented social distancing, eating a banh mi is a luxury, so decided to tinker with it for his family to enjoy.
Without investing too many tools, you can also make yourself a delicious loaf of paté and bread following Nguyen's instructions below.
While liver is the main ingredient in paté, spices and herbs are used to bring out the richness and sweetness of the liver.
How to make mayonnaise
Ingredients
300 gr cooking oil
2 egg yolks
1/4 teaspoon salt
1/2 teaspoon lemon juice
A pinch of sugar
Instruction
Step 1: Put eggs, salt, lemon juice and sugar in a large bowl and beat on low speed.
Step 2: Add 1-2 teaspoons of oil and beat well. After 2-3 minutes, beat the mixture again and add 1-2 teaspoons of oil.
Step 3: Beat until the mixture until it thickens as desired
Note: You can use other oils such as sesame oil and olive oil to enhance the flavor.
How to make paté
Ingredients
800 gr fresh pork liver
300 gr pork fat
One loaf of thick bread about 100 grams
200 ml fresh milk
2 bulbs onions, about 400 grams
20 gr purple onion
10 gr salt
10 gr sugar
2 teaspoons fish sauce
Pepper
200 - 300 gr shoulder lean (optional)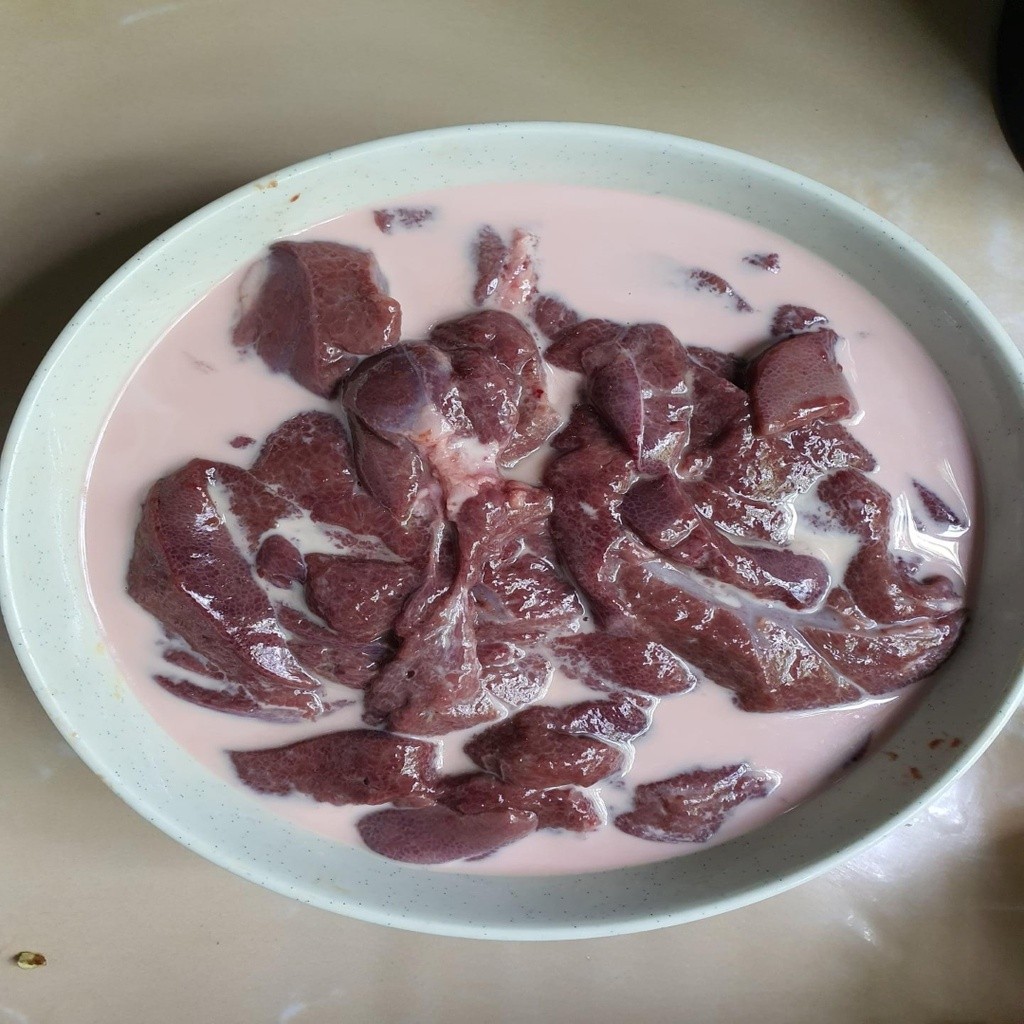 Soak the liver for 15 to 20 minutes, then wash and drain.
Instruction
Step 1: Wash the pig liver and slice slightly, put into a bowl, pour fresh milk to cover then soak for 15 minutes and take out
Step 2: Dice the onions, chop the dry onions and garlic and put into dishes
Step 3: Put the pan on the stove and heat to melt the butter, then put chopped dry onions and garlic into pan and fry until it's aromatic, then add onions to fry together, pour in the livers to stir-fry.
Season with a little fish sauce, sugar, pepper and salt to taste and stir-fry until the liver is cooked and turn off the stove. Let it cool.
Step 4: Shred the bread and put into a bowl, pour 100 ml fresh milk into it to make bread wet enough. Wash the pork fat and slice into large pieces.
Step 5: Put all the stir-fried materials into meat grinder, add minced meat then grind.
Do not grind the mixture too much because the pate will melt and hardly freeze. It should be a little grainy.
Step 6: Pour the mixture into the mold, bake in a water bath at 180 degrees Centigrade for about 1 hour and 30 minutes. Wait for the pate to cool, then take it out and enjoy.
Preserve the pate in cool compartment for 5 to 7 days or put it into freezer compartment to use within 15 days.
Note:
The color of pork liver may range from light reddish brown to very dark brown (not bluish or black), with reddish shades predominating.
To get a delicious pate, you should use pieces of liver that are dark red or red-brown color.
Another sign of quality and freshness of the liver is characterized by a firm, smooth and clean surface. To identify stale goods, pushing on the liver, if the by-product clots or is mixed with a dark liquid, it is better not to buy.
The pate will be more fragrant if you grind it with a little roasted pepper.
When baking pate, use a piece of foil to cover the surface, until the last 30 minutes, then open the paper to help the pate cook evenly.
How to make the sauce
Ingredients
250 ml black sauce
5 gr oyster sauce
10 gr unsalted butter
2 tablespoons kumquat juice
50 ml filtered water
1 teaspoon cashew oil
1 teaspoon sugar
One pinch of salt
Garlic and red onion
Instruction
Step 1: Fry garlic and shallot, then add unsalted butter.
Step 2: Add all the ingredients and cook until the mixture is smooth.
To make the color of the sauce brighter, add cashew oil after turning off the heat.
Authentic Vietnamese Banh Mi should include a layer of pate spread on one side of the baguette and sauce, pickled carrots and daikon, (and sometimes fried eggs) on the other.
Without good pate, making a Vietnamese Banh Mi might not quite meet your expectations!