Vietnam's Navy Force Joins Exercises With Britain Frigate
HMS Richmond had a drill with a frigate from the Vietnam People's Navy for the first time on Oct. 4.
Frigate Dinh Tien Hoang (Photo: Twitter/ HMS Richmond)
"As we departed Cam Ranh, Vietnam, HMS Richmond conducted a PASSEX with frigate Dinh Tien Hoang...a first for our respective navies. The RN (Royal Navy) looks forward to building on this important relationship," HMS Richmond's Twitter said.
On its Twitter account, the British Embassy to Vietnam confirmed that the exercise was the last activity that HMS Richmond conducted during their four-day visit to Vietnam and that they hoped to see more Royal Navy ships present in the Indo-Pacific region.
A PASSEX is an exercise conducted between two or more navies which consists of navigational and communication drills as ships coordinate maneuvers alongside and around each other. Some of the drills include flashing lights, semaphore, and flag hoisting. The exercise helps increase the operational readiness and interoperability amongst participating ships.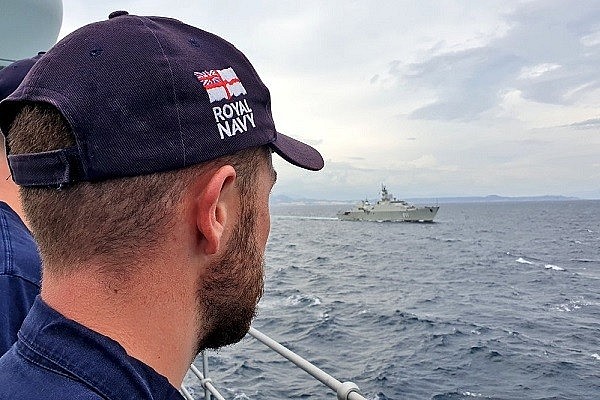 British sailors watch the Vietnamese ship. (Photo: Twitter/ HMS Richmond)
HMS Richmond, one of HMS Queen Elizabeth's escort ships in the UK Carrier Strike Group (CSG), docked at Cam Ranh port in Khanh Hoa province on Oct. 1 for a visit to Vietnam. The visit came at a time when both the UK and Vietnam are celebrating the 10th anniversary of their defense relations, and just two months after the first visit to Vietnam by the UK Secretary of State for Defense Ben Wallace, according to VOV.
Captain Hugh Botterill, Commanding Officer of the HMS Richmond, said, the visit "demonstrates the UK's commitment to a persistent and reliable presence in the Indo-Pacific region, including crucial regional partners like Vietnam with we have numerous shared interests".
HMS Richmond leaves Cam Ranh port, Khanh Hoa. (Photo: Twitter)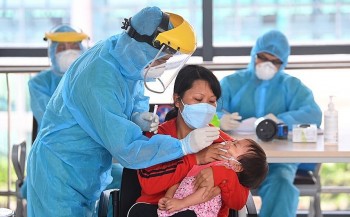 National
Nearly 72 million vaccine doses have been administered nationwide, with 20.7 million people getting their second shot.