Vietnam's Traditional Fishing Gear Exhibition Established in Saudi Arabia
The Embassy of Vietnam to the Kingdom of Saudi Arabia has launched a corner to display traditional Vietnamese hand-held fishing gear at the Alfelwah & Aljowharah Museum in Dammam city in Eastern Saudi Arabia.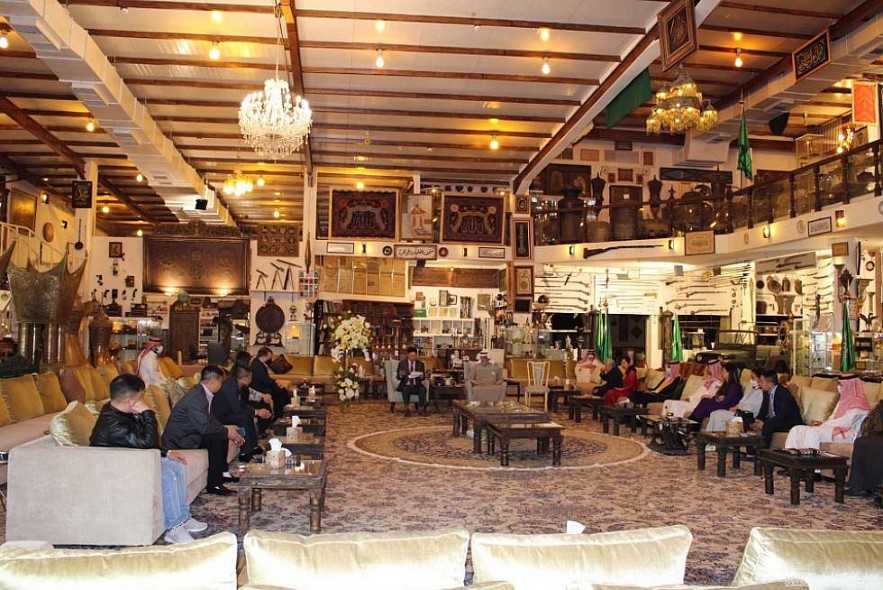 Abdulwahab Al-Ghunaim, the owner of the Museum received Ambassador Vu Viet Dung and other guests. (Photo: Baoquocte)
The event welcomed Abdullah Mohammed Al-Harbi, head of the Department of Foreign Affairs for the Eastern Region of Saudi Arabia, David Edginton, Consul General of the United States in the East Region, and Vietnamese expats in Saudi Arabia.
Vietnamese Ambassador to the Kingdom of Saudi Arabia, Vu Viet Dung, sent his thanks to museum leaders for their cooperation to open the Vietnam Fishing Gear Corner, contributing to introducing a unique culture of the Vietnamese people to Saudi Arabian residents.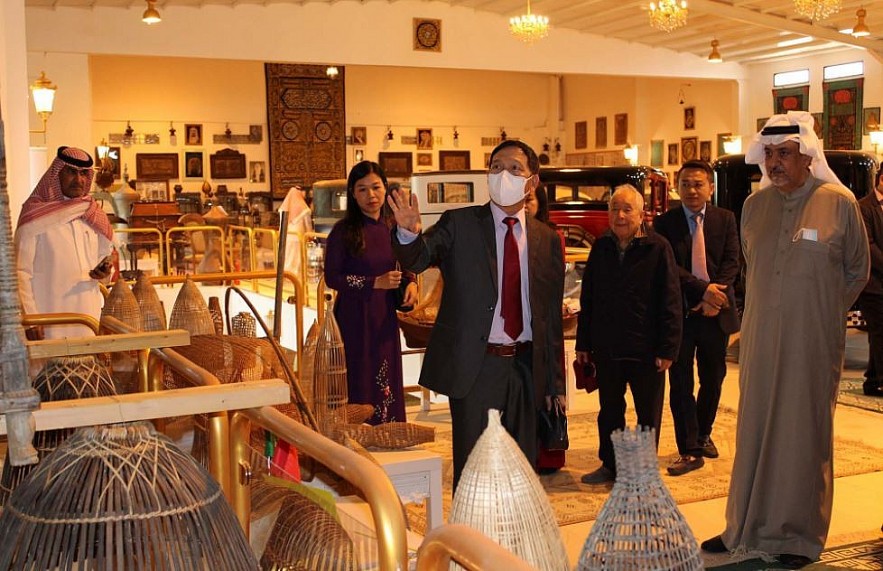 Ambassador Vu Viet Dung introduced traditional hand-held fishing tools. (Photo: Baoquocte)
Ambassador Vu Viet Dung introduced to the event attendants a peaceful Vietnam, made up of skillful and hospitable people. He said Vietnam preserved traditional craft villages specializing in producing these fishing gears from the mountains to the plains, from North to South. Some fishing gears are used in modern life for different purposes. For example, basket boats are now used for tourism instead of fishing.
With the support of their traditional hand-held fishing gear, Vietnamese fishermen have developed offshore fishing fleets, contributing to the seafood processing industry for export.
In a space filled with Arab and Saudi cultural products, Vietnam's Traditional Fishing Gear Corner is arranged as a highlight. Each gear is attached with an introduction in both English and Arabic.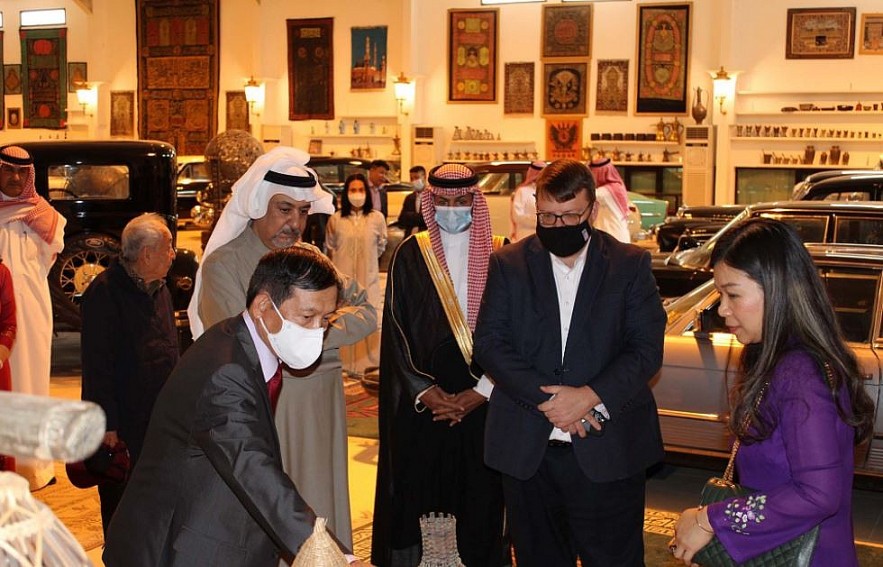 Ambassador Vu Viet Dung introduced different types of fishing gear. (Photo: Baoquocte)
The museum's owner, millionaire Abdulwahab Al-Ghunaim, said, "The Museum has the honor to be granted a batch of fishing gear by the Vietnamese embassy, which entrusts the museum with the mission of introducing a unique feature of the fishing industry from Vietnam's wet-rice culture to Saudi Arabia - the land of desert."
Abdulwahab Al-Ghunaim said the corner added to the museum's attractiveness, which captured the attention and curiosity of visitors.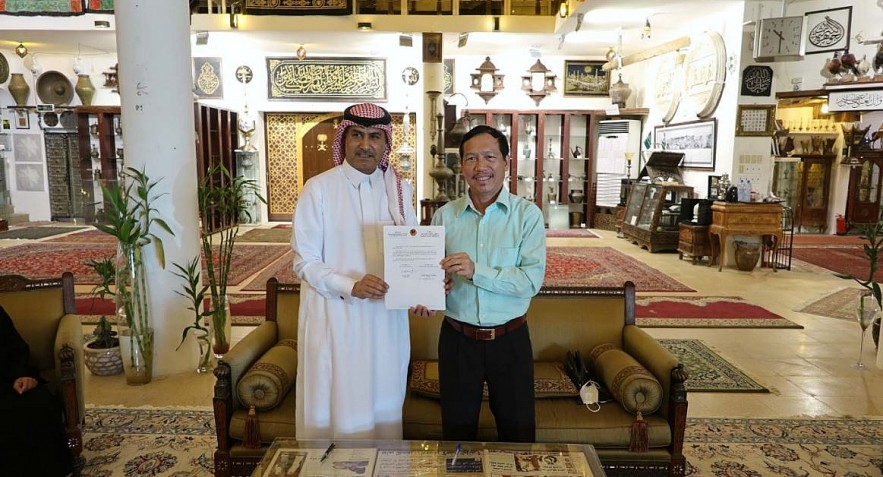 The signing ceremony of an agreement to donate fishery products between the Vietnamese Embassy and the museum's leaders. (Photo: Baoquocte)
The collection of fishing gear in the museum includes tackle, nets, baskets, basket boats from different provinces of Vietnam that were transported to Saudi Arabia months ago. However, due to the pandemic and the museum's reconstruction, the collection has just been put on display.
The museum reopened for visitors on February 22, the first anniversary of Saudi Arabia's Founding Day, marking the importance of the opening of Vietnam's Fishing Gear Corner.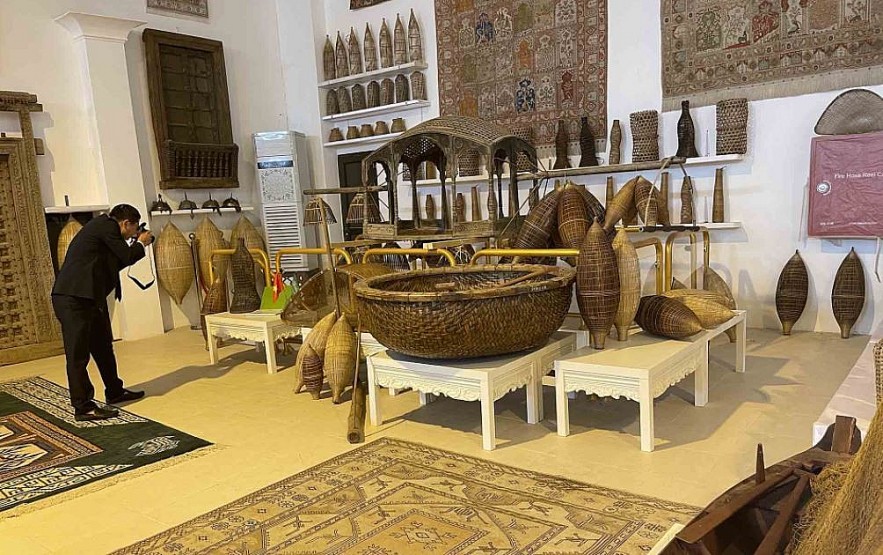 Góc ngư cụ truyền thống của Việt Nam tại Bảo tàng Alfelwah & Aljowharah. (Photo: Baoquocte)
Alfelwah & Aljowharah is a large private museum in Saudi Arabia, owned by Saudi millionaire Abdulwahab Al-Ghunaim.
Abdulwahab Al Ghunaim, a passionate collector of cultural and traditional artifacts took his hobby to the next level when he officially opened the Alfelwah & Aljowharah Museum in 2018.
To date, his collection has grown to more than 500,000 items, including many valuable ones such as a 500-year-old copy of the Quran, a large carpet from Mekkah, antique cars, antique phonographs, some properties belonging to the first King of Saudi Arabia, Abdulaziz Al-Saud, UK's Queen Elizabeth's car, and US President R. Reagan's car.
The museum is considered a treasure of Dammam, the capital of Saudi Arabia's Eastern region, which is famous for its oil fields.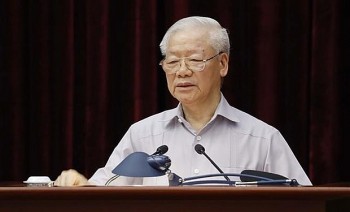 National
Party General Secretary Nguyen Phu Trong on June 30 stressed the task of addressing shortcomings and filling in "vaccums" and "loopholes" so as to prevent corruption and negative phenomena.